I think my obsession with updating our dining room really started with me dreaming about a new table.  We needed a table that would allow us to fully utilize our eat-in space off the kitchen.  I wanted a table that was much larger and fit the rectangular-but-almost-square shape of the space.  This would also allow us to maximize the number of friends and family that could enjoy a meal with us.
I love having people over, and I love food – obviously the two go together really well.  Having guests over is the best excuse to cook foods that would otherwise be too time consuming, too expensive, or just too unhealthy to make otherwise!  So I began searching for table ideas.  Here are some inspiration photos I showed in a previous post.
From Restoration Hardware…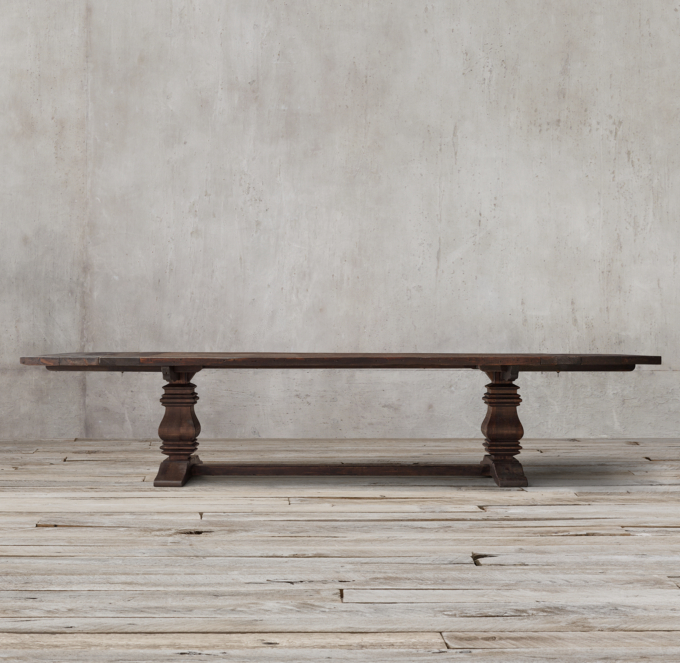 Also from Restoration Hardware…
From Houzz…
From Pottery Barn…
And from Ballard Design…
With a price tag of $1,600 and up (mostly for tables that were still too small) I knew I needed a MUCH cheaper option that I could at least to some degree DIY.  I scoured Craigslist for an old beat-up pedestal table that I could hack for its pedestal and then make my own top – but that was still going to be at least $500-600 – if everything went well.
Then, I found this awesome farmhouse trestle table on Etsy – they make the legs, provide you with all the hardware and you build the table top and assemble the table per their instructions – awesome!  But, the bad news is that unless you live in Oregon where they are – it costs as much to ship the legs as it does to buy them.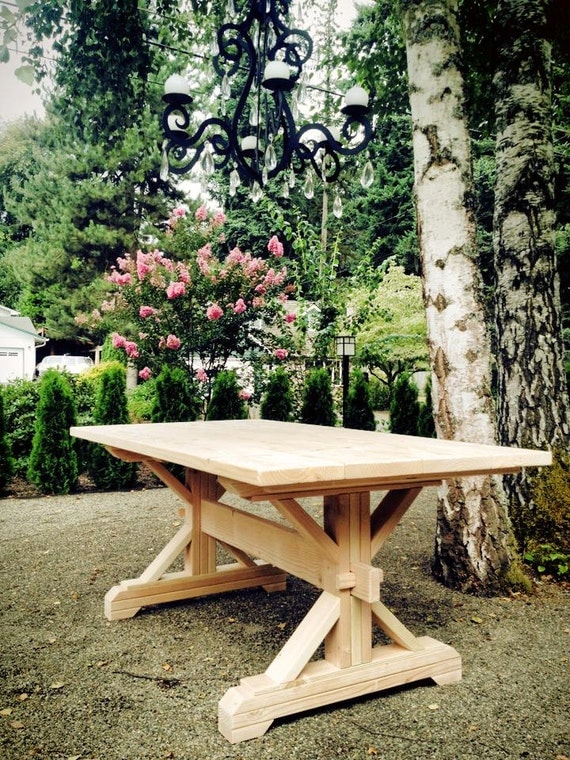 But, this idea got my wheels turning!  I knew that if they could build and sell the legs for $200, me and my father-in-law could build them for even less!  I began to scour the web for other similar ideas, and found this table with design plans from Anna White's blog. 
I loved the idea of just following plans with a cut list and instructions, but I didn't love exactly how they did the legs on this table.  I read through the plans to get a basic idea of how they did this table and then sat down to design my own.   The Etsy table was my inspiration for DIY design, and this Pottery Barn table was my high end inspiration.
After I had messed with some ideas, I took advantage of a visit from my dad and showed him all the inspiration I had assembled to got his thoughts.  We measured the dining space and realized that the odd dimensions I wanted really meant I needed to build my own table, even if buying one of my dream tables was in the budget. This encouraged me to commit to the project! He also helped me see that for the size of table I was wanting, legs constructed of 2×4's would be the wrong scale.
He has built furniture and MANY houses start to finish.  In those houses he has done some amazing wood craftsmanship stuff that people are either born to do or not.  It doesn't hurt that his college degree is in architectural engineering as well, so I was pretty sure I could trust his intuition!  He drew a profile for me of the legs which included some great ideas for scale, stacking different size lumber to create reveals, and angled cuts to get the overall look I was going for without spending months carving amazing legs.  Because honestly, if I'm going to spend months on amazing legs – I want them to be the ones I walk around with.  🙂
This is the basic drawing my dad and I came up with… basically this was my "building plan".
I know, lacking detail!  I am a visual person though, so I knew I would need to make some decisions during the construction process when I could really see it.
We did decide to use 2×6 lumber for the base of the legs instead of 2×4 studs.  They were still very cheap, but as my dad pointed out, provided a better scale for the large table top I wanted.  I also used 4×4 posts for the "X" on the legs to get a chunky look like my Pottery Barn inspiration photo.
I talked to my father-in-law, and of course he was once again willing to help his crazy daughter-in-law with yet another project.  I also called on some local friends to assemble the tools I would need and didn't have… a table saw, Kreg Jig…
For construction materials I wanted to keep it cheap and simply used Douglas fir framing lumber.  I did check into the cost of a 4×6 for the leg base, but that was going to be over $100!  Note:  I needed all untreated lumber, which is why the larger pieces were really expensive. Once I had the lumber and hardware I expected to use, I simply waited for a long weekend with my father-in-law to start building!
We started by stacking the base of the legs – using wood glue and screws from the bottom (to keep them hidden) to hold all of the pieces together.  This is the first example of how my plan did not play out right.  I had intended to use a 1×4 as the final layer of the base, but it turns out you can't easily get a 1×4 in douglas fir, so to avoid the use of different woods (that might not stain the same) we used another 2×6 and did a small cut on the edge to add detail.  I'm so glad my original plan didn't work, because I am loving the new profile!
Once the base of the leg was completed we began adding the 2×4's as uprights, and created the "X" with 4×4's.  If you look closely you will see that the center 2×4 is actually cut in two, leaving a gap in the middle of the leg to allow for the crossbar to be inserted later.  This crossbar will provide stability to the table.  This is also where it was key to have my father-in-law help me.  He didn't have to think about what tools and what angles to make everything fit perfectly.  He moved us between the table saw and miter saw and made the cuts quick and precise.  I would have been cutting lumber for a week, and don't even want to think how many 2×4's I would have wasted!!!
We started with one leg at a time, instead of doing them assembly line style.  It was a good thing, because our first leg was about 2-3 inches too tall – we still don't know how that happened!!!  However, we were able to make some adjustments, and I was sure glad we only had to adjust one leg!
One of the things I love about projects and DIY is when the kids get involved.  Jase got to help his Grandpi with some screws.  Jase loves to be an assistant with projects, and is even pretty helpful sometimes!
After building the second leg we inserted our crossbar to see how it would all come together.  I was SUPER excited!!!
Next we assembled the table top.   We used a biscuit joiner to hold 6 pieces of 2×10 lumber together.  We used a 2×4 on each end to finish the edge and add long-term stability to the table top.  We used a biscuit joiner and Kreg jig for these end pieces.
After the table top was assembled, we attached the legs to the bottom of the table top.  You will see that we also (at the wise suggestion of my father-in-law) added cleats to the bottom of the table as extra security.  He also angled the cleats to eliminate a sharp edge that could damage a knee!
We then got to flip the table upright to see the completed design.  I  LOVE! how the legs turned out!
The straps you see are ratcheting straps, that we left on over night as extra security until all of the glue could fully dry.
The next part of the process was a little stressful for me.  Youl have heard my trials of picking paint colors, well stain is even worse!!!  Stain can look very different depending on the type of wood you are using.  I tried about 5 different colors before settling on Minwax, water-based Classic Black stain.  I wanted a walnut color that would go more gray than red or yellow.  I quickly found that douglas fir framing lumber has a lot of variability of color, and tends to be very red or yellow.  The Classic Black stain was necessary to combat the red and yellow tones in the wood, and it surprisingly looks very brown!
I liked the table before is was stained, but the stain made the top look so much better!  The staining process was a little more time consuming and difficult than I would have expected.  Getting an even finish and waiting for dry times tested my patience a few times.  I think Jason was afraid he would never park in the garage again!
Since I used water-based stain I could not use the wipe-on poly coat I had planned to use to avoid a really shiny finish, while getting a good durable coating to protect the wood.  I ended up using a Minwax poly for water-based stains, and despite my worry it turned out just fine.  Hopefully it will stand up to the wear and tear of my three kids!
Once the 3 coats of stain, and 2 coats of poly were applied and given plenty of time to dry, it was time to move the table inside!!!  I was beyond excited to see it in our dining room!!!!
I am not always very patient, so I started by bringing the legs in by myself while Jason was at work.  Jase once again was my awesome little helper!  The crossbar is so tight that I had to use a rubber mallet to assemble the table base.  I love that it is so easy to assemble / disassemble.  The crossbar is not permanently fixed in any way.  To move the table I can simply unscrew the top and hammer out the crossbar.  The table is then in 4, easily movable pieces.  (by easy I mean it fits through doors – however it is incredibly heavy!!)
When Jason got home I had him help me carry in the table top and screw it to the legs.  I was relieved that my crazy idea of building our own table not only worked, but I LOVE it!  It fits our space perfectly and doesn't look anywhere near as cheap as it was.
I am super happy with how our whole dining room has turned out!  The new style is totally what I wanted… updated and pretty, but not too trendy or stuffy.  I envision a lot of yummy meals and great conversations in our future!
I am loving it with the benches…
I love it with my "new" chairs…
I love the lanterns…
And, the table top…
And of course we have to see the before & after….
Before…
After!!!
OK, I'll stop saying love, but I really do!!!
As I was preparing this post I came across this table for sale at Joss & Main, for just over $2,000.  I am over-the-moon happy about my DIY version for less than $150!!!

Source
How cool is this round one too!
I may be slightly obsessed with the trestle style table now!  But, I love knowing that we have a table that meets our family's needs, looks beautiful, didn't break the bank to get, and was built by me & my father-in-law!