Decorating for the holidays is always a lot of fun for me.  I enjoy recreating the areas that I decorate the same every year, and adding some new things to keep it interesting.  The big challenge for me is decorating in new ways, without spending a lot more money.  It is that problem of wanting the good, fast & cheap, but knowing I just can't have all 3!
My front porch is always a little sad at the holidays.  I've tried various things, with various levels of failure.  Probably the worst was the year I made beautiful ice and cranberry candle holders for the sidewalk.  They were pretty for a gathering we had, and then the ice melted and we were left with cranberries all over our front walk and smashed into the sidewalk – which left stains until spring!  Not exactly a success!
So, this year I decided to use a little "real" greenery outside, since I can't have it inside. And, all the better – you can get it at Lowe's for free!  They keep a box in their tree cutting area where they throw all of the branches they cut off as people buy trees.  You can come take whatever is in the box for free!  I'm sure other places that sell Christmas trees do the same thing, I've just always gone to Lowe's.
This door swag is simply some greenery, and two bundles of berries I've had for a long time tied together with ribbon I bought to wrap gifts.  I did tie it all together with fishing line first, to make sure it would hold up to Iowa wind!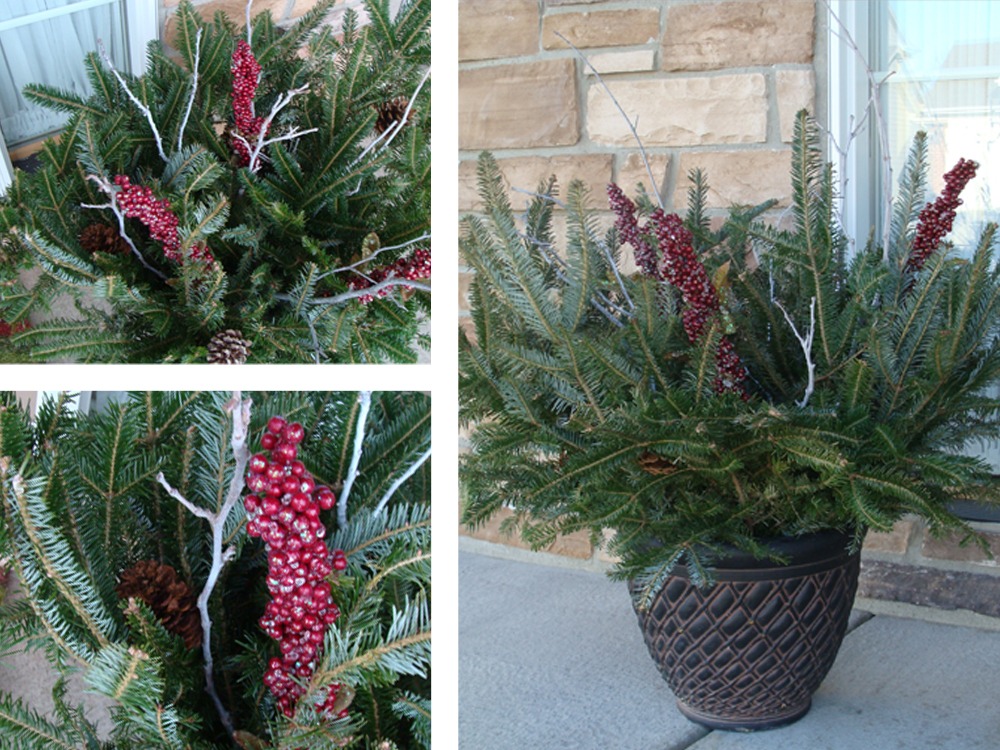 I also made these pots of greenery for either side of the door.  They were very fast, and cheap, which is why I love them even though they would never be featured in Better Homes and Gardens!
How I made them cheap:
1.)  Pulled out my pots for flowers in the summer.
2.)  Poured a bag of sand in the bottom (which I had from a landscape project) to weigh down the pots and give me something to anchor the branches.
3.)  Cut the branches and stuck them in the sand, starting with the outside of the pot and working in.
4.)  Added the 3 berry sticks to each pot – which I purchased from Hobby Lobby for $2.50 each.
5.)  Spray painted some sticks with white paint (gathered from my in-laws yard over Thanksgiving) and stuck those in as well.  I only lightly sprayed the branches to keep them looking more natural – like snow or frost.
6.) Last I added a few pine cones.  I purchased one bag for $5 at Target.
After adding a few more pieces of greenery to fill in gaps and "fussing" with it for a few minuets I had porch decor for about  $20!   I'm pretty happy with the end result!