Today is one part organization, and one part DIY.  I'm all about establishing order that is pretty to look at.  As most of you know, that can get expensive! So I always get excited when I have a DIY idea that makes pretty organization cheap too!
As I've mentioned before, I have been wanting to spruce up our den/office for a long time.  But, with more important projects on my mind (evolving kids rooms as they grow, and a finished basement) the office seems to always get moved to the back burner.  It doesn't seem realistic that I am going to be putting any big investments into the office anytime soon, but with as much as I use the space I still want it to be functional and nice.  I have open shelving above our desk for storage, and a perfect little spot to the left of my computer for reminders or special things.  The wall needs a little texture and interest too, so I knew a fabric covered magnetic board would be perfect.  I'm sure many of you have seen (or even own) these super cute magnetic boards from Ballard Designs.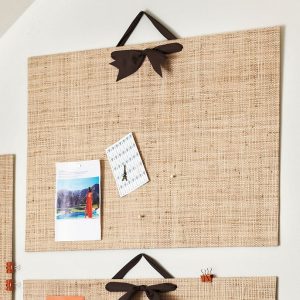 Love them!  I even love the "document" writing on this one.  However, I really wanted a slightly larger one than Ballard Designs offers, and needed it to be a little cheaper.  Added bonus of the DIY route – there's a little satisfaction in making it yourself!
My father-in-law had helped me make smaller magnetic boards about 5 years ago, and I knew I could make a much larger one with a few minor adjustments.  Here is a list of supplies I needed to get started.
1.  Sheet  Metal  – available in various sizes at Lowe's or Home Depot.
I used a 24″x24″ sheet, and it was $13.
2.  Fabric – 6 inches longer and wider than your sheet metal. (price varies)
3. Spray Adhesive – Hobby Lobby  $7.99 (large bottle, full price)
4. Super Magnets – Hobby Lobby  $6.99 (full price)
Now for the fun part – making it!  I started by laying my fabric under the sheet metal wrong side up, both on top of a drop cloth.  I cut the fabric so there was about a 3″ overhang on all sides of the metal.  I used pinking shears so the fabric would have less of a tendency to fray, but with the adhesive I don't think this is necessary.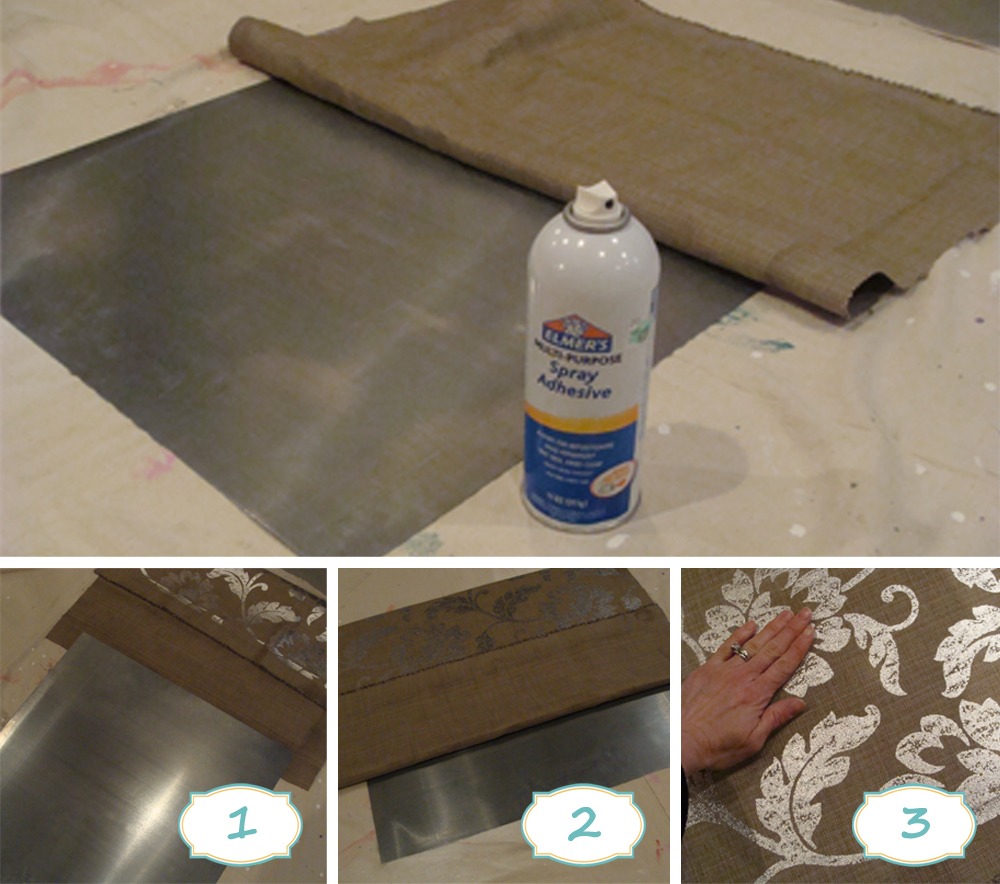 Making sure the sheet metal was centered on the fabric,  I sprayed adhesive on the top 3″ of my metal and folded back the fabric excess.  This worked to hold the fabric in place as I began to adhere the fabric to the "front" of the board. From there …
1.  Turning the sheet metal over, I made sure it laid flat and straight
on the 3″ portion of fabric preciously glued.
2.  I then sprayed the sheet metal in about 6″ wide stripes with the
adhesive and pulled the fabric down onto the sheet metal.
3. Using my hand I smoothed the fabric down and across
the sheet metal to ensure it was straight and free of any bubbles.

I then turned the board over again to finish all four sides.
1.  First, I attached the bottom 3″ overlap the same way I did the top section.
2.  To make a nice corner I folded the far corner of each side down to make a triangle.  The inside straight edge of the fabric should lay next to, but not on the sheet metal.  I used the adhesive to hold the folded fabric down.  In this photo the left edge (wrong side) of the fabric you see has not been folded over the metal yet, but the top (good side) of the fabric you see is folded down and adhered to the sheet metal.
3.  After spraying a 3″ strip of the sheet metal I folded the remaining 3″ fabric section onto the sheet metal.  As you can see step #2 gave me a neatly finished corner.  I did use extra adhesive on the corner.  The adhesive works well to hold the fabric to itself in these corners.  Repeat for all 4 corners.
And, DONE!  LIKE IT?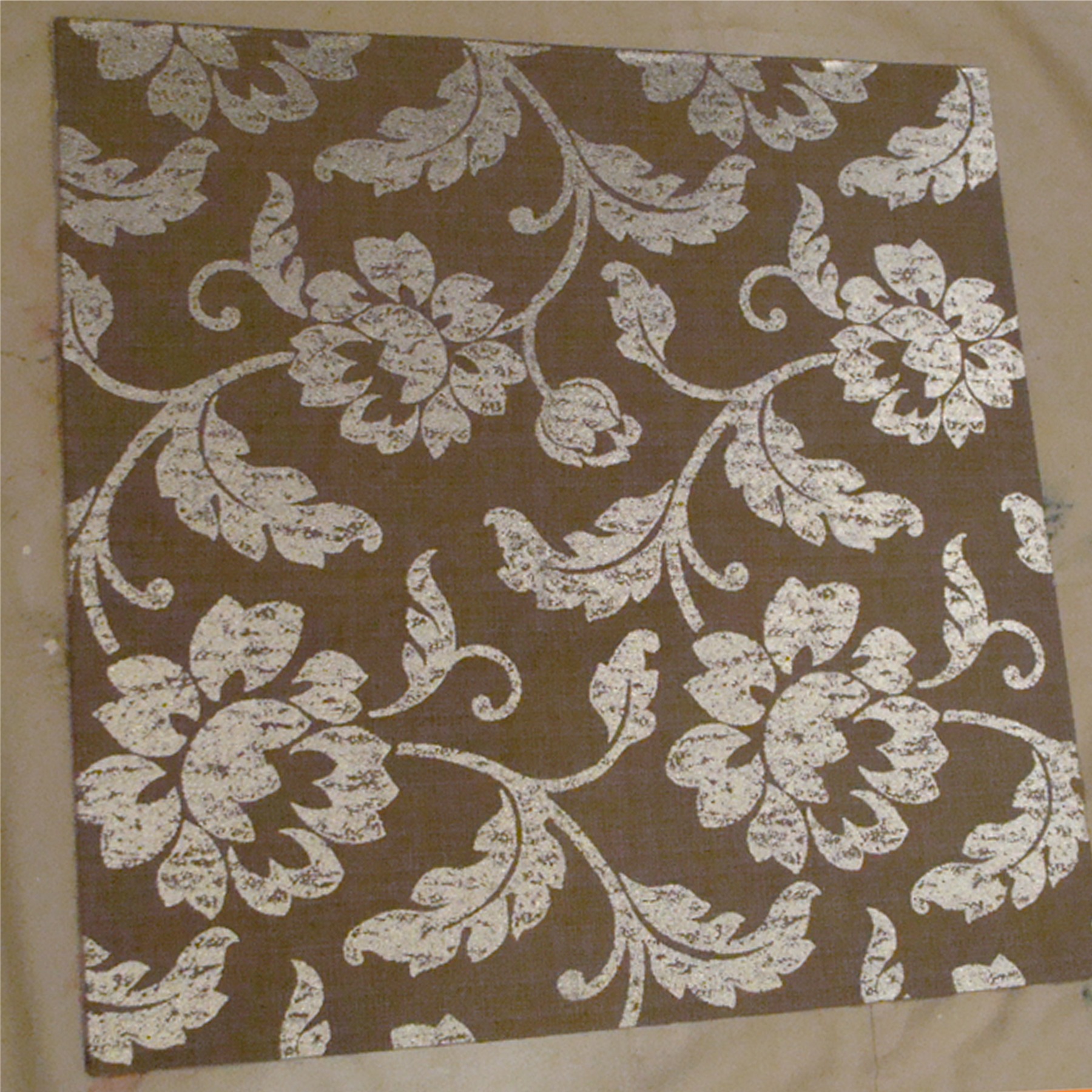 I have to say, I love the fabric! (Hobby Lobby home decor fabric)  It is a linen background with a silver floral pattern printed on top.  I like how it brings together the espresso wood tones and gray walls I have in that space.
Here it is in my office…
I hung it on the wall with the 3M velcro strips that I talked about in this post.  Since I didn't need the ribbon to hang it, and that wall has a lot going on, I omitted it.  But, you could easily add a ribbon just for aesthetic purposes.  You could even be tricky and use a small nail to tack it to the wall to make people think you hung it with a ribbon!  I didn't want to use ribbon to actually hang it for two reasons:  1. I didn't have a good tool to punch holes in the sheet metal and then you have to do grommets and 2. The Velcro strips are more stable, preventing the board from shifting on the wall.
And as much as I'd like to say that it will look this pretty, even when in use – you all know that isn't true.  So here is what it will most likely REALLY look like on a daily basis!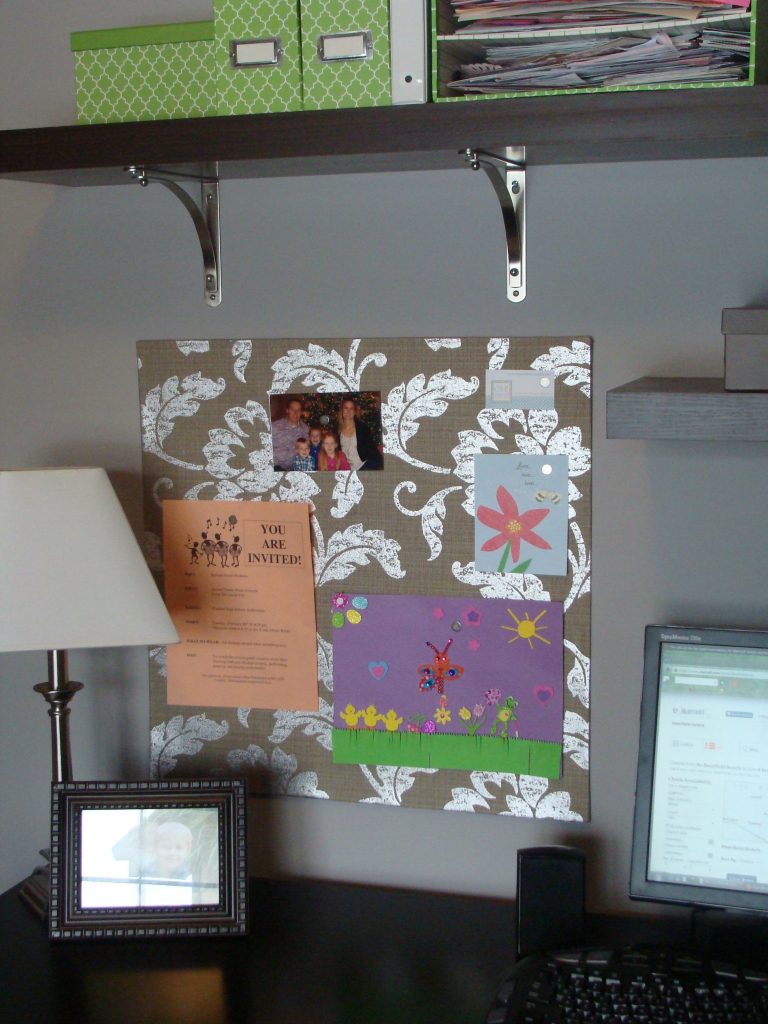 I know, it looks so nice with just the adorable photo of my brother's family… But it will be much more useful with invitations and reminders posted in plain view.  And, I will enjoy it so much more with cards from my hubby and crafts from my kids!
Is your refrigerator like mine and it isn't magnetic?  (Which I have to be honest and say kinda makes me happy!  It's a good excuse to keep it clean of clutter.)  Do you need a place to post things?  Make a magnetic message board!