We have been having so much fall fun that I'm going to have to insert an off-schedule blog post or two… I love fall!  I love the cooler weather and the routine that we have settled into with school and fall sports.  This last week has been a busy one for us, partly because we are making progress on finishing our basement – which is EXCITING!  but boy is it tiring too!  However, mixed in with all of that work we've found some time for some good old fall fun!
With the new school year, I have two kids in new classes, with lots of students and families that we don't know at all!  I always contemplate the idea of a "mom's coffee" or "back to school"  gathering at the beginning of the year to get to know the parents and kids.  However those gatherings seem like a lot of work, a lot of pressure, and lets' be honest – sometimes they're kinda uncomfortable for everyone!  As Addison's room parent this year I felt some added pressure to build a sense of community with her classmates and their families.  In talking with a friend at a different school she mentioned the positive turnout she had received in hosting a gathering at a local park – very informal, she just supplied the treats.  I thought, great idea!!!!
So, last night I hosted a little informal gathering at our neighborhood park for my daughter's class, and it was so much fun!  I thought I should share a little of the fun with you all – as I'm sure there will be some fall party planning going on in the next few weeks!
I started off with a very simple invitation…
I decided to forgo RSVP requests, and just go with the flow – which some of you know is a little against my character.  I didn't want families to feel pressure to commit to coming in advance, and I wanted it to be informal – just a fun playdate at the park.   If you like the design of this invitation I have created a copy of this invite in Word that you can easily modify with your event details, and print yourself!
This template link will take you to the downloadable version – feel free to use it any way you like!  The document contains two per page, that you can simply cut it in half if you would like a small white border on the invite, or you can cut the margin and have a border-less invite. You can also have it printed at a copy center like Office Max for about $.50 a copy – which is $.25 an invite – not bad!
If you go to use the document and don't have the cute font (Jenna Sue) you can go here to download it for free.  Once the font is installed on your computer you will be able to use it in all of your programs.  I love all the cool free fonts you can find!!!  If you don't want to download the new font, you can always change it to one of your favorites!
Once the invitation was out I had to decide what my "sweet treat" would be that I had promised.  I was inspired by these super cute Rice Krispie treats a friend was making – and yes hers were this cute!

However, once I was at the store I kinda chickened out on the idea of carefully placing that many M&M's – there are 22 kids in my daughter's class!  I also wasn't sure how many extra I would have to make for siblings, since I hadn't asked for RSVP's.
So, I wandered the aisles of Walmart until I had a little inspiration!  Here is what I came up with…
I bought these cute little cupcake kits…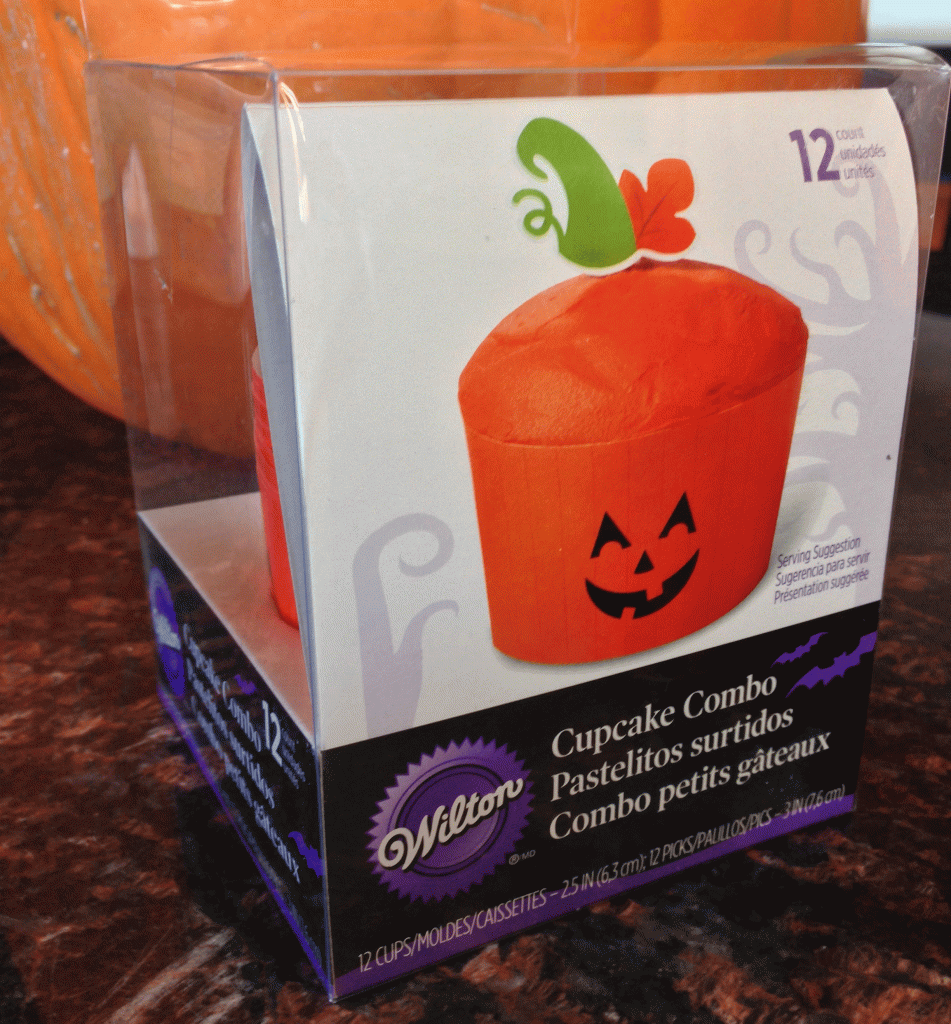 …and some yummy "trail mix" type snacks.  I got pretzels, raisins, candy corn M&M's (who knew those existed! but they are yummy!!!) and candy corn candies.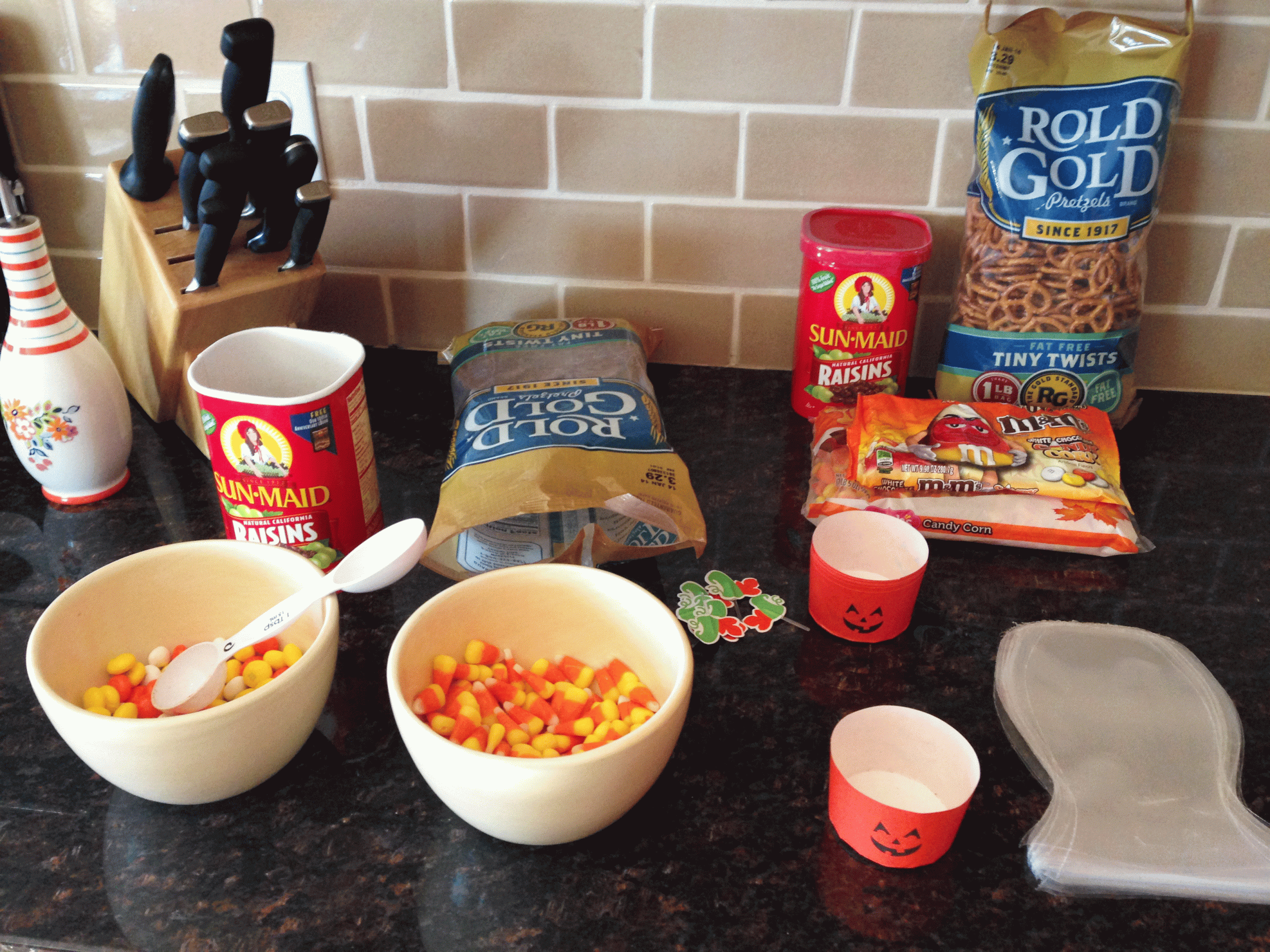 I filled up treat bags with 1-2 tablespoons of each item, tied them with a ribbon and the little pick (cupcake topper), and plopped the bag in the cute little pumpkin cup.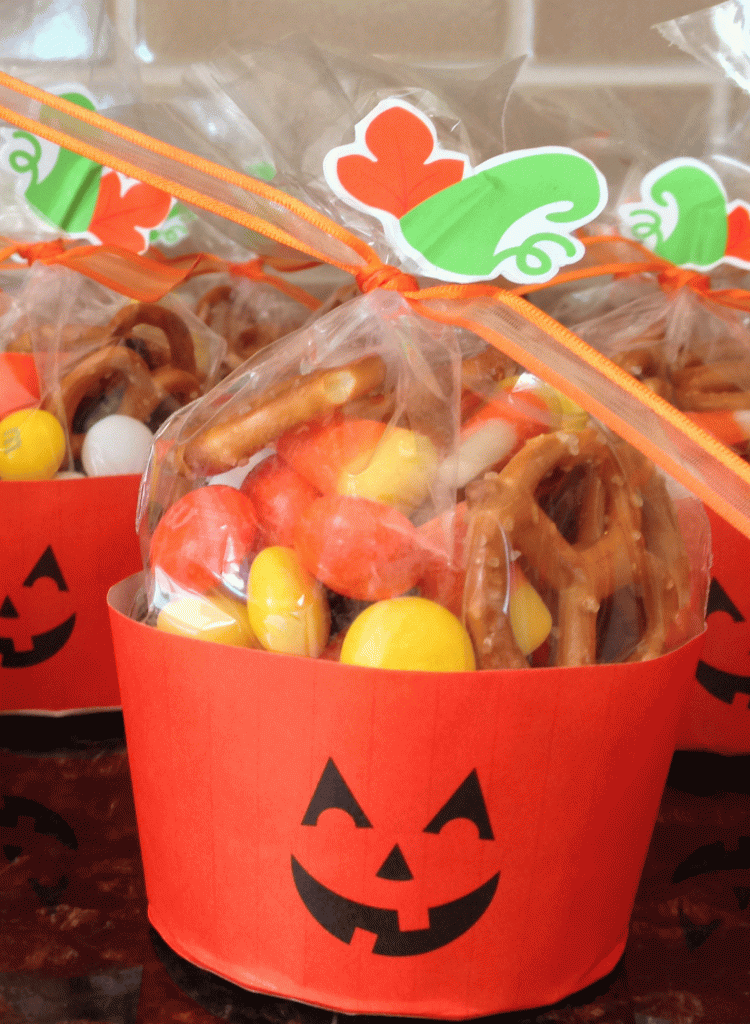 Pretty cute, really simple, and super yummy!  This could easily be a kid involved activity for a school party too.  Kids could scoop their own snacks into the bag – kids think that is super fun for some odd reason!  Of course I made more than one….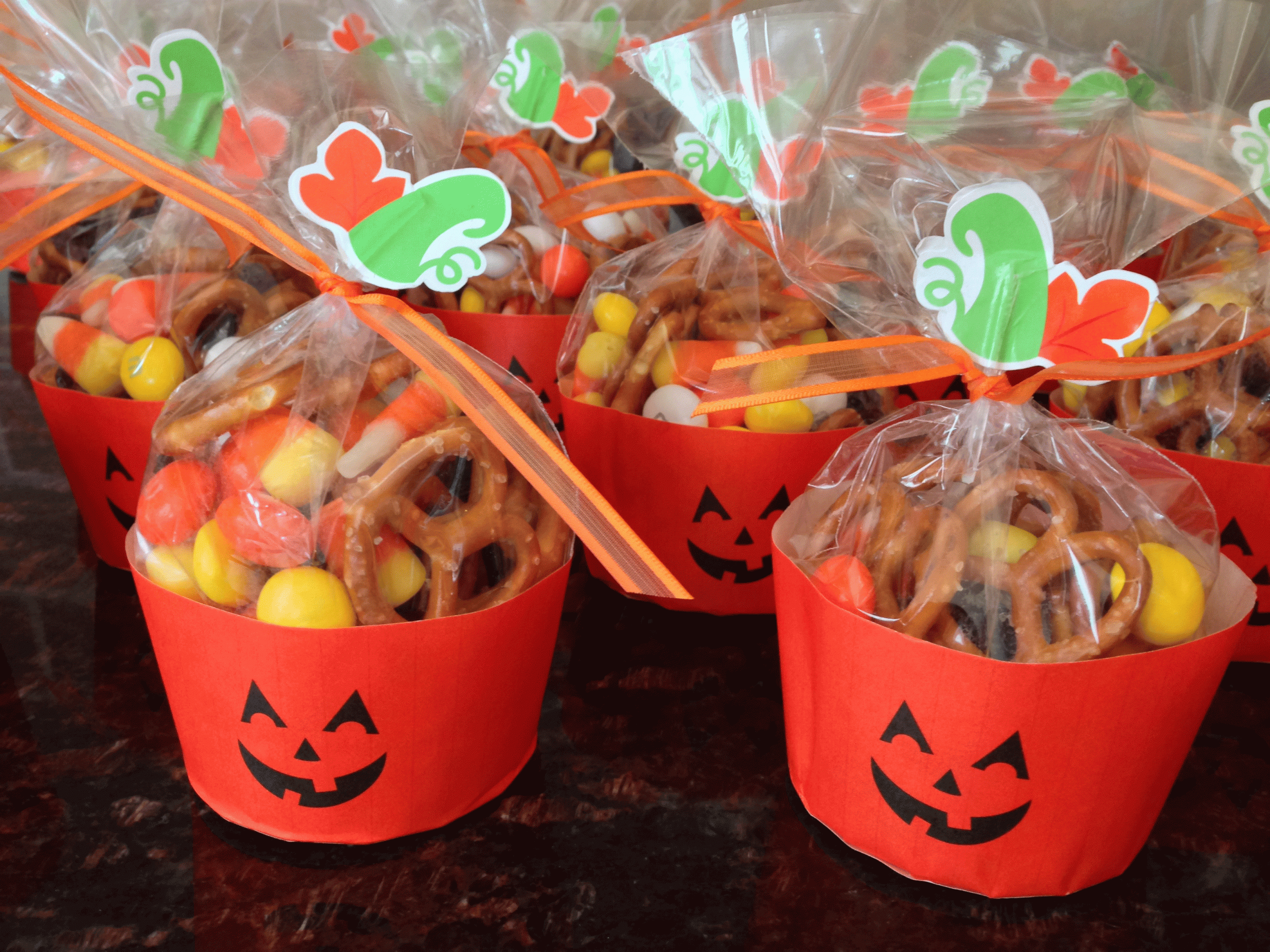 and here they are all lined up on my tray to take to the park…  I also loved how easy they were to transport, and that kids could carry their snack while they played without making a mess and needing napkins.
Lucky for us, the weather yesterday was amazingly gorgeous!  The kids had a fabulous time just playing on the playground and seeing their friends, but the party planner in me had to do a little more!  So, I wandered around Walmart  and got some strange looks when trying to find sidewalk chalk and bubbles in the middle of October.  I found them though!!!   I know bubbles and chalk aren't genius – we've all used them as party favors and time fillers – but they are always popular, and don't break the bank!   So here are the little favor bags…
Each bag had two pieces of sidewalk chalk, one bottle of bubbles and one glow stick.  I added a little tag to reduce the awkward confusion of who they were for, how many each family should take, if they were supposed to be opened at the party….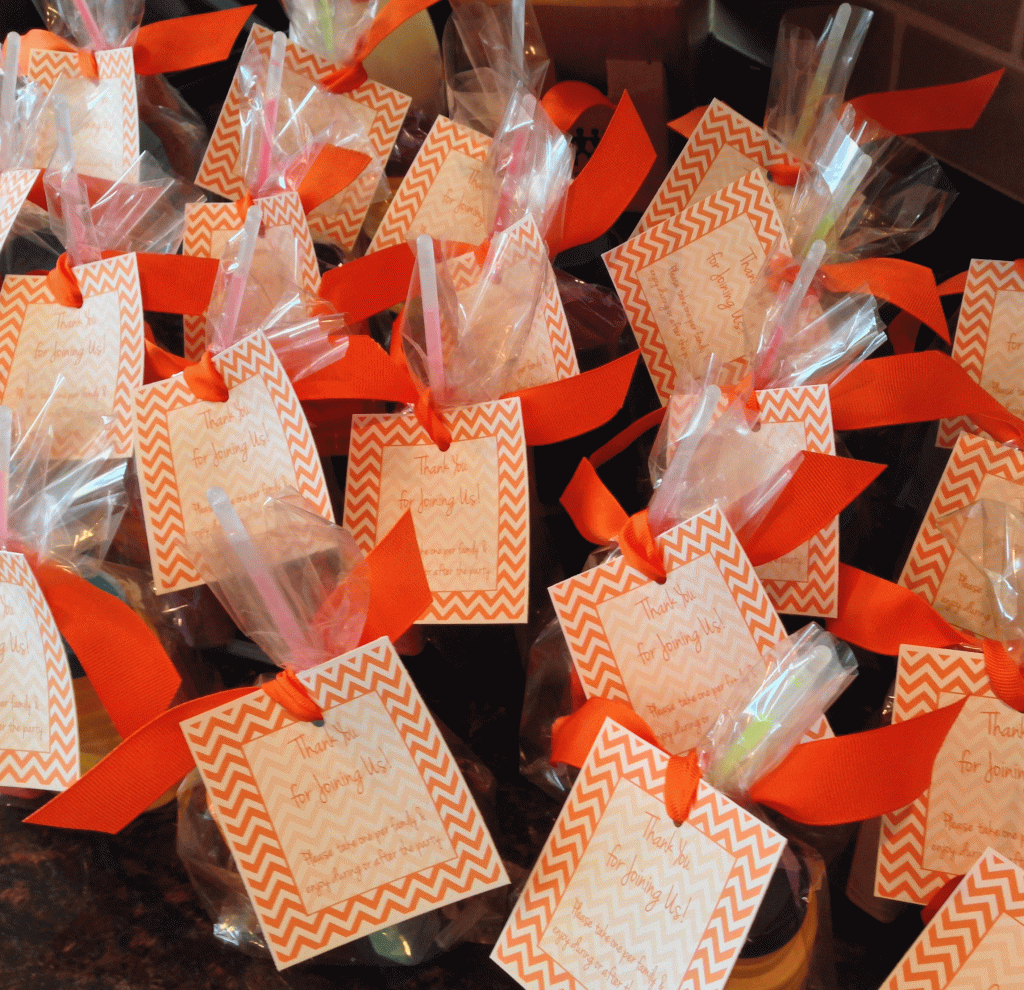 For under $1 a kid these little bags added some "cute" to the plain park picnic table – I always like an atmosphere of festivity!  The bubbles and chalk were well played with, and a few kids were even at the park late enough to enjoy their glow sticks!
I also brought a drink tub with the promised juice boxes – nothing fancy, and some extra party mix in a big bowl with small cups for adults and siblings.  Overall it was easy to plan and totally inexpensive. Better yet – we got to meet a lot of new families that will be a part of our child's daily life, and I'm pretty sure a bunch of little munchkins felt special. To me, that's the joy of planning a party no matter how big or small!