Hopefully my last post convinced a few of you to hang with me through Organization 101, until we get to the fun projects! Today I want to pause on the topic of why you want to be organized long enough and get a little personal.  I'd like to share a little about my "KEYS" to staying organized during the craziness of life, when it seems like an impossible task. I hope that it also helps you identify some positive reasons to be motivated to not just organize a space, but change the way you view your organized life!
I can quickly identify my three key motivators on a daily basis that help me "stay" organized. I love my blessed life! and want to have the time and peace of mind to enjoy it to its fullest. When my home is in order it allows our family to run more smoothly. We can enjoy ball games, school events, family gatherings, and spontaneous trips to the park or pool. A big key for me is being able to enjoy my home, family and friends – these things bring me even more JOY! than an organized closet!
Here is something that brought me lots of Joy! A very fun Dr. Seuss Birthday Party for my baby (who's not a baby anymore!)   We shared a fun day with friends and family! More on organization in a minute…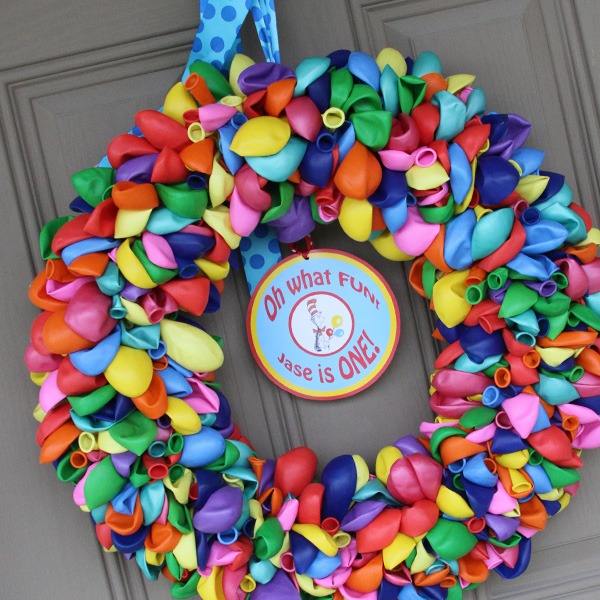 Click on photo to check out a post on the festivities!
Back to the real topic of this post – what it's all about for me!
More than just the peace of mind order brings to my days, I also want my children to grow to be good stewards of what they have been blessed with  I want them to understand that this blessed life we live is not to be taken for granted or treated poorly. I want them to understand that taking care of our belongings is hard work sometimes, but it is important and worth the rewards. I also want them to feel good about home, able to relax here and proud to invite their friends in.
My third greatest motivator in my daily life is my husband – my love! I have never a day in my life felt pressure from him to order anything in our home. Yet, on a regular basis I see (and he tells me) how much he appreciates it, benefits from it and is thankful for it. However just in case you are thinking we live in bliss! he does wish he could pile the contents of his pockets on the counter and leave his shoes in front of the door without me moving them!
Here is one of my challenges! to keep our home in order so that it functions well and promotes peace among us – but not get so caught up in perfection that it destroys our peace or the quality of our time together!
I would also say that being a good steward of my blessings – not wasting time and money on missing or destroyed things – is of value to me. It drives me crazy when I know I own something, but can't find it – and yes, this does still occasionally happen to me!
It is also a good thing when home is a source of rest, security and pride for those in our family. Here is another challenge for me! I want my home to be a source of pride for my husband in how hard he works to provide for us, and for my children that they will desire to bring their friends and every aspect of their lives into our home on a regular basis. However! I do not want our home to be a source of pride for me – in how "orderly or clean" it has become. I know that pride prevents others from feeling welcome in our home and is generally followed by a week of my home looking like a tornado came through town!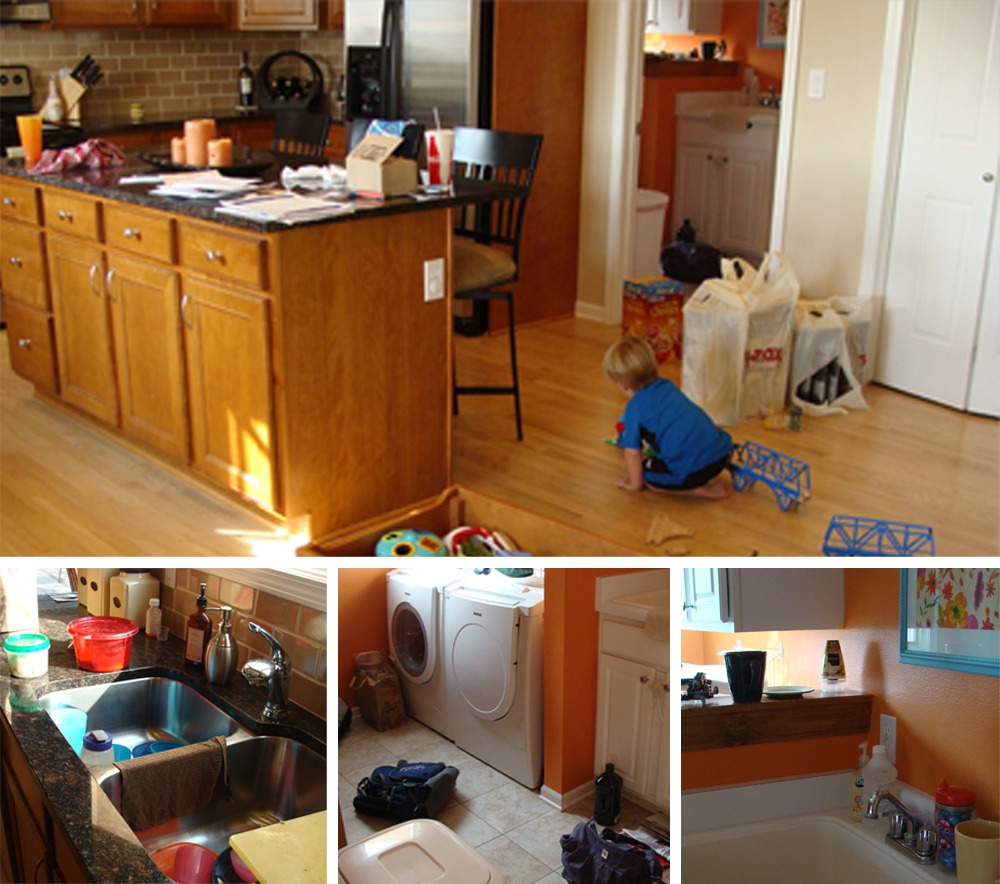 Yes, on most days you can enter my home and most things are where they belong – at least to start and end the day!  It is the in-between time that can be a bit crazy!  These pictures are of my home at about 4pm one day last week.  I went to the gym and ran errands all day, and had to shower. (sometimes it gets to the point it is no longer optional!)  By the time my kids got home from school my shopping trip was strewn across the floor, nobody got their bags in our lockers on their way in the door, toys were all over, and yes! those are breakfast dishes in the sink!
You see, we all have those times, the reality of life means that if our priorities are properly placed – some days our house will be chaos!  My goals are to make sure this does not become the norm of a day start to finish in our home, and that systems are in place that make recovering from a day like this fairly fast and painless.  More on that to come – I know I keep saying that!
So, before you read my next post and I'm hoping you still want to! 🙂  I would encourage you to really ask yourself… Do you need to be more organized? Why? Being organized is truly "the thing to be" these days, but what are the costs & benefits? Organizing too much is just as detrimental to the things in our life that matter most, as organizing too little. I know it is a constant challenge in my life to work towards organization that only makes me better in my role as a mother and housewife.  I have to be able to maintain order, but also be o.k. when my blessed life leaves me a pile (or 2 or 10) of who knows what!!!
And… If you (or someone else in your house – wink! wink!) is not sure about being organized, read this!