I am  starting to think that spring may actually arrive here in Iowa this year!  I love when the weather gets warm for a million reasons.  Like right now my kids are outside playing and my house is really quiet!  Ahhhh!!!
I also love that I get to clear the boots & gloves & hats & snow pants & 3 layers of outerwear & coats… out of the mudroom.  Well I don't actually clear it all out, but it gets stored out of sight until next fall, and the melting, muddy snow is gone!
I told you about the crazy, random assortment of stuff that gets stored in our laundry/mud room in my last post, where you also saw our built-in cabinet storage.  I loved our mudroom when we first moved in.  We were a small family of three, and Carter was only a year old.  Crazy how time flies!  Now that our family has expanded to five and everyone has bags, snow gear, beach towels, shoes, boots, hats… our three lockers just don't seem as big as they once did.
I began to feel like our mudroom room was an awkward mismatch of stuff stashed in a not-so-hidden space.  Not terrible, but obviously not great either….
Everything had a home and it functioned quite well.  But it really was not much to look at!  With as much work as it takes to keep this space in order on a regular basis, the hodge-podge visual outcome of even a  good day was leaving me a bit frustrated.
The first thing I really wanted was a more visually cohesive way to store everything in the top cubbies.  I also really wasn't loving the moss green canvas bins I bought when we first moved in.  They functioned fine, but were a lot smaller than what the cubbies could hold, and I wanted to better utilize that space.  The moss green was just not very happy with the new orange walls either.  I knew those lockers had way more potential!
So as we all do, I began looking at  beautiful mudrooms in magazines and online for a little inspiration.  As I've said before, I am obsessed with baskets!  Naturally my eye gravitated to basket storage solutions.  I began my hunt for cheap, sturdy, beautiful baskets that fit perfectly in the cubbies – to maximize the space.  I also started loving the baskets with chalkboard tags that are very in-style right now.
Anyone know me well enough yet to know what comes next?  Yup!!  Found lots of gorgeous baskets that were exactly what I wanted, for a price I could not justify.  I was getting a little frustrated with my options.
O.k. I'll admit that I can get a  bit obsessed with finding the perfect thing and end up going to 5 different stores, 2-3 times each trying to make up my mind.  BONUS for you all – if you ever need storage pieces I can tell you what's out there, where to find it and usually how much it costs!  Feel free to comment or email if you are looking for that "perfect" piece to order a space in your home!
I considered these baskets from Ballard Designs…
They are nice and tall, which would hide the contents.  They would look nice and be sturdy, plus the color would go great with our wood lockers.  However at $60 for a set, they weren't cheap.  They were also a little smaller than I wanted, which would have again left unused space in the cubbies.
I then found some baskets at Target that were the perfect size, and $25 each.  They maybe weren't as sturdy and didn't have the chalkboard tags, but otherwise they were great. I had originally thought I just needed three baskets for each cubby, but while I was searching for nice baskets, my ideas transformed a bit and I now wanted six!  This would allow me to store items on top of the lockers, and keep it all uniform and tidy looking.
I'll admit it, was holding out a little – hoping I'd still find something better.  Every time I went to TJMaxx or  Michael's (my two favorite places to find baskets on the  cheap) I would search high and low for the perfect set of baskets.  I just could not find anything that seemed as good as those Target baskets!  However, $150 for six baskets was still stressing me out a little.
Then one happy day I found them on clearance for $13 a piece! Yeah!!!  Isn't that the best when you find what you really want for half what you were expecting!  Really it wasn't totally luck, I have developed a habit of stalking the Target shelves when I want something but don't like its full-price sticker.  If I'm patient, I can often find what I  want on clearance – but there is that devastating risk of it selling out before I buy it!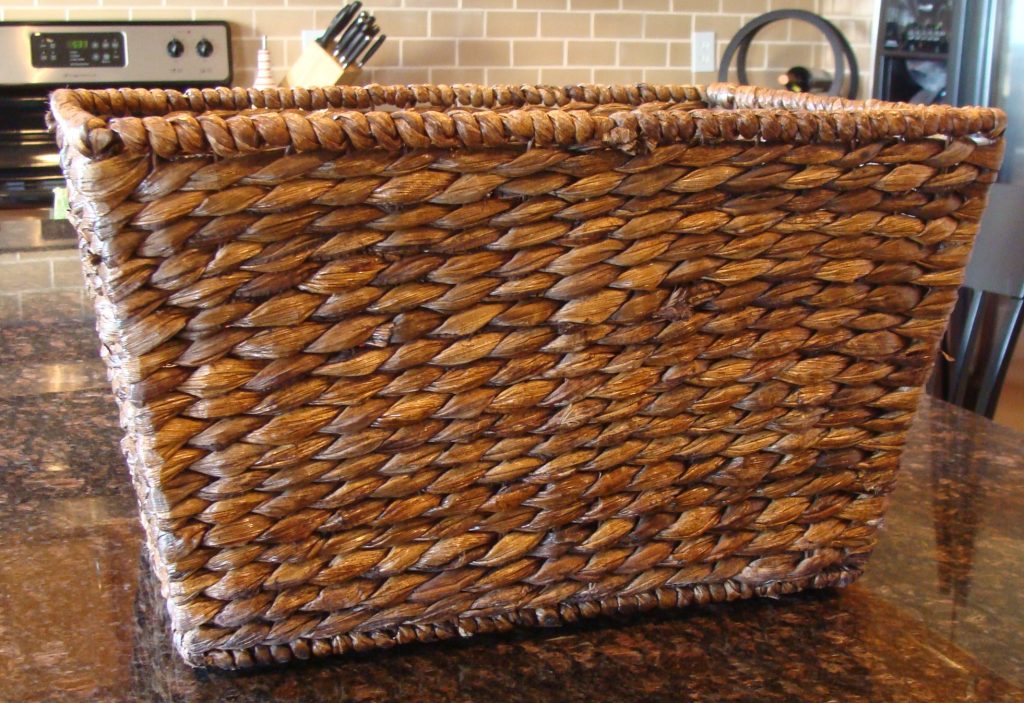 I drove to three different Targets, at nap time, to track the baskets down – unfortunately another common casualty of wanting cute Target finds on the cheap!  But I was a happy lady, even if my toddler was exhausted!  Don't judge!  🙂
Now I had my fab baskets that fit my lockers perfectly, but I was still lacking the cute chalkboard labels.  With the help of my father-in-law (yes he rocks, and yes I'm lucky!) we cut a piece of 1×3 pine ($6 at Lowe's) into 4 inch pieces and drilled 2 holes to be able to tie them to the baskets.  If you don't want all that hassle, Michaels has great pre-cut tags (some with, some without holes) in their unfinished wood craft section.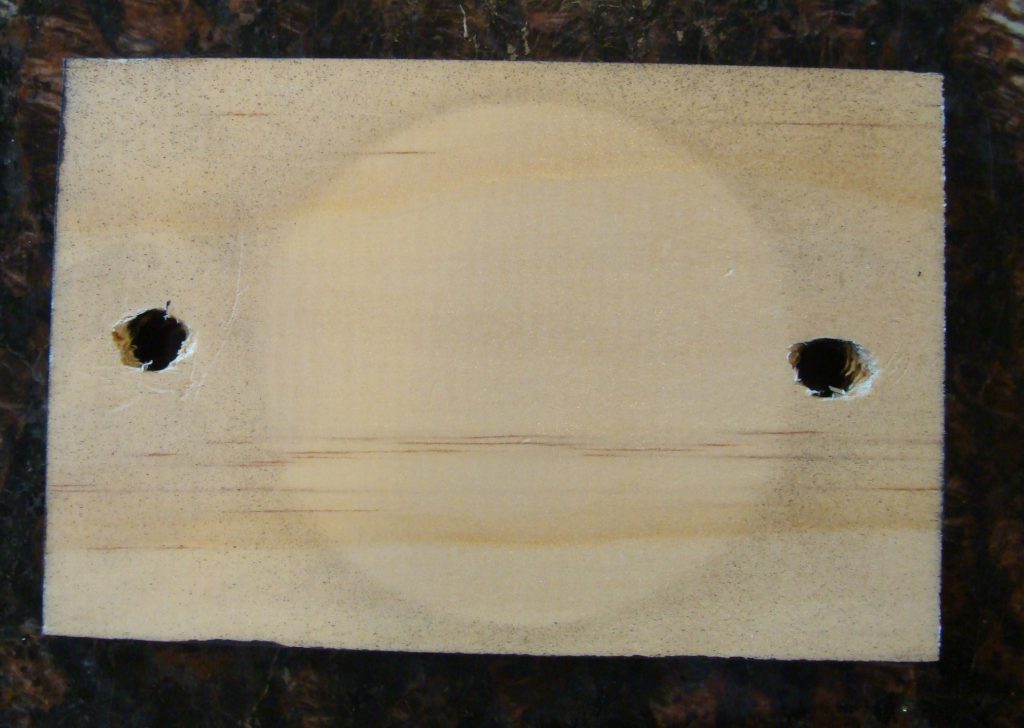 I used black, chalkboard spray paint ($7 from Walmart) to paint the front side of each tag.  I placed the tags on top of a plastic cup, so I could easily paint the sides at the same time as the face.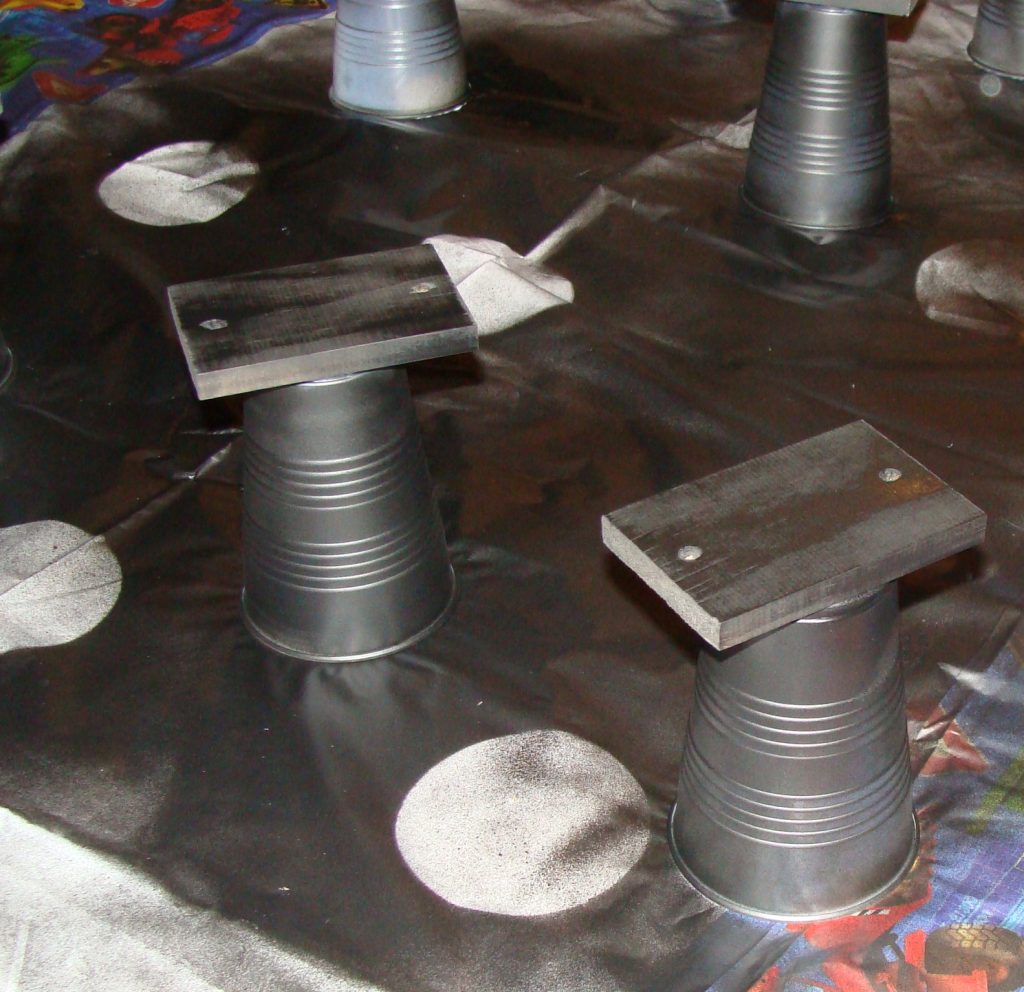 To ensure that the tags would be durable over time, I applied four coats of paint.  The chalkboard paint dries really fast, so I finished the painting in one day.  I used Jute Twine ($2.90 at Home Depot for 190 feet) to attach the tags to the baskets and my liquid chalk pen to write on them.  I love! the liquid chalk.  It looks just like chalk and washes off chalkboard surfaces, but doesn't rub off like the traditional (and kinda messy) kind we had as kids.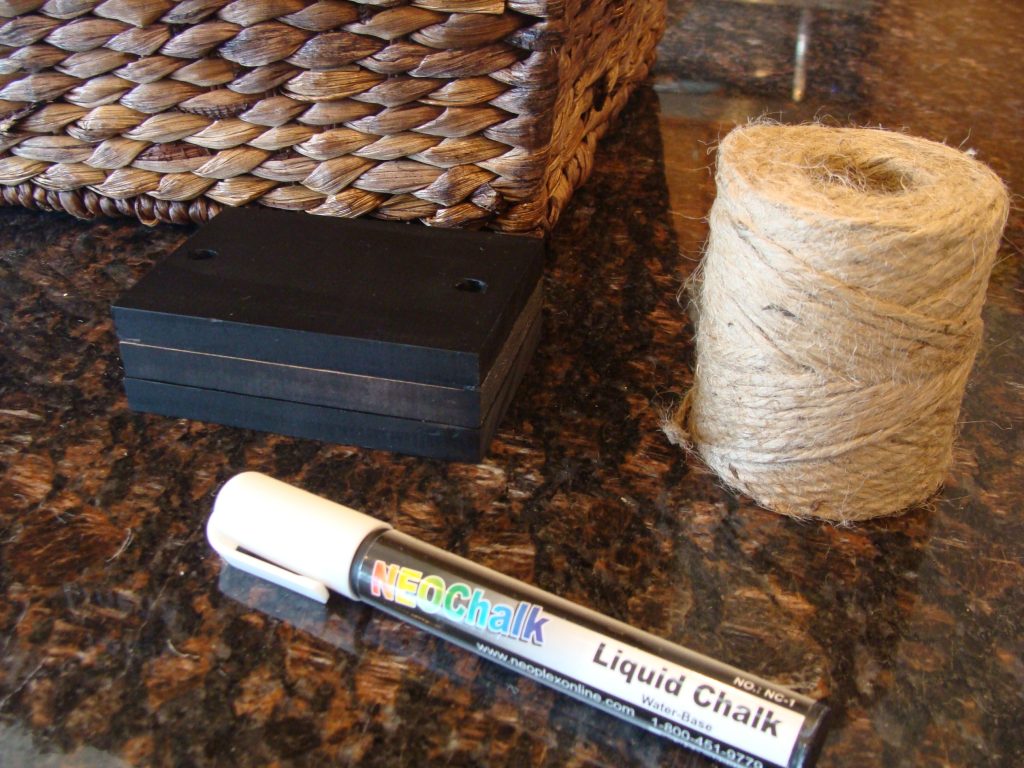 My handwriting is far from elegant, but it is legible.  So, I simply printed the contents of each basket on a label, and tied it to the basket.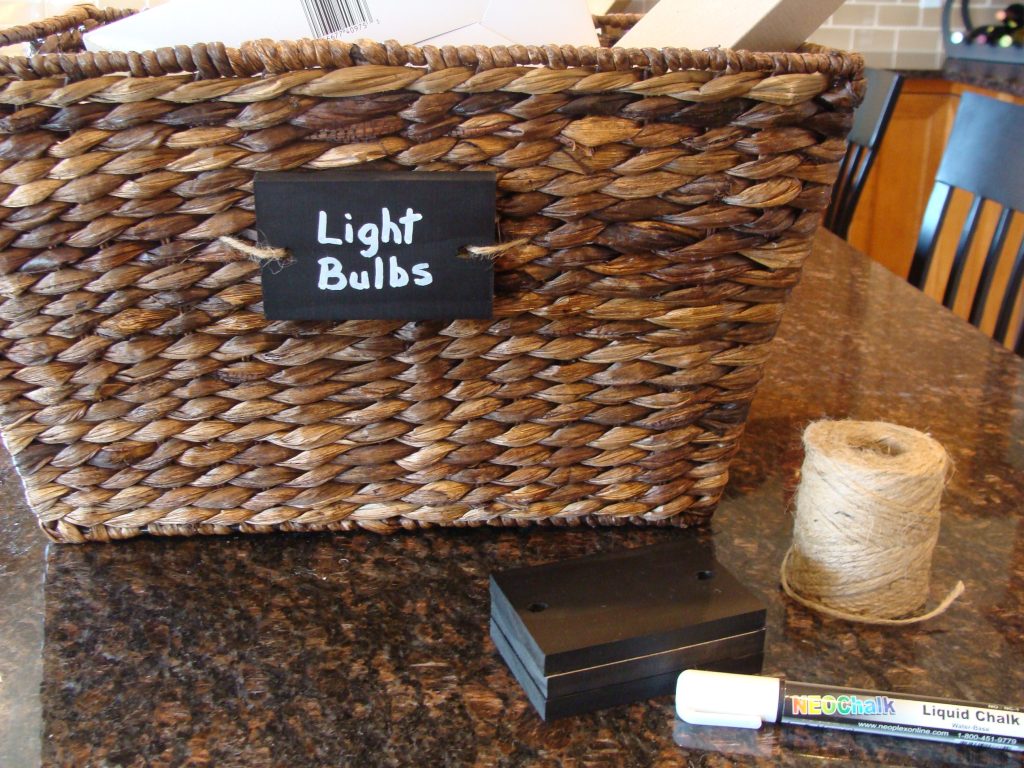 And here they are in their new home!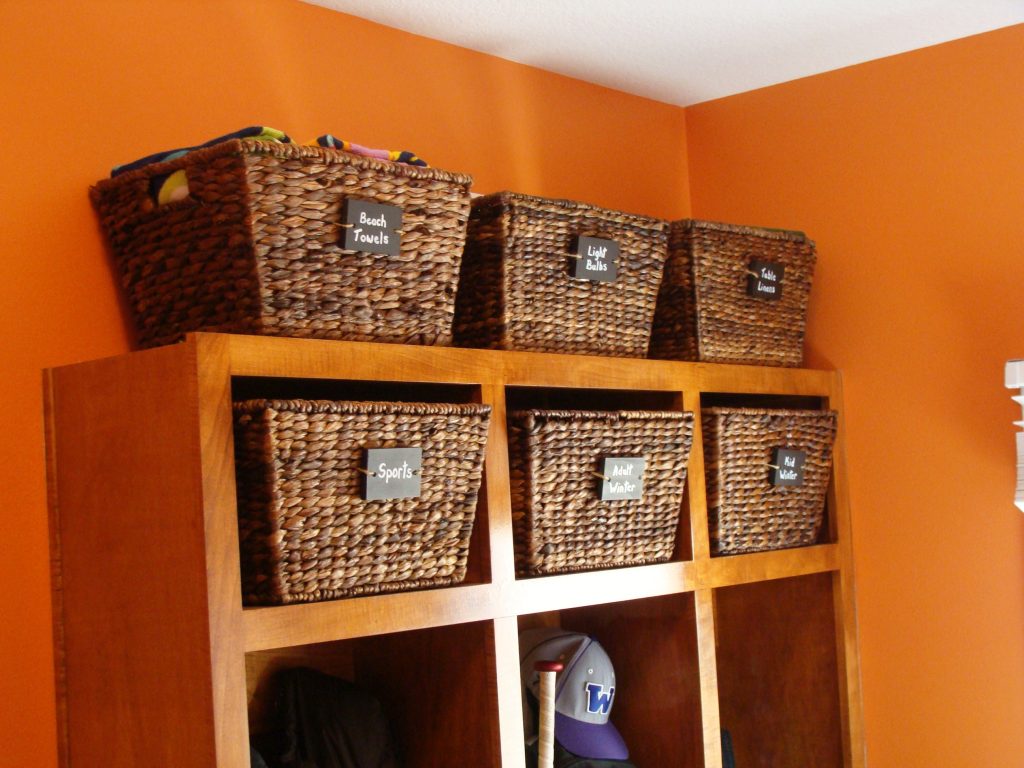 I love them! 
I LOVE..
~ That the color is medium toned and looks good with our wood lockers.
~ The chalkboard tags are easy to read and easy to re-write on.
~ There is a ton of hidden storage!
~ All of the baskets are uniform, simplifying the chaos!
~ They fit perfectly, maximizing our space!
~ The baskets let air flow a little – especially for sports stuff.  : )
Did I say that I love how they fit perfectly and maximize storage?  SO much better!!!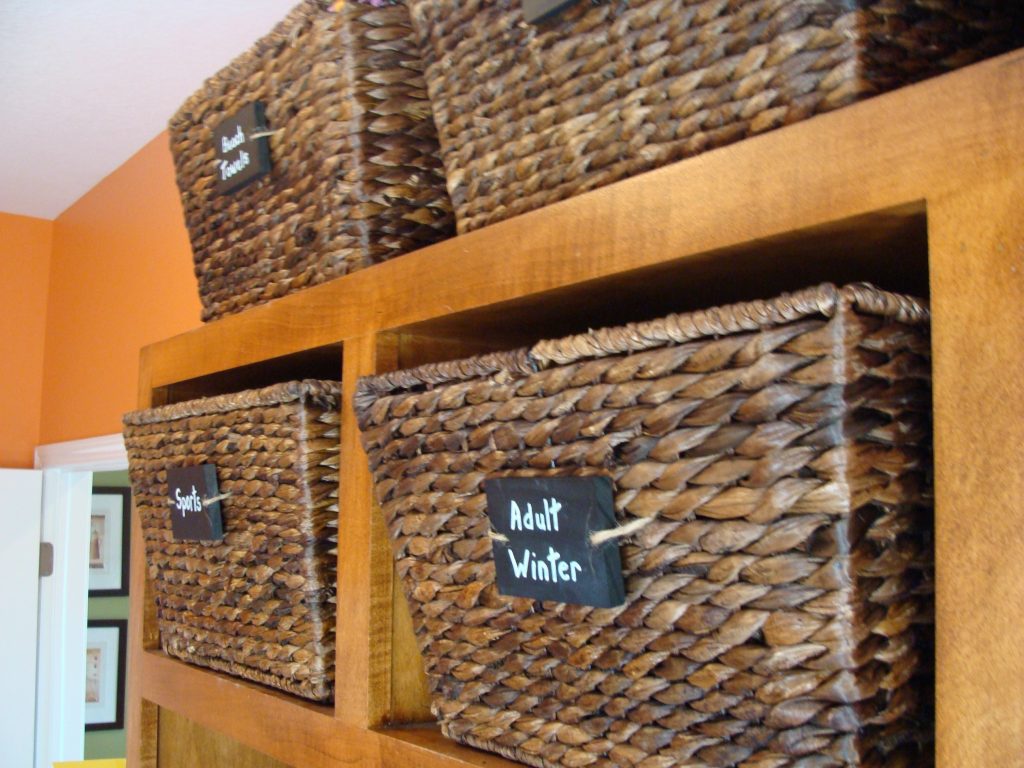 They are nice and tall too, hiding the mess inside.  Not that there is a mess inside, of course it is orderly inside too.  ; )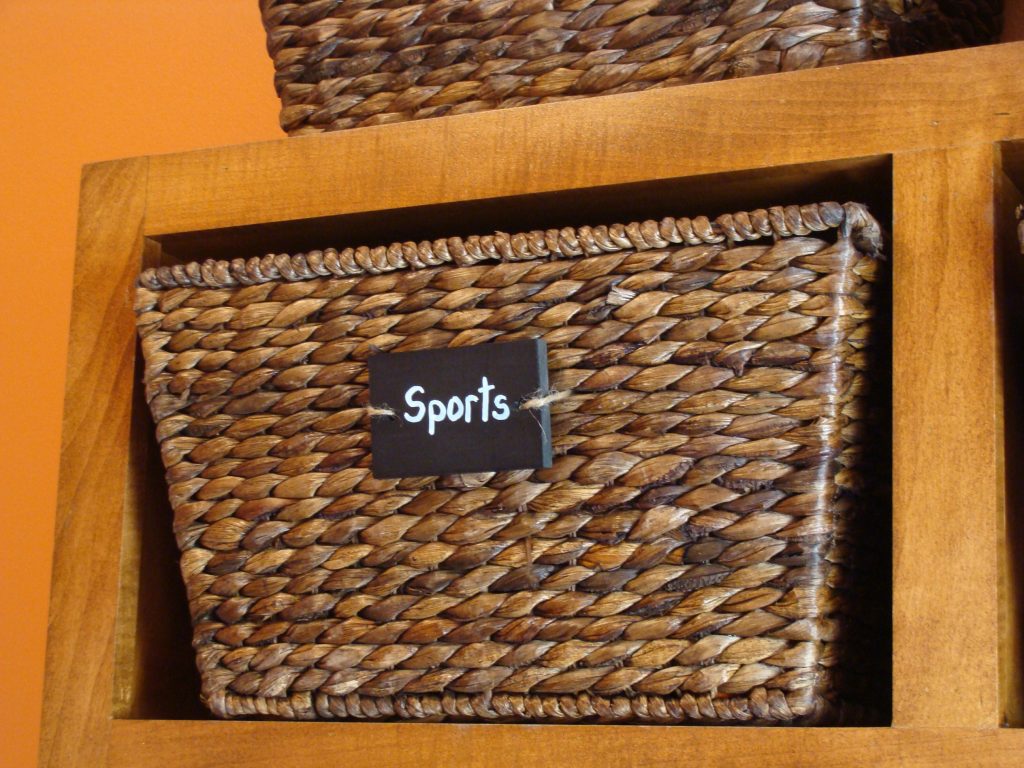 I really do love the new look and function of our locker storage.  And, for those of you that are wondering what is actually in all of  those baskets… more on that next time!  But first, we have to see the before and after!!!!

Do you think it was worth the searching and painting?  I think they're perfect after all!  Do you have any basket storage solutions you're loving?