My favorite time of the year is truly Christmas!  I love everything about it!  I find joy in celebrating the birth of our savior, spending time with family and friends, and all of the preparations.  I enjoy decorating our home, shopping for gifts, planning yummy food to share with loved ones and watching as my children discover new things about the meaning of Christmas every year.
With all of this Christmas Joy beginning to take over our home I had to insert a little about Christmas at our house.  If you all are like me, you want to see my tree.  I love seeing other people's trees and am always looking for inspiration to change ours up  a little.
I would love to say that I am that mom that wants glue and candy covered pine cones, paper hand print crafts, and candy cane creations  all over my tree simply because they were made by the precious hands of my children.  I do love those creations! but I so want the "pretty grown-up" tree in my living room.  We have a small tree upstairs for the kids to display all of their handiwork.
So, the tree!!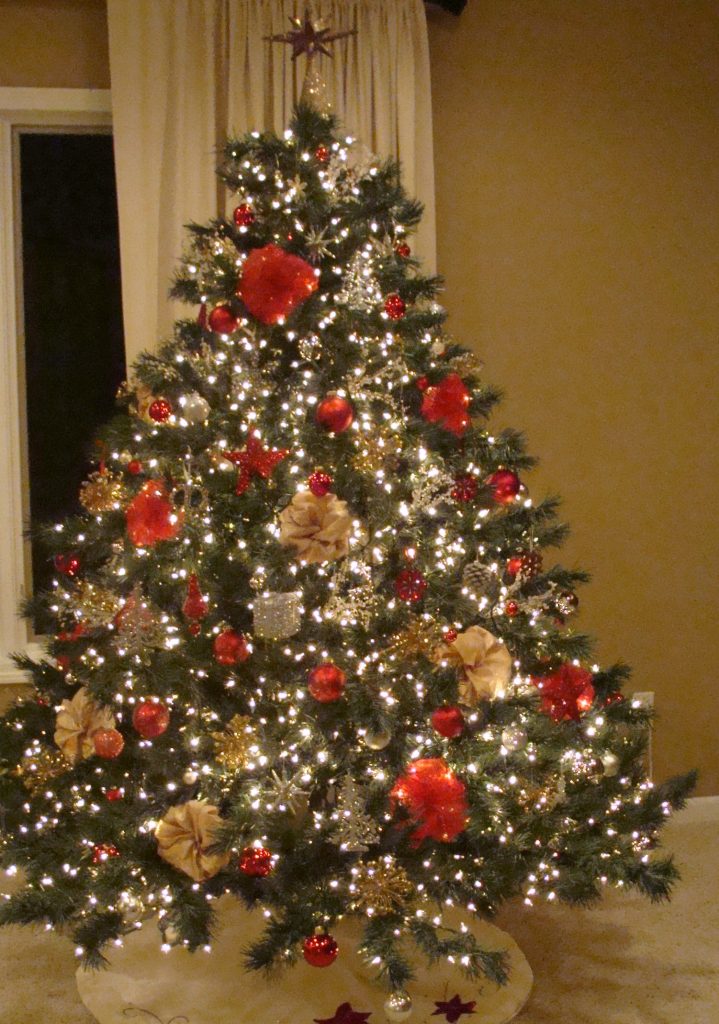 I have seen some of your gorgeous trees, and let me tell you I feel a bit inferior in putting this picture out there.   But, I still love it because it is ours.  I love that all three kids helped haul the branches up from the basement and put them in their slots, begged me to get the lights on faster so they could hang the ornaments, and then complained when all the ornaments were in place and the work was done.  I love watching them discover the joy of making Christmas memories.
And so you all know I am a bit sentimental… I must admit that I love our artificial tree.  I always had real trees growing up and was honestly a bit devastated that cutting down a real tree would never be in my children's future, because my husband is miserably allergic to them.  But our tree was my husband's as a child, given to us by his parents.  Knowing this artificial tree has been a part of my husband's Christmas since he was a child makes me smile all the way through!
I am also smiling at the pretty bows on our tree!  I love beautiful ribbon and bows, but that has been a huge challenge for me over the years.  Me and ribbon bows, well we just tend to fight and I always lose.  I can do a simple bow, but nothing with layers that fancy it up.  So, over the last few years I have wrapped ribbon around our tree or let it cascade down.  The problem is, that cascading ribbon only looked nice for about 24 hours until a flying ball or two, running children, and other flying objects resumed their normal patterns.  The ribbon was not beautifully draped, twirling in and out of branches and around sparkling ornaments as I envisioned in my head.
So, this year I was determined to do something different, but had no idea what that would be.  The day we put the tree up I stumbled upon the easiest little flower bows in Better Homes and Gardens Magazine.  They have several styles of bows in their December issues, and I can actually tie them!!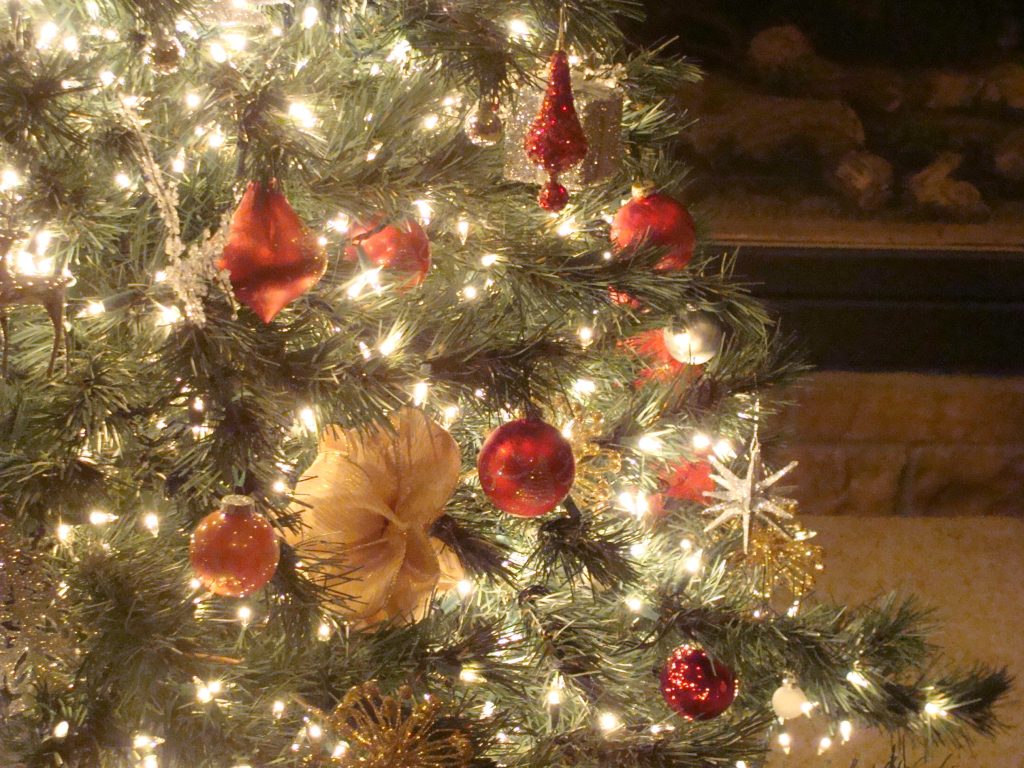 Maybe I'm the only one that thinks these are wonderful!  But I love the way they look a little like a bow and a little like a flower.  I also like that they look a little more modern than the layered bows I used to "try" to make.  However, they are super easy!!  I was hoping to give you all a quick little link to the BHG page with all the instructions, but they aren't available online yet.  If you don't have access to the magazine, here are my Basic Instructions.  They are seriously so easy and fast.  I think they would be super cute on packages too!
I'm excited about another little find for my holiday decorating!  I always change out the mats in some of my framed photographs around the house to red, just to add a little holiday spirit!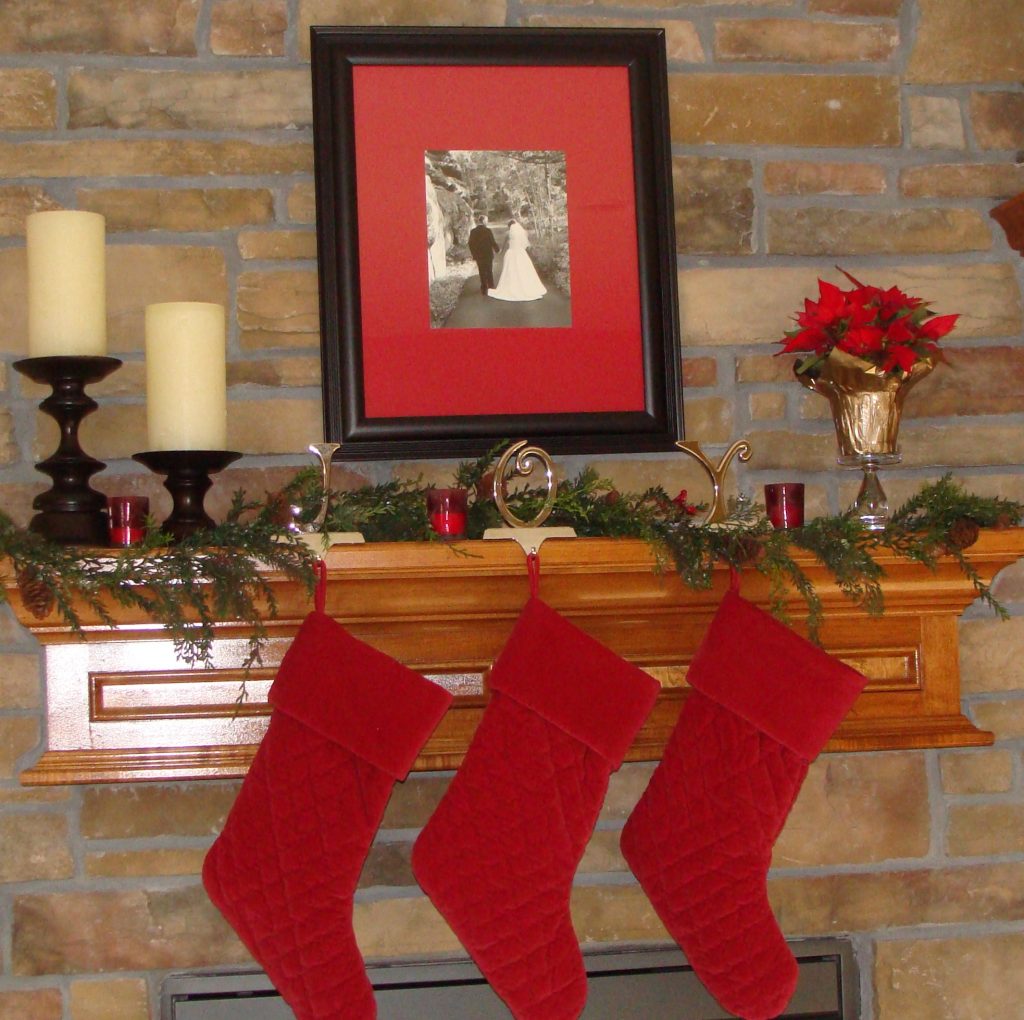 This is a very easy and cheap way to add some holiday color.  I buy a full sheet of mat that is in-stock at Hobby Lobby, when it is 50% off.  I then have them cut the mat to the correct size for my frames with no openings.  They will do that for you while you wait, and it is only about $1 per cut.  You can do several frames for under $10 – mat and cuts.   I then use archival safe double-sided scotch tape (yes, I'm obsessed with that stuff!) to mount the picture on top of the mat.  For this picture above the fireplace, the photo is always attached to the red mat board.  I simply move the normal white mat with a cut-out behind the red mat for Christmas and then return the white mat to the top after the holidays.  I don't have to re-tape the photo every year, or find a place to store the mat – it's always in the frame.
I also have six black and white photos in our hall from our wedding, and I change out the mats in three of those.   The problem is that these photos hang with a simple saw tooth picture hanger and are constantly crooked, which drives me crazy!!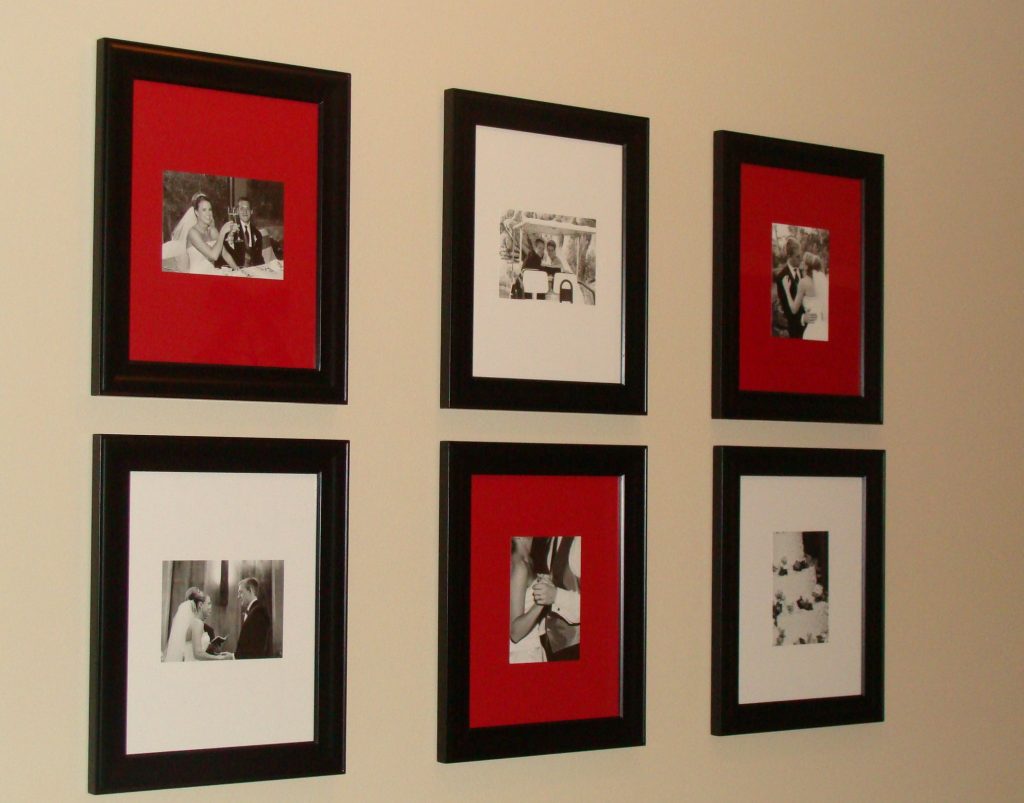 When I changed out the mats today I think I fixed those crooked pictures for good!  I used command velcro strips on the bottom of each frame to hold them in place.  All I had to do was adhere a velcro strip to the frame, and then lock another velcro strip to it with the stick side up.  I then hung the frame on the wall with a level and pushed the bottom of the frame tight against the wall to stick the second velcro strip to the wall.  Now the two strips lock together to keep the frame in place, but easily unlock when I need to take the frame down!
The strips are made to hold frames to the wall by themselves, which is great.  However, my wonderful father tediously measured and laid out these photos years ago and I had no desire to repeat all that measuring.  Now they don't move at all, and I can easily detach them from the wall to change out the mats!  Love, love!!!  I'm pretty sure I'll be adding these to a few  more frames after the holidays!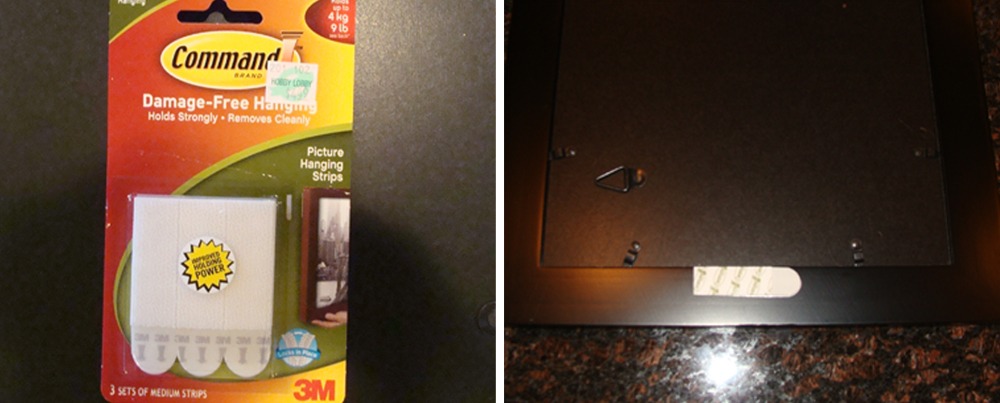 I hope you are enjoying this holiday season as well… making memories with loved ones, decorating your home, shopping and baking!!!!  I do know however that alongside all that joy comes a big "to do list" and at least a little chaos.  My next post will be about a few things I do to help keep it all in order!