Facebook was flooded with cute kiddos off to their first day of school today.  I loved seeing many of your kids – thanks for posting!  Well, my kids have been in school for a week now – crazy!  I know, pictures should have been on Facebook a full week ago, but I'd rather just share them with you all right here!
I can't believe my "baby girl" is in kindergarten!  She however is thrilled, and entirely convinced she is old enough.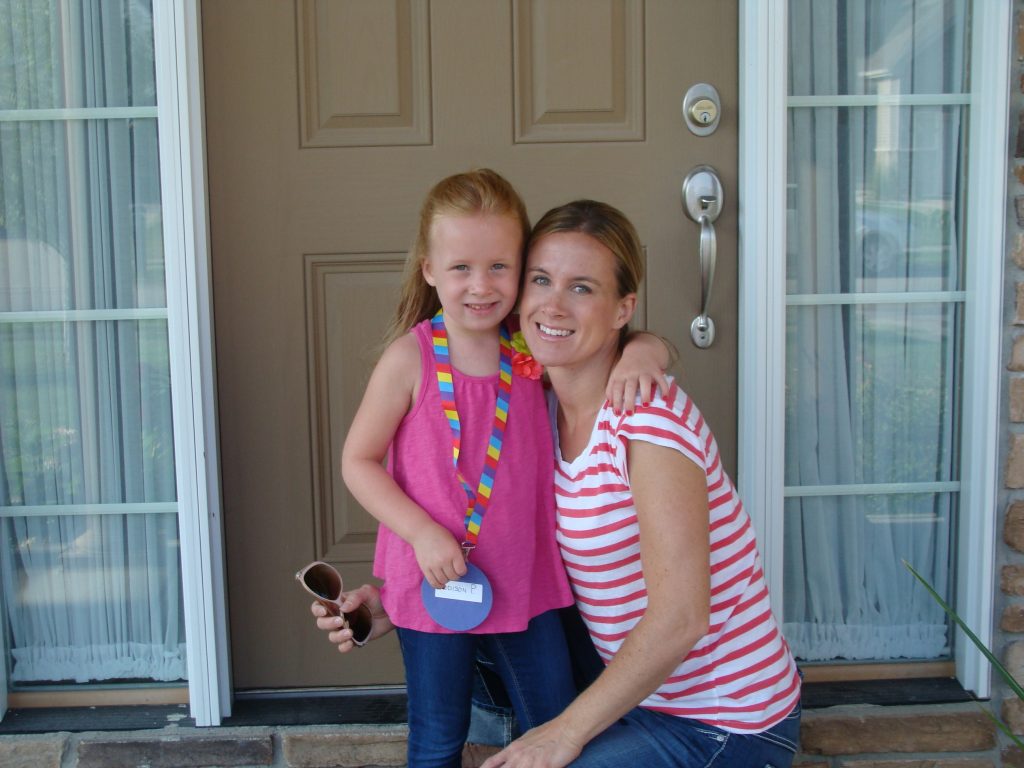 This young man is less enthusiastic about school than his mom would like, but you'd never guess by this smile!  I think he's just excited to have so many good buddies in his class.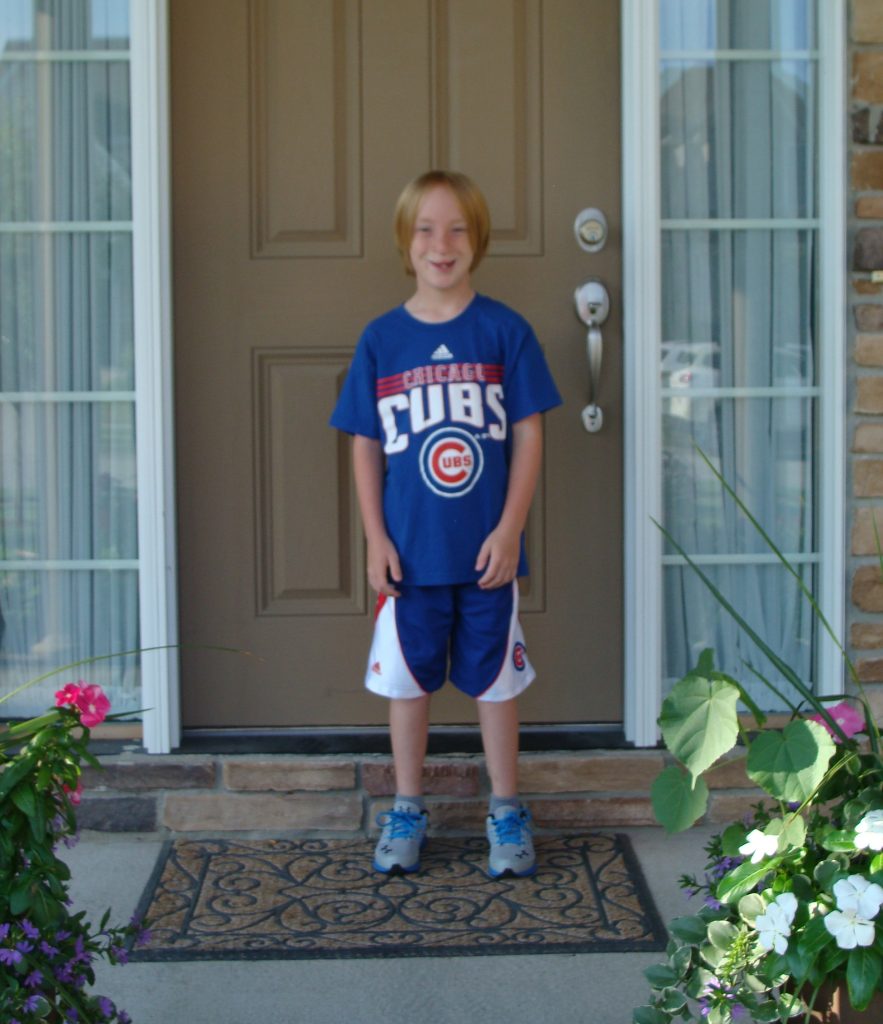 And Jase really wants to go to school too – poor guy!  He had to have a picture with all of us just like the "big kids".  I love these three!!!!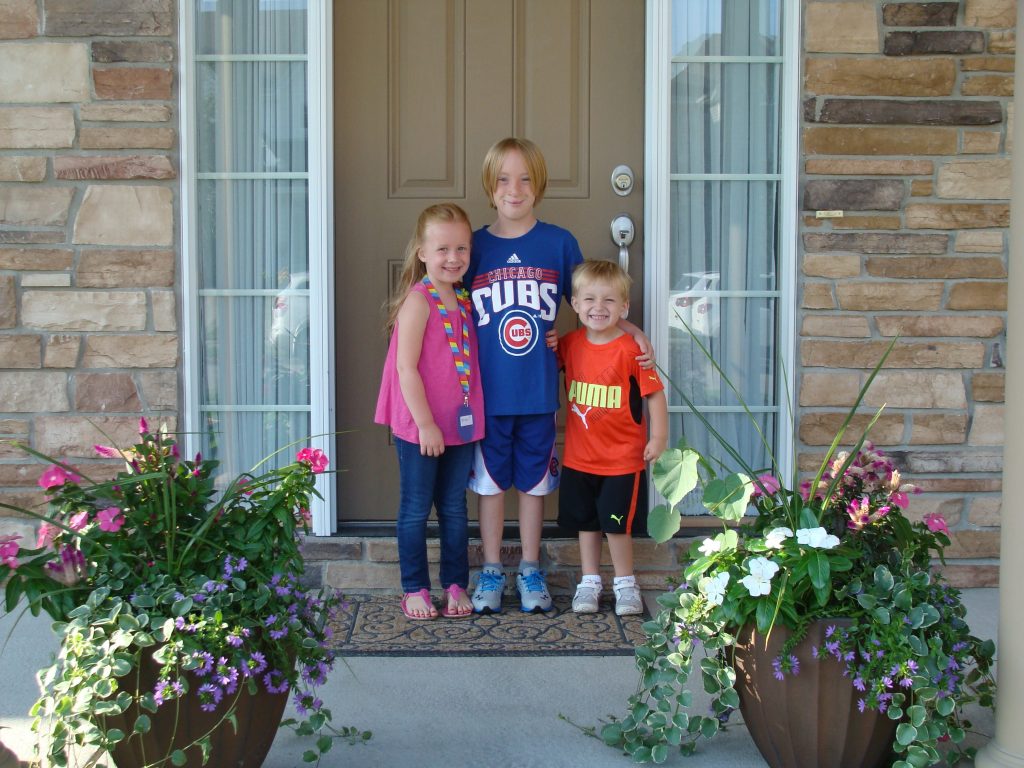 I am sad that our lazy summer days together are over, but I'll admit I was a bit relieved when my kids started their first day of school. I am ready to regain some order to my life!
As soon as my kids were off to their first day of school I had a sense of relief just that we'd made it on time, with no tears.  The only panic was when my son's friend reminded us that I was supposed to send my third grader with his own individual snack this year.  He had no snack and gave me one of those super sweet – totally innocent – but makes you feel like the worst mom in the world lines… "Mom! you forgot my snack!".  (We will overlook the fact that he is in 3rd grade and it may not technically be my job at this point)  Luckily we live about 100 yards from school and I ran home, grabbed a granola bar and had it back to him before the line got inside the building – technically it was moving but it wasn't in the doors yet!
Yes, I was that really cool mom running after her 3rd grade son as he entered the building for his first day of school to give him what I forgot.  I'm sure he was super proud to claim me as his mom when I ran up to him with his granola bar!  And for those of you that are wondering – no I haven't found a granola bar that complies with the peanut-free policy of our school.  At snack time my son was reminded of the peanut-free policy by his teacher and the fact that his snack was not allowed.  I had messed up on two accounts with the day's snack. Good start right!
I think we finally have snacks and lunches all figured out – thanks to an overflowing cart at Costco.  I know the rest of you went running to Costco too!  I also decided to invest in a few new things to make lunch packing easier.  I really struggle with what to send my kids – they'd be totally happy with PB&J every day but I'm not supposed to send that.  So, getting creative can be hard.
My kids love when I send them something hot.  We have these little Thermos brand containers (from Target, Walmart…) that keep tons of foods warm until lunch.  We can use them for chicken nuggets (yep, they stay warm and yummy – so I'm told), fish sticks, pasta and other leftovers like sloppy joe's.  I find it so much easier to pack a lunch if everything isn't required to taste good cold or at room temp.  I simply fill the thermos with really hot tap water for about five minutes in the morning to get it nice and warm.  I warm their food too, and then seal it up in the thermos until lunch. (after dumping out the water of course)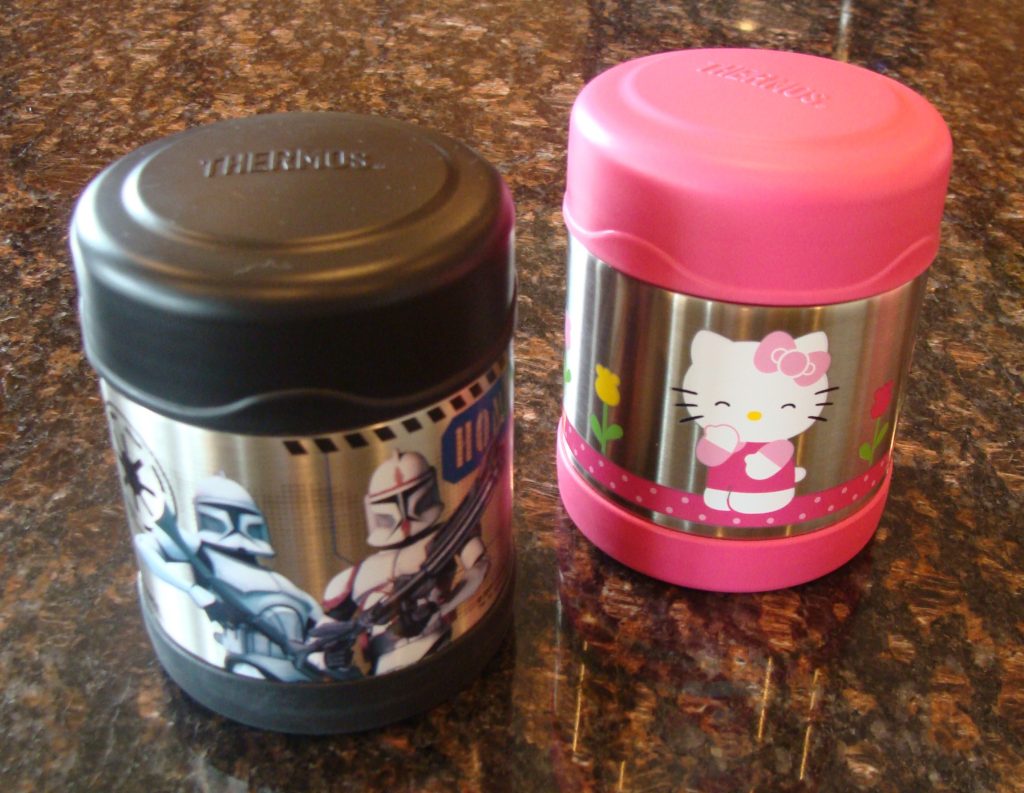 I also just invested in a Bento box style lunch pack for each of my kids.  I have heard of other moms using them, but always just put together different pieces of tupperware I own with dollar bin sandwich boxes and called it good.  Sometimes it was frustrating trying to fit all of those crazy pieces in one lunch box with a drink and ice pack.  Packing lunch is enough of a chore for me (not one I enjoy) so I decided to make my life easier.  I did a little research and this is what I settled on – so far I love them!  Better yet, they were only $8.97 at Walmart.
So here it is all stacked up and closed.  It is nice and compact, stays tightly locked together and has little "snaps" on the sides that are easy enough for my kindergartner to open.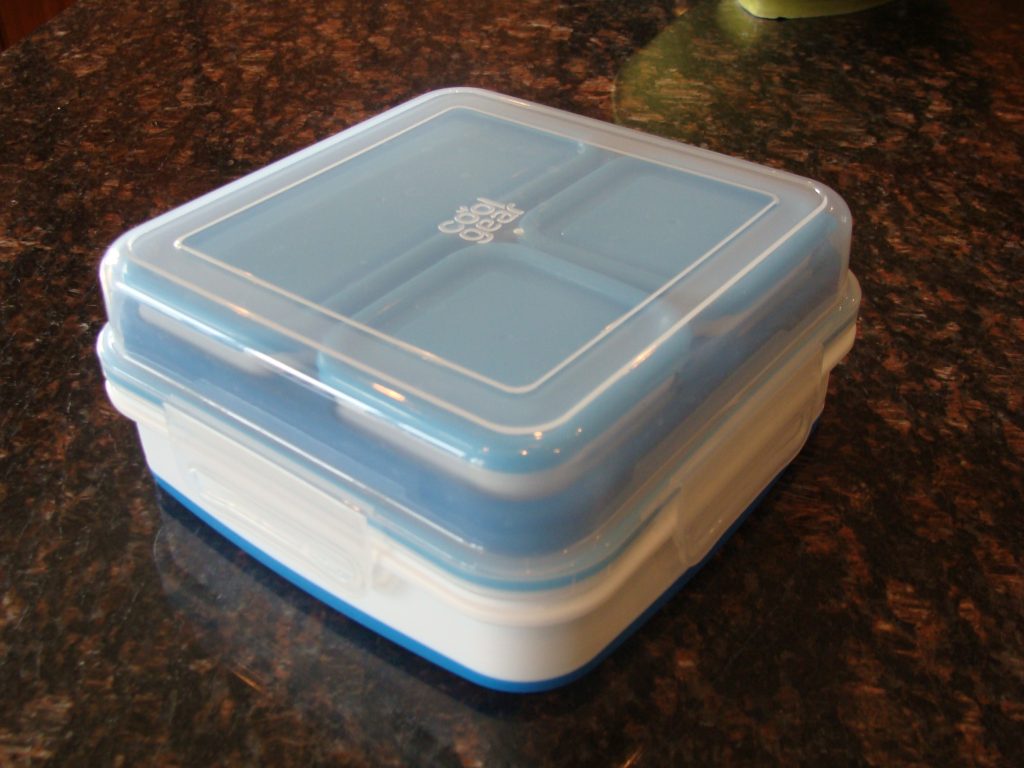 Here it is with the top off.  It has three small containers that are a great size for fruit, veggies, applesauce, goldfish….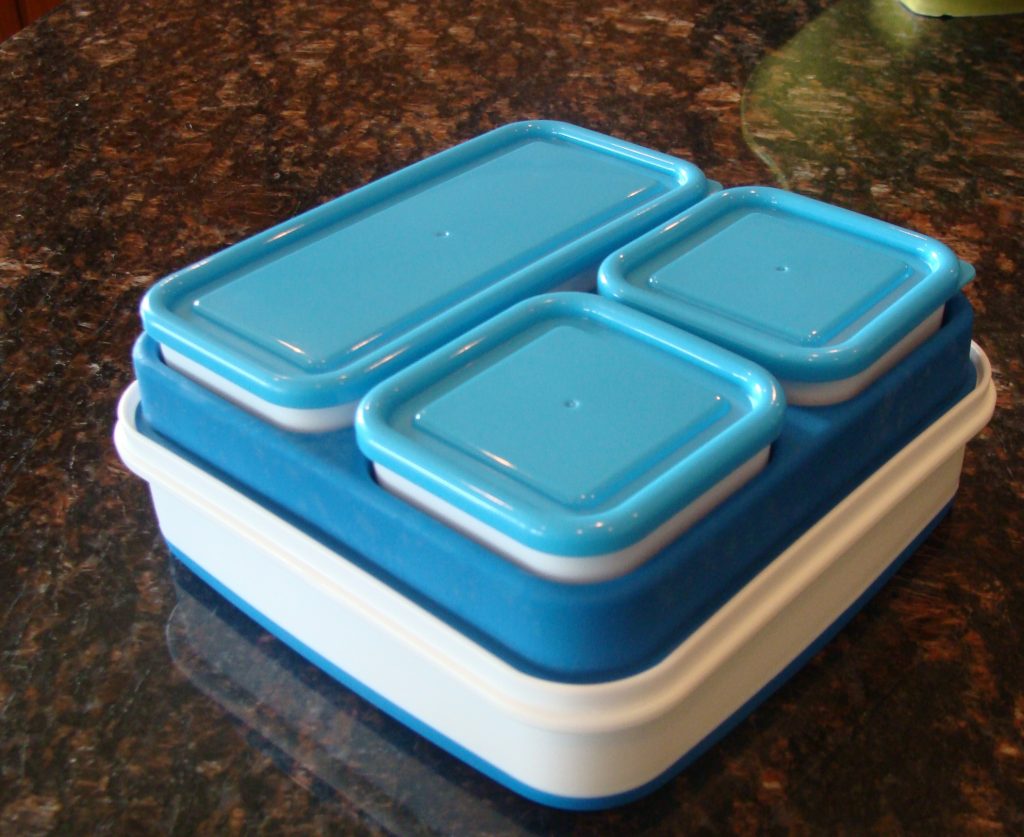 And the features that sold me on this particular box are…  The middle dark blue part is a re-freezable ice pack to keep everything in the top and bottom cold.   You can also remove the ice pack or just leave it out of the freezer if you don't want your lunch items to be cold.  I also love that the bottom white portion is expandable.  Not only is it more flexible for packing your lunch it takes up less space for storage, and you know this girl loves a smart storage solution!
The last "new find" I picked up for lunch boxes are these little condiment cups from Walmart.  Yes, they are disposable – not good for the environment or wallet.  But probably the thing I dislike most about school lunches are the gross ketchup, BBQ and ranch dressing containers my kids bring home at the end of the day – never mind when they don't get the lid on tight and it ends up ALL over their lunch box by the time they get home.  At a little over 3 cents a piece I am just fine with telling my kids to trash them daily.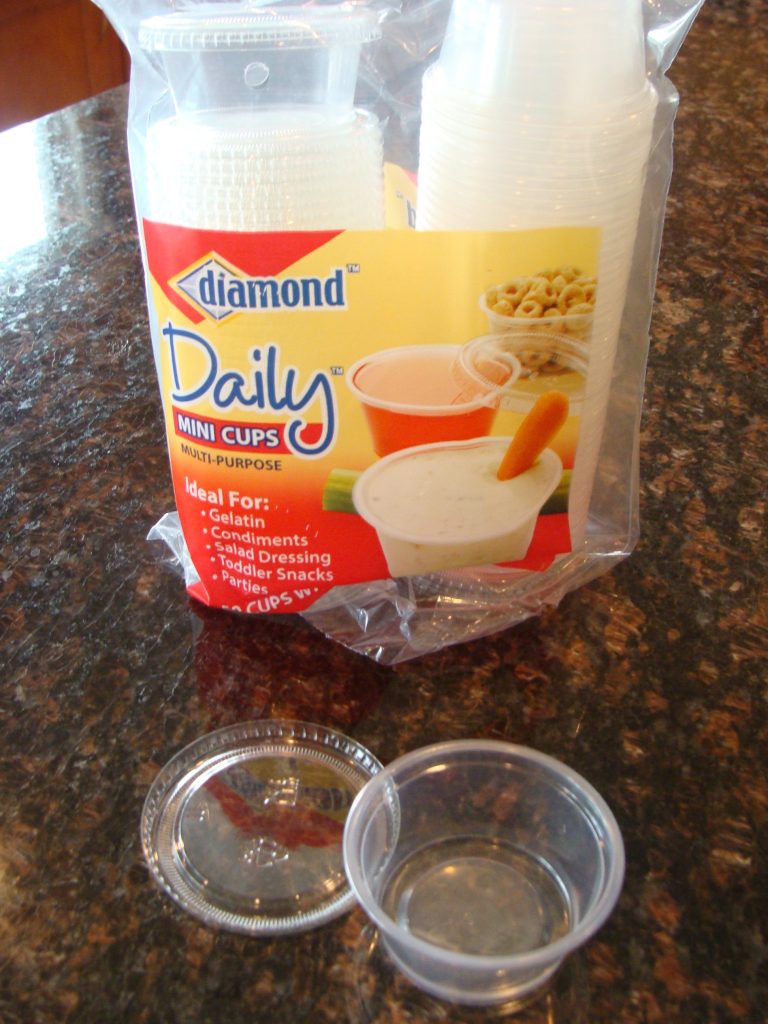 I haven't spent the entire last week getting food and cool gadgets for our lunch boxes though!  I've also gotten to work out several times, run errands with one child (ahhh bliss!), attack some projects around the house, and even do some cutting projects for our teachers.  I feel like I've been really productive these last five days.
Why is it then that if I keep up this great level of daily productivity it will be May before my current "to-do" list is complete?  That doesn't even factor in Christmas, Halloween and all of the projects I'll come up with between now and then.  I won't even talk about how long it has been since I've REALLY cleaned our bathrooms –  you know more than a couple spray bottles of vinegar water and Lysol.  Yikes!  I could be WAY overwhelmed right now, but you know, I'm not.
Having a huge "to-do" list is actually a blessing for me.  Otherwise I would spend countless hours at Target and TJMaxx everyday and I would find SO many things we absolutely "NEED".  My long list of things I "have to do" and "want to do" keeps me going every day moving at a steady pace to accomplish as much as I can.  At the end of the day I can look back, and feel a sense of accomplishment about what I've done, letting go of what is still "to be completed".
As the summer has been coming to an end I've chatted with a lot of moms that just feel defeated when they evaluate the work that lies ahead now that kids are returning to school.  So, for this post I'd like to chat a little about where I start, how I approach ordering our life for the school year ahead, and how I pick my priorities of what gets accomplished in a day.
I know you hear this all the time and then set it aside because it seems impossible, but do something for yourself!  Take a day and do what will make you refreshed and ready to tackle what lies ahead.  Maybe that means meeting a friend for coffee or getting a pedicure.  For me, that means going to the gym and working out almost every day.  I really do like working out, but in the summer I feel guilty about what my kids are (or aren't) doing while I'm taking time for me.  But, when I work out I feel better, have more energy and am honestly just a nicer person to be around!  So, regular workouts have returned to the top of my daily "to do" list.
My next priority is attending to the things that are immediate – which is unfortunately usually the things that aren't fun at all. I couldn't really justify covering Jase's lamp shade in the super cute orange fabric sitting next to me in my office this week – even though I soooo want to see it done!  But when I do those types of projects before my life is in order  I tend to get frustrated with myself when the mandatory stuff isn't done and I'm staying up until 2:00am or yelling at my kids in a panicked rush.
One of my top priorities has been assembling our fall and early winter family schedule for soccer, church, date nights, trips, Dr.'s appointments… as well as completing all of the forms, registrations, etc that come along with these activities.  These are a priority partially because these items are urgent, but it is also because getting these things on my calendar helps me be realistic about what more I can accomplish each week or day.
Having a clear picture of all the running around I will be doing with my kids this fall and all of the commitments I have made helps me keep my hand down as everyone continues to ask for volunteers.  Over the next month I will have more opportunities to volunteer to help our school, friends, churches and community in more genuinely good ways than any person could do in a decade.  Yet, we can feel guilty and keep saying yes, then look at our calendars and melt under the stress of everything we are trying to do.  And then we wonder why our homes are chaotic and lives feel out of control by November.
I would argue that in most cases, people that are frustrated by the lack of order in their homes, offices, lives… don't lack the ability or motivation to be organized, they simply lack the time.  Because of this I am overprotective of my time and my schedule – especially at this time of the year with so many commitments, so much on my to-do list and so many requests to do more.  I rely heavily on my weekly planner that I shared in this post on time management in my Organizational 101 series.  (click on image to download blank template)
I have also spent some time over the last week establishing order for the school year ahead.  I find that the habits we start the first day of school stick way better than the ones I try to implement half way through the year because I'm frustrated.  I think my kids are so busy adjusting to the new routine, new teacher, new class rules… that adjusting to new house rules and routines feels natural at the start of the year.  A lot of the things we have been doing aren't new – they are the same old (and totally forgotten!) systems we used last year.  I shared our morning routine with you before, and the printable I have used to help my kids remember everything they need to do. (click on the photo to download a free copy)

We have also had to spend some time relearning our school paper system that we used last year.  My kindergartner is taking on new responsibilities with these systems this year!
I have big dreams of all the things I can accomplish between now and the holidays, and I'm sure you will all hear about many of them!  Now that I've spent my first week feeling good about our fall schedule, getting our school routine going again and my workouts on track I have many lists of organization and house projects to complete – I hope you stick around to hear about them!  Just a little teaser of what is to come on my project list…
– reorder closets with school/fall clothes in and too small/summer clothes out
– finish up Jase's big-boy room
– regain control of our garage after a summer of fun
– improve on my meal planning
– take on some old furniture with Annie Sloan paint
– add some "pretty" to some of our spaces that just "function"