It has been busy around here! and I don't just mean summer busy… baseball, swimming, VBS, spending time with friends…  We've been doing all that too, but I've also been working away at some big changes in our house!  Those of you that follow me on Facebook got a little sneak peak of our new dining room table I've been working on.  Well, that table is the most exciting (to me!) of several projects on our main floor.
I LOVE! our home, but the bones of our house don't really represent my style.  When we moved in 10 years ago we were coming from a small 2 bedroom townhouse in Chicago, and moved into our more spacious 4 bedroom home.  I love our home simply because of the space, yard and life it represents.  When we moved in, I made the mistake of thinking that even though the style of our house isn't my favorite, I would grow to love it as we accumulated enough furniture and decor items that were of the same style.  WRONG!  I'm realizing that decorating to the bones I don't love, just makes me dislike the bones even more!  So, I'm making some serious changes!
This is my plan… paint our kitchen cabinets white, except the island which will get a nice contrasting finish, new counter tops, remove the carpet in our living room and lay hardwood floors, refinish existing hardwood throughout the home with a darker stain, update light fixtures that add charm, redo our fireplace mantels to be less of an orange maple and update our living room accessories to add more character.
Ummmm!  reality check!  I can't do any of those things if I want to finish our basement in this decade and still feed my children!  So, I decided to do the next best thing…  begin moving in the direction of the style I would LIKE our house to be with various inexpensive DIY projects that will eventually fit into the long term plan of loving everything about our home.  I still look at photos, dream about what I'd love to do, and think through the cost.  This keeps my dreams alive but at a realistic distance!
So, what have I been up to?!?!  Well the biggest changes are happening in our dining area. Here is what it has looked like for many years.  Never-mind the birthday decor.  Of course I didn't think to take a before picture, so I had to go back and find one that showed our old curtains, table, rug….
I've known for a long time that my vision for the space was banquet seating, to maximize the number of people that can comfortably eat at the table.  My mom has 7 siblings, and I have over 20 first cousins on her side… with the number growing as we all get married and have children.  In my childhood, we gathered as a family of 35 or more on at least a monthly basis to eat and spend the day together – these are some of my best childhood memories.  I still feel like a gathering of less than 30-40 people is a small cozy gathering that can easily take place in our home – although my husband doesn't always agree with that!  I know we'll never have THAT much seating in our dining room on a daily basis, but I've always wanted a table that could hold at least 12-15 people comfortably.  So, what do you think I did – I called on my father-in-law (Phil) to build us bench seating, and of course he did an awesome job!!  We've had the bench seating for a while now, but I've been keeping it in hiding until all the finishing pieces were done and the rest of the room was coming together.
Here are the benches – I LOVE them!!!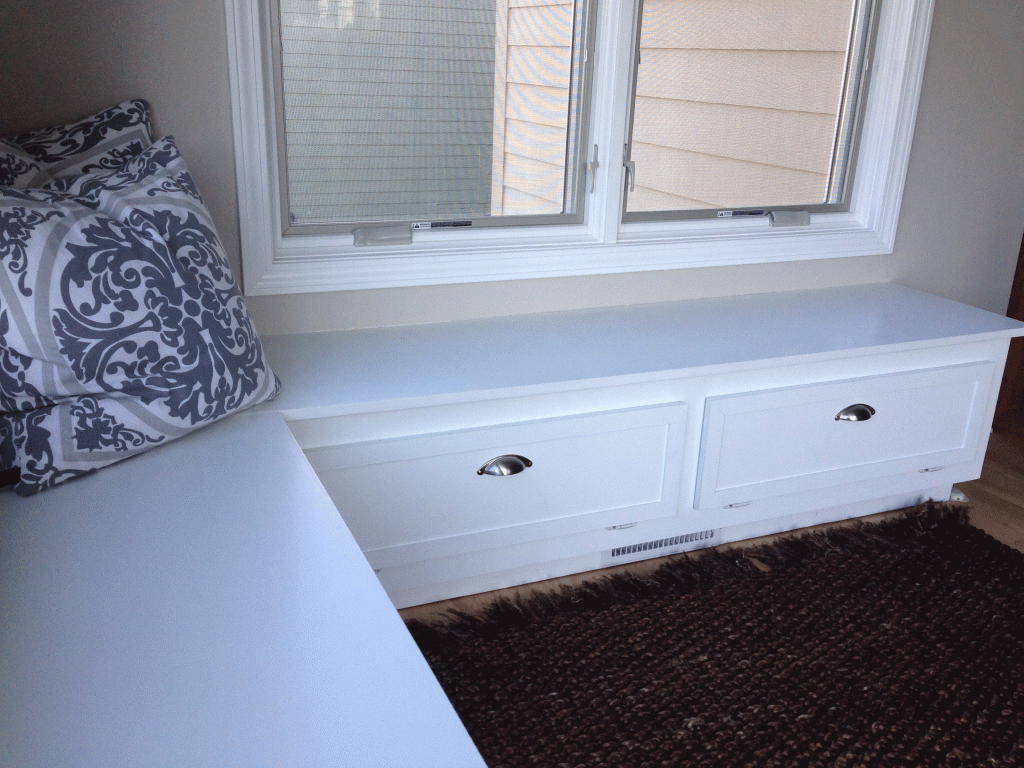 The benches fill the corner of two walls with windows.  One wall has a two pane window, and the other is a three pane window.  I just can't fit all of the bench seating in one photo – I love how big it is and how many people it will fit!!!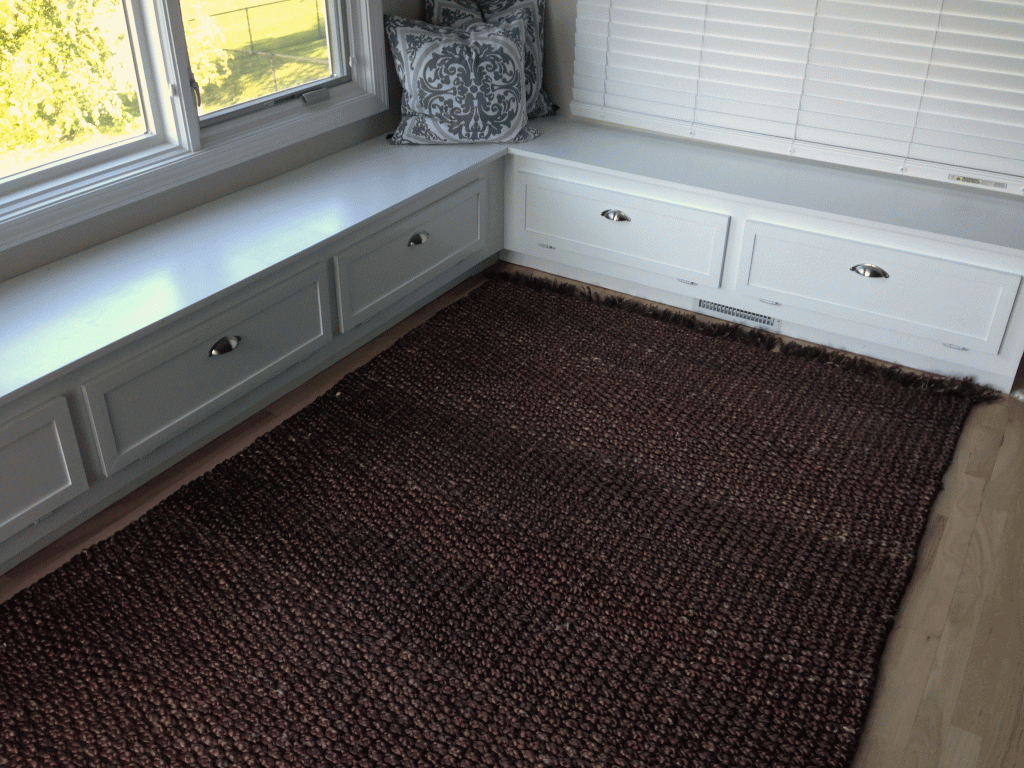 Yes, I know…  I'm so lucky that I can dream all of this stuff up and I have 2 awesome dads that make it happen at a fraction of the cost most of the world would have to spend to get such awesome woodwork!  These benches are not just benches either… the obsessive organizer in me can hardly believe the added storage these beauties posses!  With a basic drawer pull from Lowes and nearly invisible hinges… the space below the bench seating provides abundant storage for items that belong in the kitchen, but have always been in our basement.  LOVE!  Bliss in my world is beauty and order coming together – can't beat it!!!
However, these beauties also created some "necessary" opportunities to make more changes to our dining area.  We hung long drapes to add color to the space when we first moved in and have always used our table that my dad bought us for our wedding.  The table is still beautiful, but is not large enough to really use the space that the bench seating creates.  And the drapes just don't work with bench seating.  The drapes were sold on Craigslist and the table is now being put to good use in our basement.  My hope is that it will be used for many years to eat, play cards and put together puzzles in the basement!   With the table and drapes removed from the room, I had a perfect opportunity to being to fill the dining area with pieces that I really LOVE!  I found these candelabras on a trip to Kansas  City in February, and immediately knew they fit perfectly with the style I wanted in our dining room.  These were a bit of a splurge from ZGallerie, but I love them!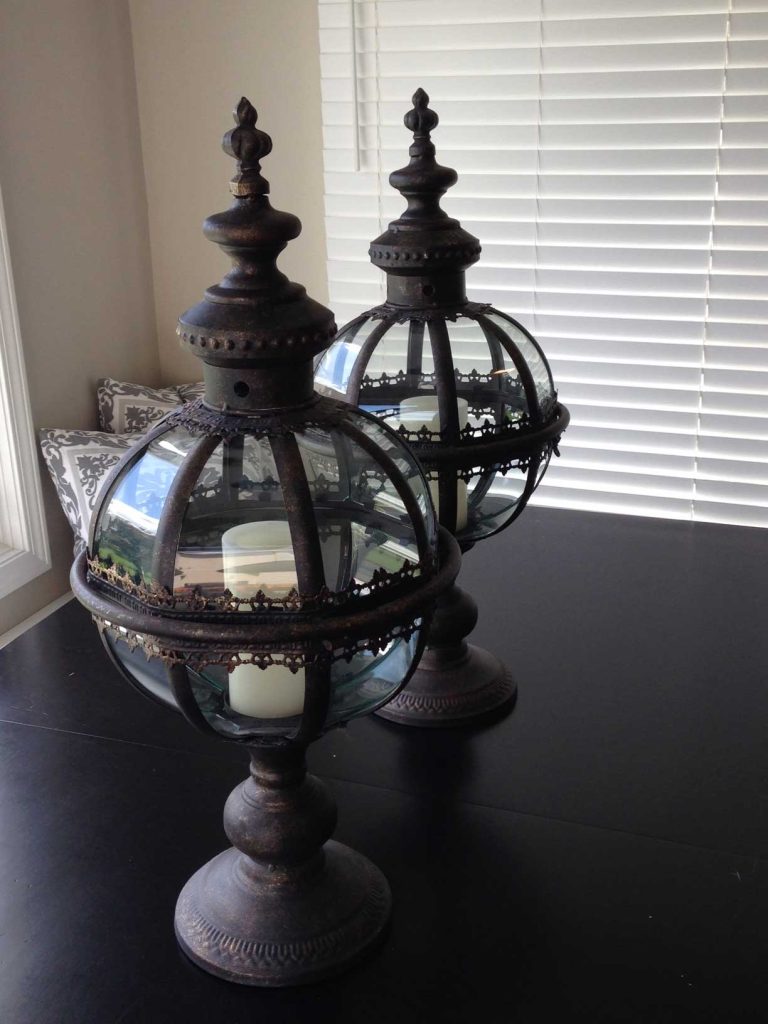 Next I began to surf the web for inspiration for a table that would allow for more seating and new window treatments.  I also wanted the table to be trestle or pedestal style so that people are able to move around on the benches without knocking their knees on a table leg!  I love tables like these…
From Restoration Hardware…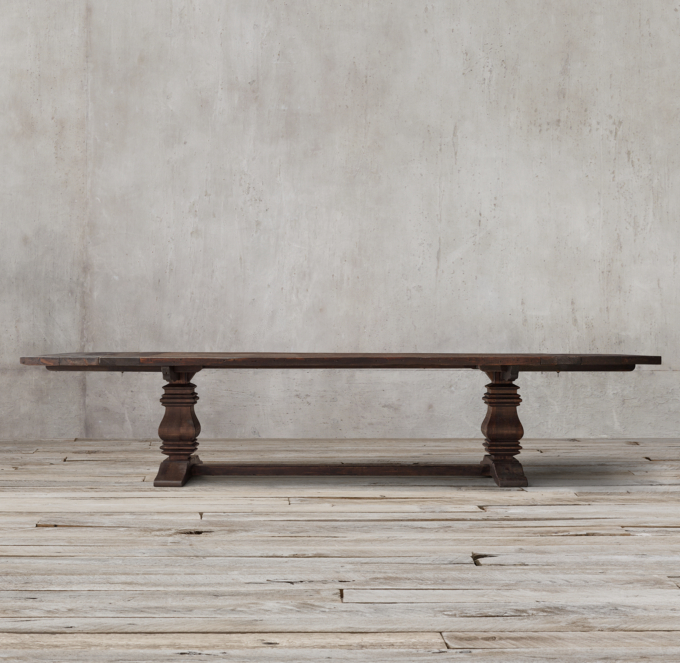 Also from Restoration Hardware…
From Houzz…
From Pottery Barn…
And from Ballard Design…
However, with a price tag of $1,600 and up (mostly for tables that are still too small) I knew I needed a MUCH cheaper option that I could at least to some degree DIY.
Since we'll still be using our old table and chairs in the basement, I also knew I'd need to purchase new chairs.  I honestly wasn't even sure what style I wanted, but everything I liked still added up to really expensive for 4 chairs.  Seriously… chairs are so expensive!  But… you don't want them to be uncomfortable or worse, fall apart!  These were some favorites I found, but none of them seemed perfect.
From Hayneedle.com…
From Pottery Barn
From Restoration Hardware…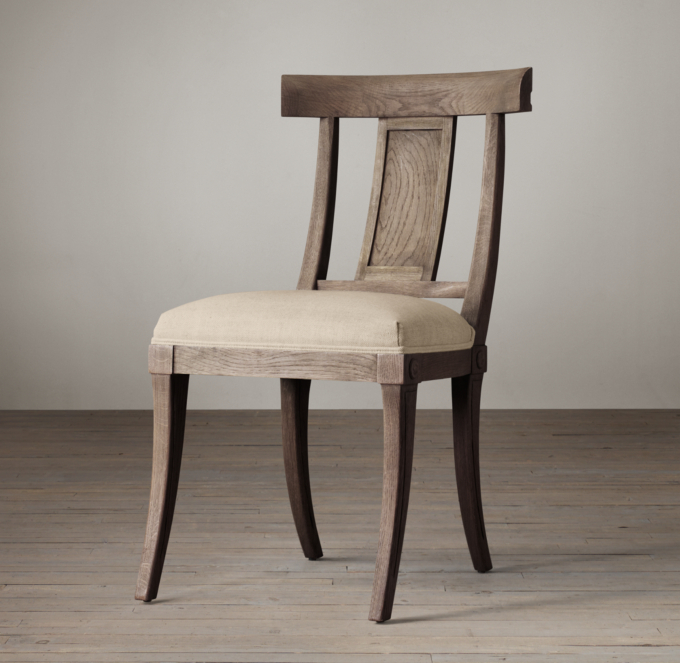 From World Market…
Also from World Market…
And for window treatments…  We have white, faux wood slat blinds on all of our windows that I don't mind at all.  They were a very economical decision when we moved into our home and needed a ton of window coverings!  We bought them from Home Depot – custom cut to our windows and then my dad installed them for us.  They are very functional, but don't add much character.  With the bench seating and limited wall space for art and decor I wanted to use window treatments to add something of interest to the space.  I found tons of inspiration photos like this where roman shades were used to add function and beauty.
The problem is that I doubt my abilities in making my own roman shades – even with all of the "cheat" methods you can find online these days.  If these design changes are going to be with us for a long time – and that's the plan – they need to be functional, durable, and have the look of "almost" professional.  If projects look overly DIY, I'm never happy with them for the long haul.  So, I began to consider fabric covered cornice boards.  I didn't really need my window treatment to function, as long as it allowed me to keep the blinds we already had.  So, I found some cornice boards that I thought were really cool!
With all of this research I had developed a vision for our dining room, and knew I just needed a little cash and A LOT of time!!!  Here are some photos I've tagged that I LOVE!
Over the last 6-8 months I have found some chairs on Craigslist to spruce up, constructed and covered two fabric cornice boards for the windows, and now I am finally finishing our new table.  I am loving how everything is coming together – mistakes, imperfections and all.  Over the next few posts I'll be showing you our new cornice boards, chairs and dinging table!  I know I've only been posting once a month or so, but my plan is to finish up all of these posts in the next month or so.  By fall I'll start focusing on some serious organizational posts again.  However, if all these DIY/decor posts are leaving you wanting some organization tips… follow me on Facebook, I'll still be organizing!!!