Summer is in full swing, but as we get more into the lazy-lack-of-a-schedule summer days, I always find myself feeling a little overwhelmed by the consuming role of motherhood.  I know I am not alone in this!  We want to have fun with our kids and maximize on the opportunity to influence them, but we still have all the responsibilities we did while they were in school.  Never-mind things like time for ourselves, friends and spouses!
I have so many grand ideas at the beginning of summer about the fun and meaningful activities we will do before school starts again.  However the reality is, many of those aspirations never come about.  Helping my kids review and maintain the knowledge they gained the previous school year is always one of those goals, but that can easily become an overwhelming item on the list.
After Carter's kindergarten year I began making a bin of "school" work for us to pull from throughout the summer.  It is filled with academic books, review materials from the previous year, and other supplies we can use to work my kids' brains over the summer break.
Now before any of you think I'm really mean for making my kids do school work over summer break, AND to keep any of you from thinking I'm "super-mom" let me clarify what these bins are and more importantly ARE NOT!  These bins are not full of activities that my kids are required to do on a daily basis to expand their intellect over the summer.  I don't make any attempts to gain academic ground over the summer, or prepare them for the following year.
When I put these materials together they are about helping my kids retain the knowledge they gained the previous year, and making it easy and realistic for us to use some of our downtime to be productive. When I need my kids to do something quiet while I make phone calls or work in my office, I don't have time to assemble a wonderfully creative, mind stimulating activity for them.  These bins are my way of having something on hand, that my kids are familiar with, so that they are able to get started and work with little or no help from me.
My youngest son is 4 years old and still naps almost daily.  (We're big on sleep in our house, but I won't get into that today!)  Ever since my oldest stopped napping I have taken the advice of a very wise friend, and required that we still have "quiet time" for one hour every afternoon.  All three kids must go to their own rooms, and either sleep or do a quiet activity by themselves.
I have become a firm believer in this exercise for the benefits it provides us all!  I NEED a little time to myself every day, and usually by mid afternoon I need a little time to collect myself if I am going to be a happy and pleasant member of our family for my husband and children all evening long!  My kids also really do well with quiet time, as it gives them time to unwind, rest if they are exhausted (My older kids have been known to voluntarily fall asleep on more than one occasion!) and just have some space to themselves.  They come out of quiet time with a more calm demeanor, and a new appreciation for the people and activities that fill the rest of their day.
During this "quiet time" is often when these boxes are used.  I will send the older kids to their rooms with a worksheet or activity to do, and a book to read.  I ask that they complete a few tasks to keep their brains from turning to mush over the summer, and then they can play whatever they want for the remaining time in their rooms.
I am not super-mom, nor am I hard-core concerned about my kids academic development.  I know some of you could provide me with tons of stimulating and educational activities that my kids would find fascinating, but I'm just not that gal.  I don't want to assemble fascinating science experiments, or even find fancy websites that turn learning into games. Of course I want them to do well in school, but I don't look for creative and educational activities for my kids on Pinterest, blogs or even educational websites.  I am all about keeping things simple, as you will see as I reveal the contents of these boxes!
So here they are…
I use the clear storage boxes I have showed you all a million times.  During the school year they are homework boxes, in the summer they are cleaned out and turned into "summer school" boxes.  I just have them stored in a small cabinet in our kitchen where everyone can easily get to them.
On the top of their box is a folder with worksheets and a list of potential activities.  It seems simple, but by the third week of summer break I'll forget what they had been working on the previous year in school and what we put in their box to work on.  This "to do" list makes it easy for me, my kids, or a sitter to easily identify an activity for them to do.  Everything they need is in the box to complete each of the activities listed.  This is my daughter's folder and contains a list of her sight words,  a number grid, pictures of story starter ideas, blank "writer's workshop" pages… (The format used by her kindergarten teacher to encourage students to draw a picture and write about it.)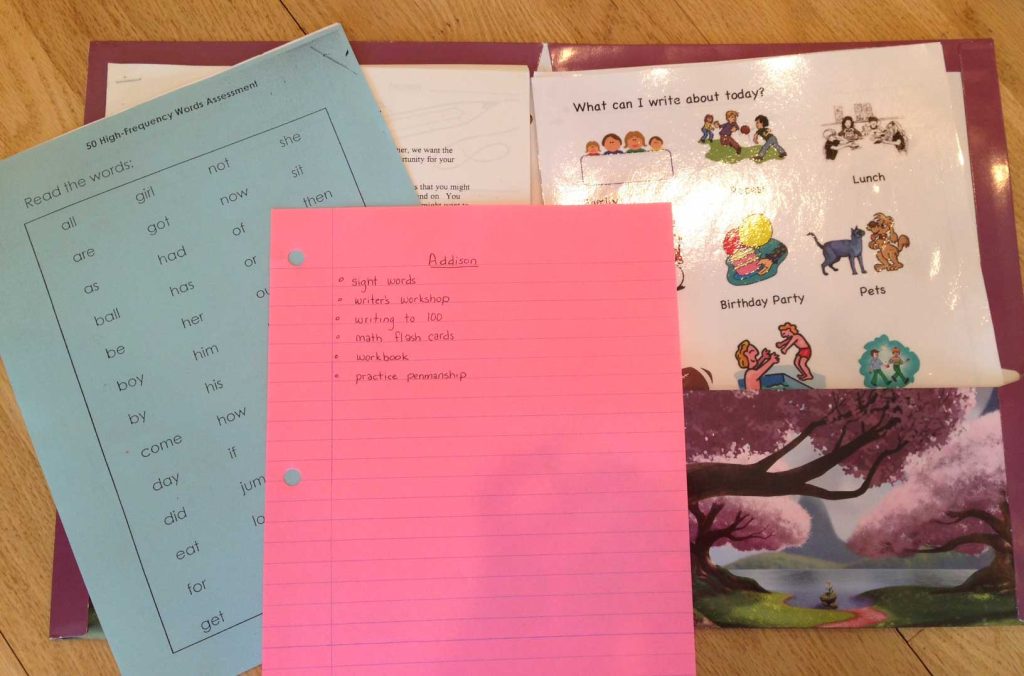 My son's folder also has a "to do" list, as well as pages from his math book from last year and pages to work on his cursive.
I love these workbooks that I picked up at Costco last year (I bought a few grade levels at once).  They each have workbooks for math and reading with a variety of activities that focus on a variety of academic areas… math, reading, phonics, spelling, comprehension….
Because I'm using these books as a review of their past year learning, and because I want them to be able to work independently (Let's be honest, this is not about me "teaching" them this summer!) these books are for the grade they just completed.  Most activities are things they can successfully complete on their own.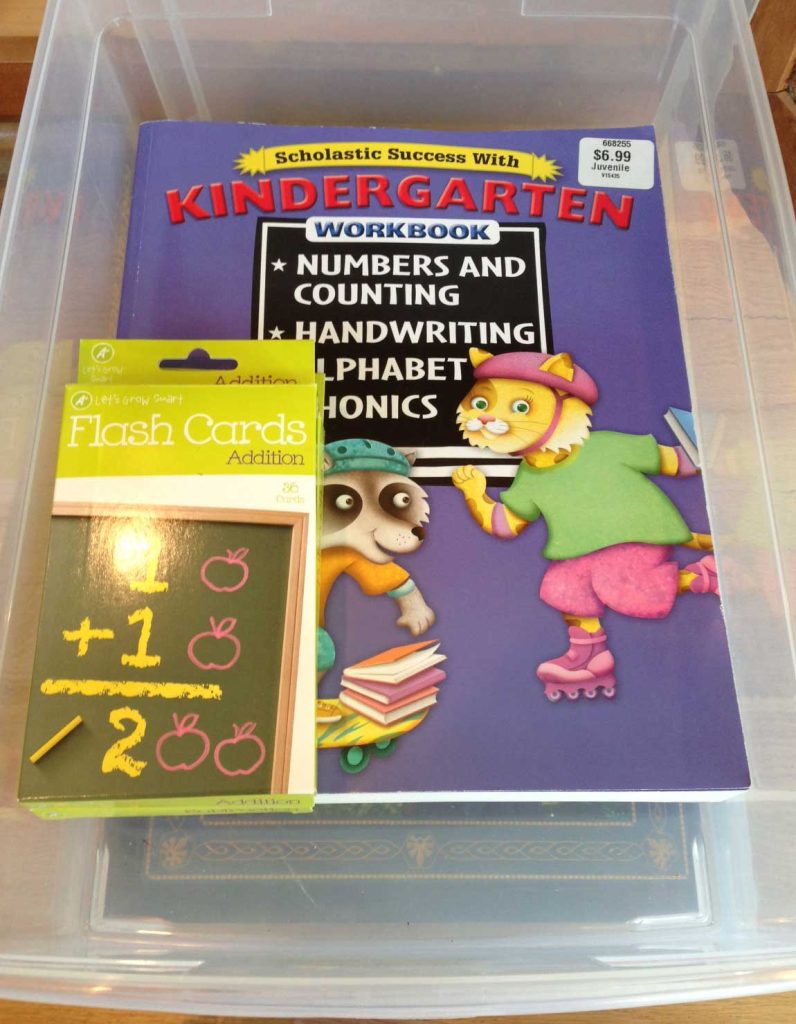 They both also have math flashcards, a spiral notebook (used as a journal) and a pencil case…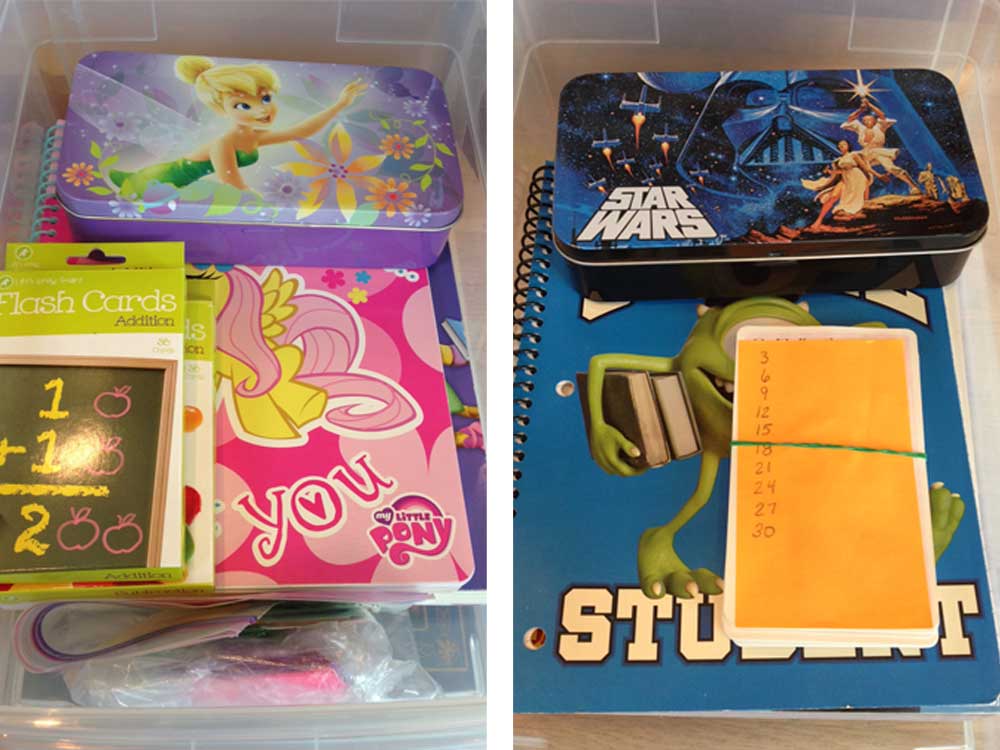 The pencil case is super important to me, because nothing can derail a good quiet-time like searching for a pencil, eraser, markers, scissors…  These boxes allow them to have literally everything! they need in their bin.
I know these bins are crazy, stupid simple!  I also know how simple it seems to read some books, write a few stories and review those math facts and sight words we all worked so hard to help our kids master throughout the year.  But really, how many of us get to the end of the summer and think, holy cow how did I never find time to do that!!!  These bins take about 15-20 minutes to assemble one time, and then become a super easy and practical way of fitting a little in here and there.
Now if you have no intention or reviewing math facts and sight words over the summer – you have absolutely NO judgement from me!  I'm totally on board with the, "summer break is not for school work" philosophy too!  However, I also know how hard it is for my kids to master things like sight words & math facts during the school year.  I also know that when they've been at school for 8 hours, I never want to spend too much time (if any) on homework at the end of the day.  I'd rather do a little review and reinforcement in the summer – when a little quiet time, and independent learning will do us all some good!