What do coats and kisses have to do with each other?  This time of year I am smothered by a million coats that I don't know what to do with, and Valentine's Day planning that always takes me by surprise.  Christmas is over, so I'm supposed to have handling the winter gear down, and the holiday planning over – right?  Not so much!  So, I'd like to pass on a little, shall we say inspiration!
First, the not-so-fun…  I get SO frustrated by the bulk and mess of winter apparel.   I feel like I have good systems in place once it gets inside, it is the car that drives me nuts!  You'd think that with a mini-van (and yes, I LOVE my mini-van and wouldn't trade it in for any SUV on the market, no matter how uncool that makes me!) I should be able to handle a family of five and their coats.  But, they are inevitably on the floor – getting stepped on, muddy and wet.  You can't leave them on your kids in their car seats, and my older son just doesn't like his on.  So, I finally came up with a solution!!
I bought this package of shower curtain hooks from Walmart – basically fancy "S" hooks.  They were just under $9 for a package of 12.
I placed the smaller curved end over the "handle" on the back of the seat in front of each child.  The hooks fit snug enough to stay in place, but are easy to remove and adjust as needed.  I like that these hooks have a small ball on each end – I think this helps them stay on the back of the seat, and keep coats in place.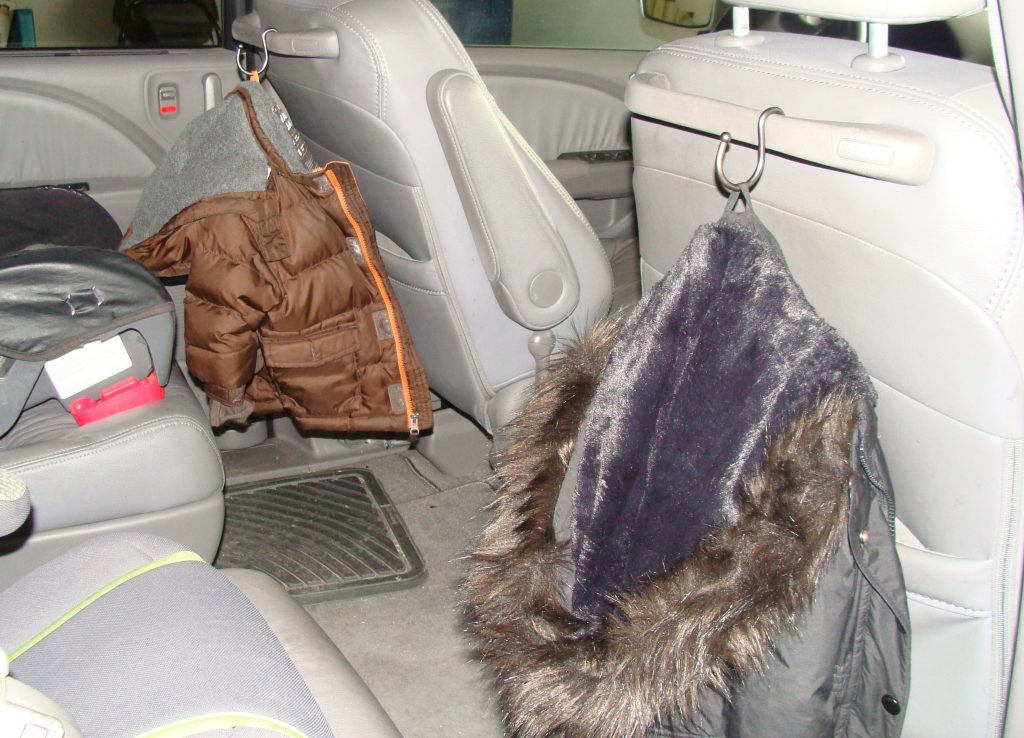 Coats hang neatly off the floor – keeping them clean, yet easily accessible.  Even my 2 year old can hang his coat up when he gets in the car!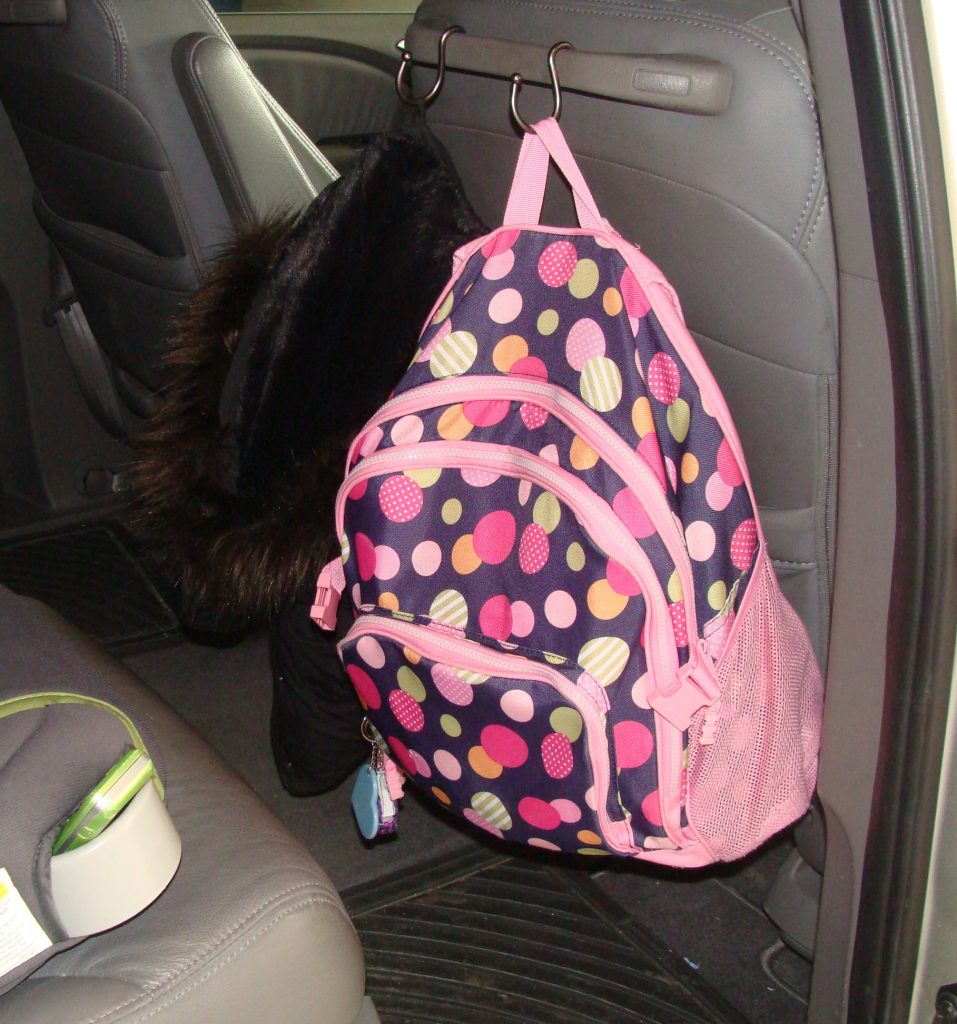 I've also found that they are helpful to hang backpacks, and other bags that often get trampled by the mass of children entering and exiting my car on a regular basis!
If you don't have a "handle" on the back of your seats like I do – the bars from your headrest will work too.  I have a hook on the passenger's seat for my coat and any bags I have in the front seat.  It keeps my coat and bags from sliding off the seat and onto the floor.
This is one of those things that just makes my life a little easier, and makes me smile!  Even better – it is cheap and easy!
And now on to Valentine's Day – so much more fun!
Valentine's Day is actually my 2nd favorite holiday to Christmas.  Maybe that is why I end up wanting to do class parties, crafts and valentine's.  But I know not everyone gets excited about that stuff!  So, if you have a class party to help plan, or just need a cheap DIY card or craft – here are some easy, cute and cheap ideas!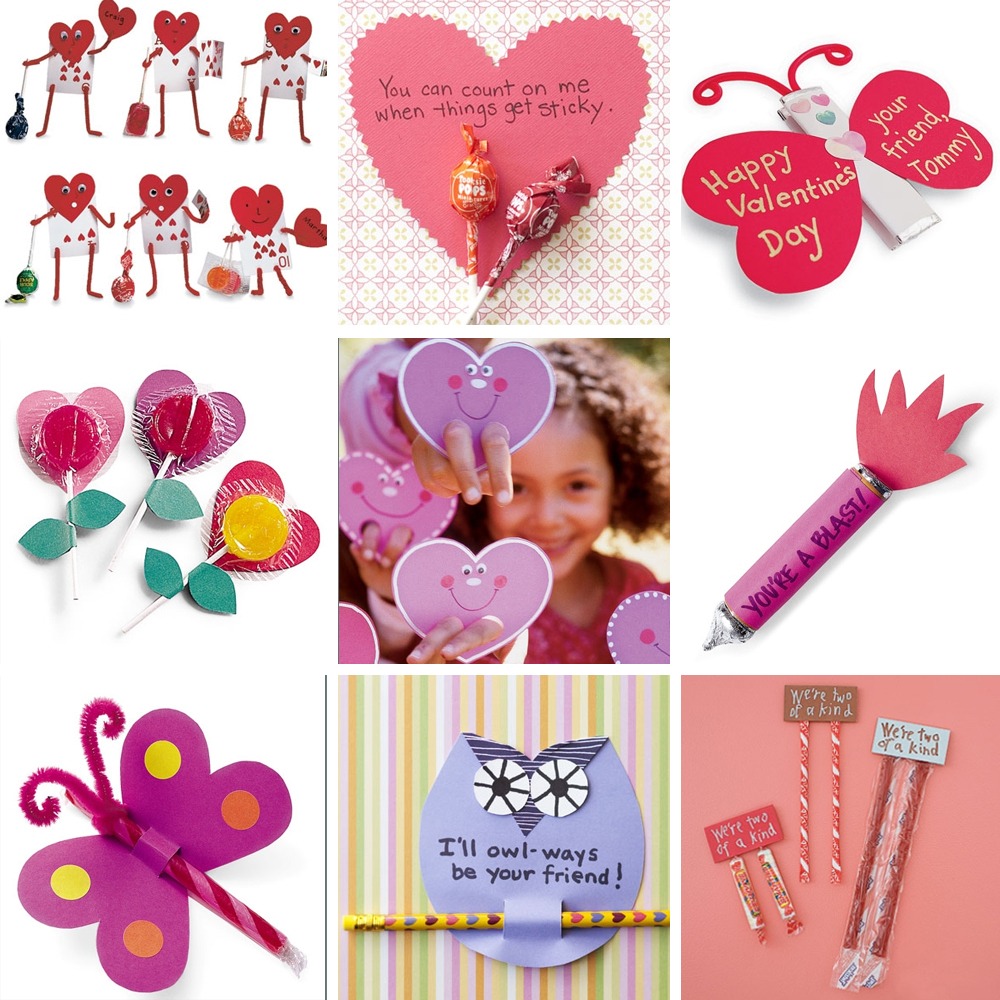 All of these great ideas are from Spoonful.com, a website by Disney.  You could use them as valentine's, or as a craft for a class party.  You can click on the photo above to be directed to their page, where you will find complete instructions for each craft.  Just click on  the words "view craft".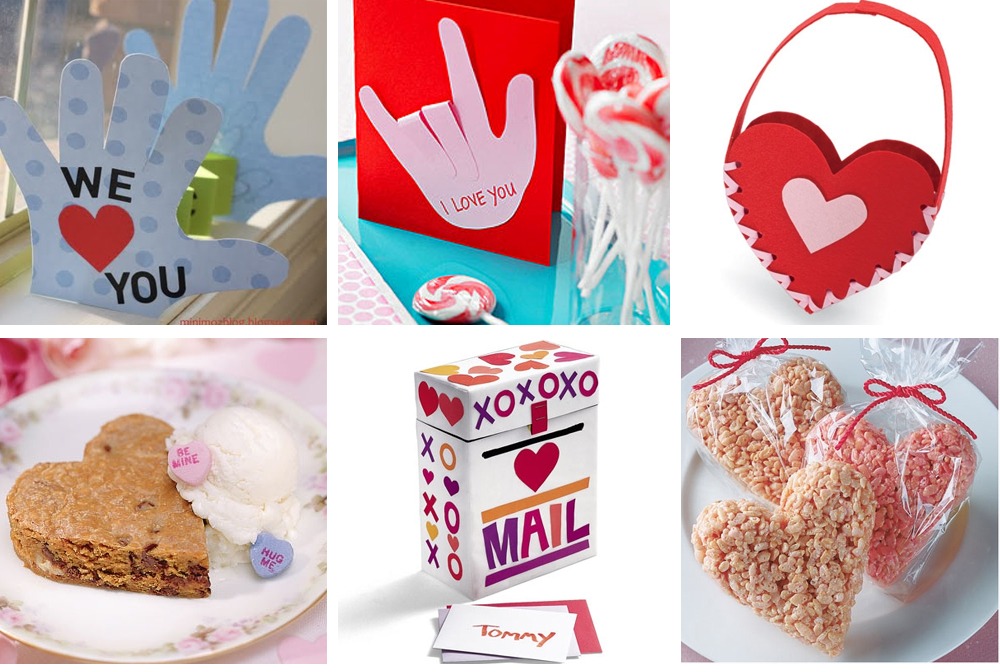 These more in-depth ideas are from Spoonful.com, Family Fun Crafts, (expanding hand print) and Parents. (sign language "love" card)
I love the "I Love You" hands as card ideas for a parent or grandparent.  The expanding hearts can say "This Much" or somethings else as you pull the hands apart and expand the width.  My kids always say "I love you to the moon and back" to their Grandmi & Grandpi…  I think it would be cute to make one hand, one rocket and have it expand and say "To the Moon & Back" in the middle!
As for the "mail box"…  I have spent several frustrating evenings trying to cover a shoe box with paper.  I love the idea of using a cereal or pasta box, wrapping it like a present, and cutting a hole – so much easier!!  I am thinking I might not cut the "opening top" until my kids get home, so valentine's and treats don't "disappear" before they make it home!
I have made the heart cookie & Rice Krispie treats before, and as you can probably guess – you simply make a 9×13 of your treats and cut them out with a cookie cutter.  For the Rice Krispie treats I inserted a lollipop stick into the middle for a fun and non-messy way to eat them.  I  sprinkled them with red sugar while they were warm and then slipped them in a food treat bag and tied it closed with ribbon.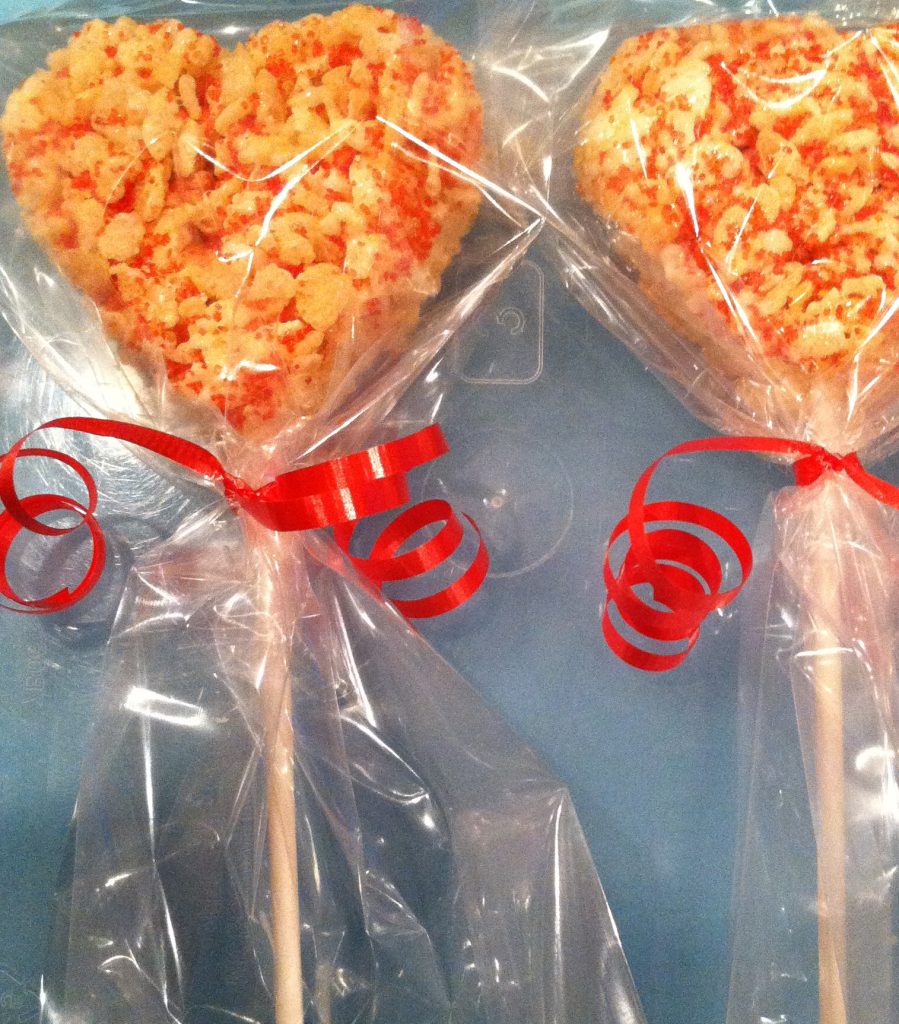 If you need a game or activity sheets for a class party here are some good ideas.
DLTK has a bingo card maker here.  You can make them with many themes, and for several holidays.  Free of charge, you can create and print bingo cards with black & white or color images, with words or pictures.
Activity Village has great printable activities as well.  They have 3 levels of Soduko, a Boggle type word game, mazes… for a variety of age levels.  Click on the Soduko image for the printable "puzzles" page.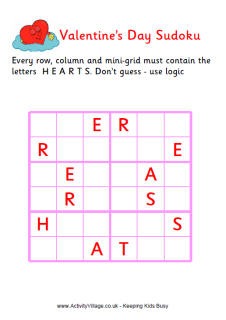 Here are a few more ideas I think are super cute….  I also have some inspiration accumulating on my Pinterest board "kids" for a special dinner I'm planning for my family.
A sugar-free, peanut free valentine from Parents.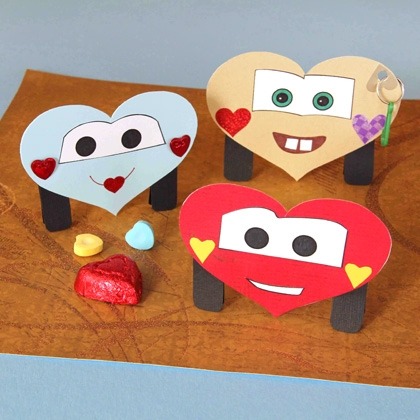 Lightening McQeen / Cars themed valentine's from Spoonful.  They give you a downloadable / printable copy of all the parts – you just print, cut and glue!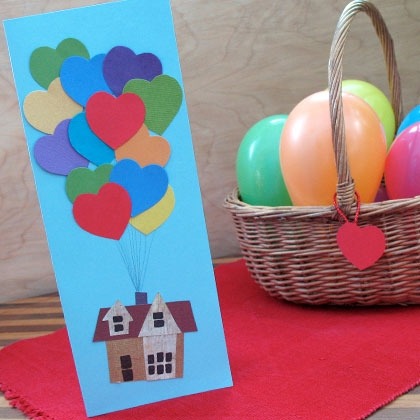 Up themed valentine from Spoonful.  Again, they give you a downloadable / printable copy of all the parts – you just print, cut and glue!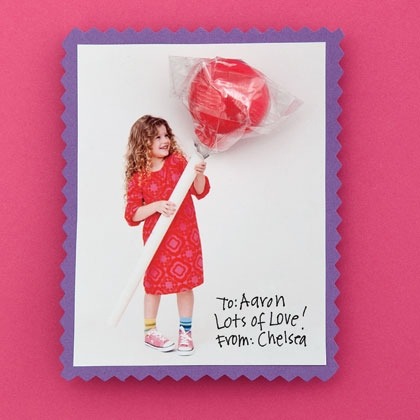 Giant Lollipop valentine from Spoonful.
Chocolate spoon lollipops from Spoonful.
Valentine with Swedish Fish from Parents.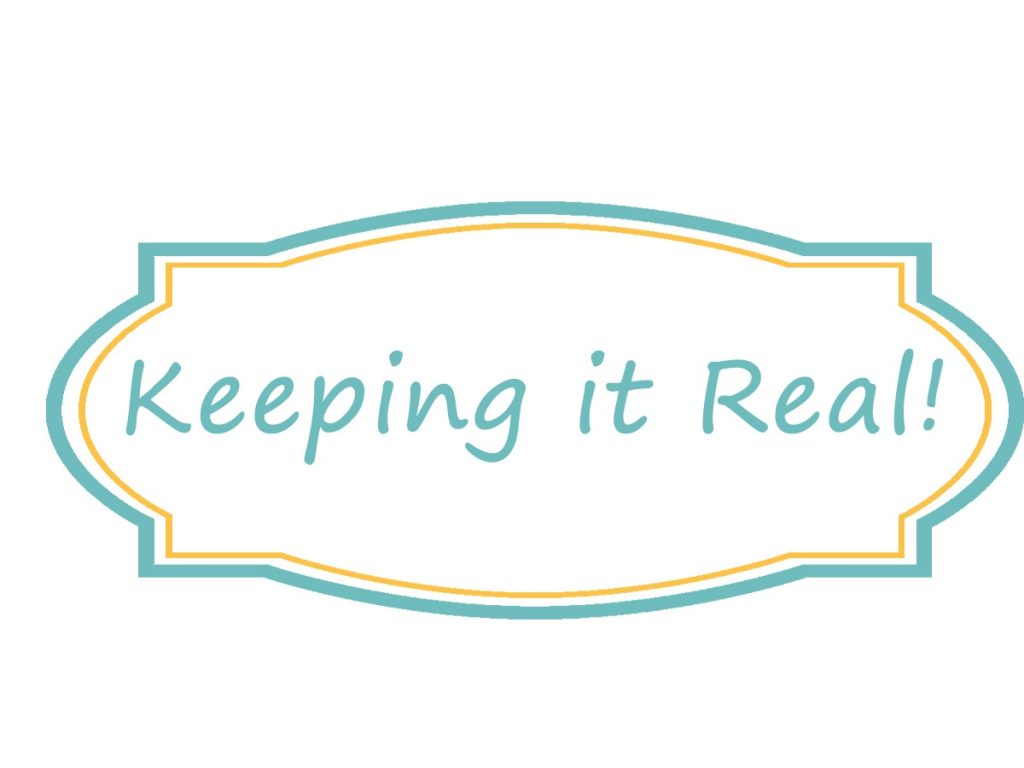 Because I never want to establish a crazy, unrealistic standard of what any of us can accomplish…  Let me just say that with all of these wonderful ideas my kids have a box of Lego Ninjago, Precious Moments, and Mickey Mouse Clubhouse Valentine's  that they will be distributing to their friends – that is assuming I get them written on/assembled in time.  My 2 year old might not end up with Valentine's because I don't have a deadline – he has no class party.
For the class party I am helping with, there is a good chance that I will order a "heart puzzle" activity from Oriental Trading.  Really, I will probably only get creative with a few cute decorations, some heart shaped food and one Valentine's Day themed activity for my families special dinner.  I would encourage you to ooh! and ahh! at all of these super cute ideas, and then sit back and think "do I really have time for this?"  My kid's grandparents will probably read about these cute card ideas, but not actually get one.  Those Rice Krispie Treats…  those are from a year or two ago.  My sweet husband took a photo – now I smile about that because I'm realizing he must kinda like my craziness!