So, I have a confession to make… blogging is not my passion.  Why would a blogger tell you this? Stay with me for a minute!
My passion is working with clients in their homes, transforming their spaces, and impacting the way they live in their homes with their families.  Lately, I have had increasingly more opportunities to work with clients, and I love it!  So, here is the point of my confession… that is why my blog posts have been spaced a little further apart these days!  I have been thinking about my blog post, wanting to do it.  But the thoughts that have consumed my free time, kept me up at night, motivated me to work until crazy hours… are the plans and ideas for client spaces.  This has been getting in the way of my blogging a little – in a big happy way!
I promise I will continue to blog, because really I do love it!  I just had to share why there might be times that my posts are not as frequent as I would like.  But the good news is, if I'm not blogging I'm probably organizing so there is no shortage of material!
And now on to cords, cables & chargers… a tangled mess for many I know!  I got to work with a client on getting control of a drawer of cords, chargers, headphones…  all of that stuff that drives many of us nuts!  These items tend to become a tangled mess, half the time we can't find them, and we frequently forget them at home when we travel.  And sometimes, when only one charger can be found everyone swears it is theirs – sound familiar?!
I have to admit that I felt a little insufficient in posting about my cord storage.  I can't say that I have a beautiful solution for storing our cords and chargers, but it is very functional.  It is these times that I have to give myself a little reminder about why I love blogging.  I love sharing practical advice with you all.  I don't love the idea of setting up a standard none of us can actually live up to, or at least we shouldn't if our priorities are right.  So, please excuse the totally not-pretty cord storage we have at our house.
But, if your cord storage is in need of an overhaul, then by all means make it pretty as you tackle the disorder.  In our house, we're sticking with function for now – and let's be real… probably until the kids go to college and I organize everything in our house beyond reason because I don't know what else to do with myself in my big empty house.  Yes, I'm already dreading those days.  My oldest son is already half way through the years he will spend under my roof!
So here it is…  You've heard me say this a million times, but even with chargers and cords… they need a home in your home.  Not a place they usually end up, but a place where they belong.  I find it helpful to store all our different kinds of cords and chargers in different locations.
We have a bunch of cords and chargers that belong to kid devices and old phones that our kids like to play with.  All of those go in a photo storage box with the Kidizoom Camera and Leapsters, where the kids can easily get to them.  I use one of the $2 photo boxes from Michael's that I have talked about.
I have a small divided container for chargers in the kitchen, when our phone chargers end up in there it is a quick stash zone.  However, most of the time our phone chargers our by our nightstands where we charge them at night.
Last, we have another small kid size shoe box in my desk drawer that holds cords I need in my office – digital cameras, ipod USB, chargers for my son's devices that he charges in my office…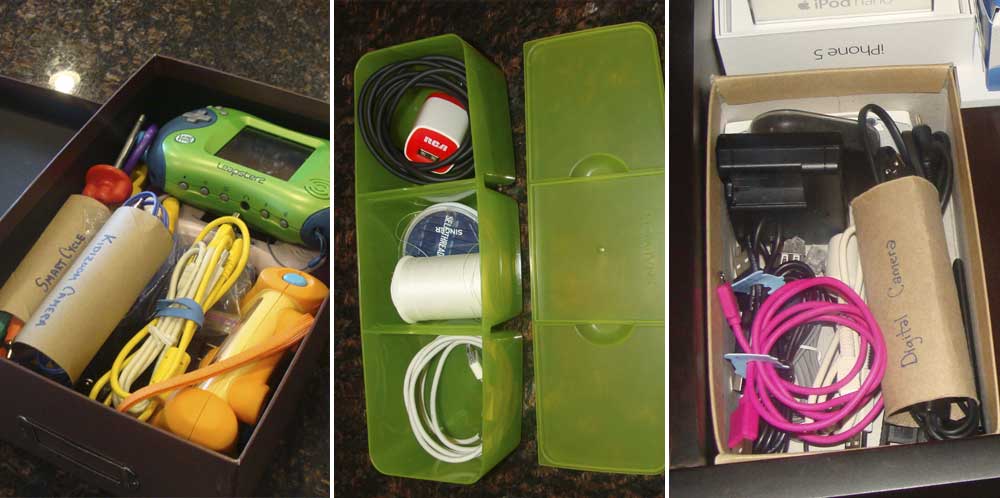 The next problem with cords is how to keep them rolled or folded up, and how to label them.  This is what I haven't done much of for our family, yet.  We don't have an ipad, my son has the only tablet in the house plus my husband's old ipod, and Jason and I have our phones.  Other than that, we are NOT techie!  So, keeping cords straight is not much of a battle here.  Jason keeps track of his, I keep mine in our room, and Carter has two in our office.  The few things I have labeled are purely functional, not pretty.
Here is how I store our camera cord that I use all the time, to upload photos to our computer.  It is big enough to fit perfectly in a t.p. roll, and I have yet to find a quicker way to contain and store longer cords.  Many of you have seen the t.p. rolls I use for my hairdryer, flatiron, etc.  Those are covered in pretty scrap paper – and are much more inspiring!  That would be a great idea here, and honestly I will probably add some cute paper to the brown t.p. roll in the near future!  However, the plain old roll is also super easy to clearly label – a serious bonus!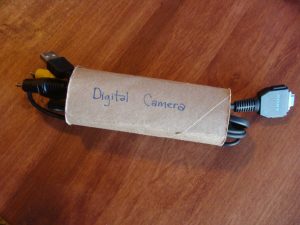 This smaller cord is held together with a plastic bread tag.  You can write on the tag to label the cord as well!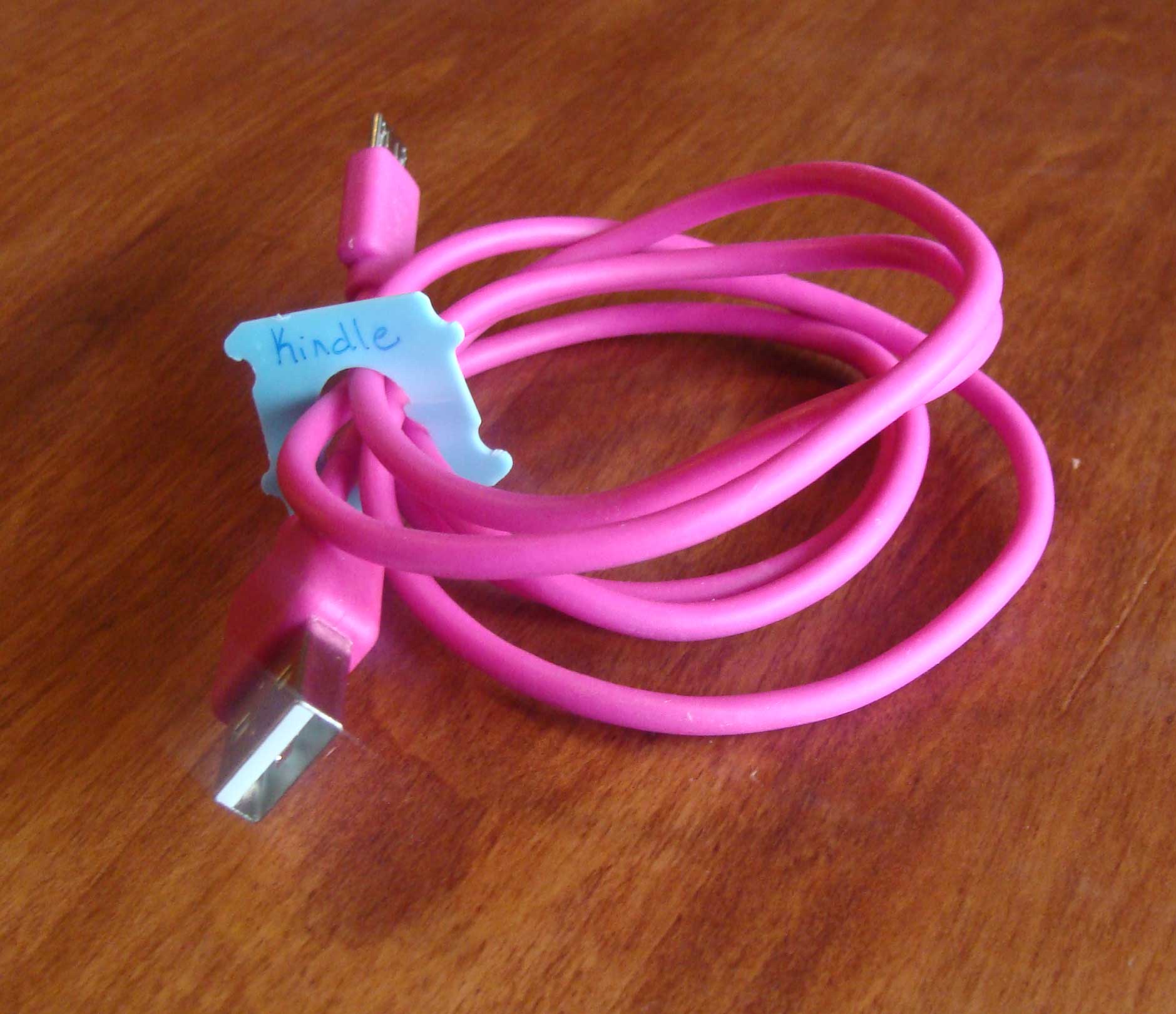 I also really like my divided container in our junk drawer.  It keeps one cord in each compartment, rolled up, without having to take the time to attach a clip of any kind.  These are the extra cords that seem to travel around the house a bit or get grabbed in hurry on the way out the door. Although it seems a little random I have also started storing a roll of thread and needles in my junk drawer.  There has been a lot of stuffed animal repair around here lately, among other things!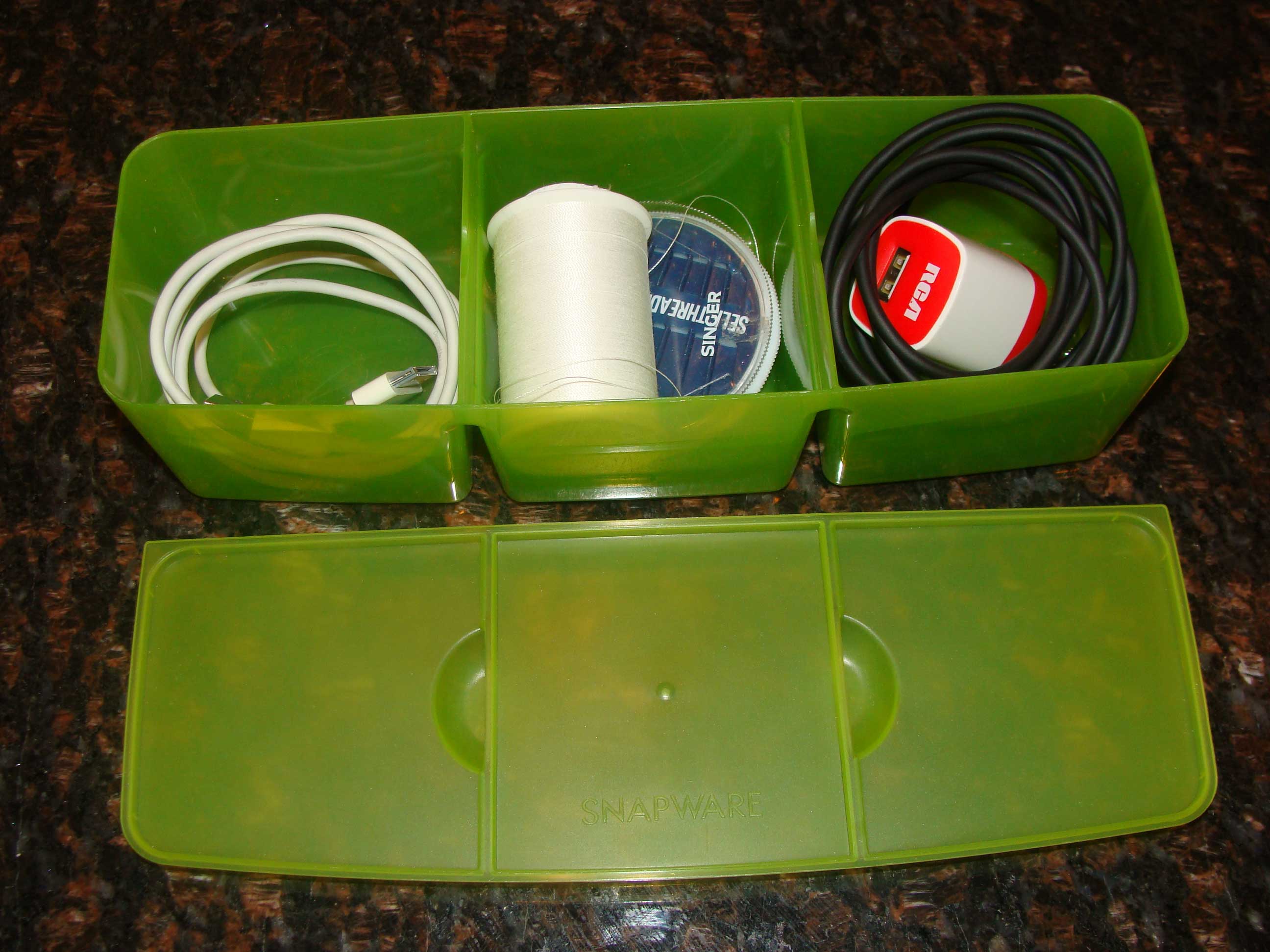 I also did a little research into this area for a client recently, so that I could provide a better variety of options than my current system.  Their needs were slightly different than mine as well.  We started out by adding a wood tray (from TJMaxx) that is divided into 12 smaller squares. I then used binder clips to hold cords together, and label them.
The binder clip holds the cord, and the arms can be used to contain the cables and connections as well.  There are various sizes of binder clips too, depending on how large of a cord you are working with.  I like that this system allows you to store many cords, of various sizes in the same way.  This has a more orderly appearance, and is simply practical.
It was also very easy to label cords, using the flat surface of the binder clip, and my label maker.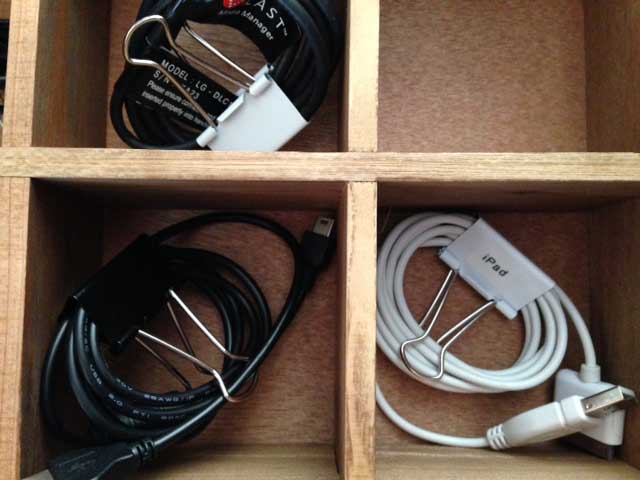 And here is her neat and tidy drawer!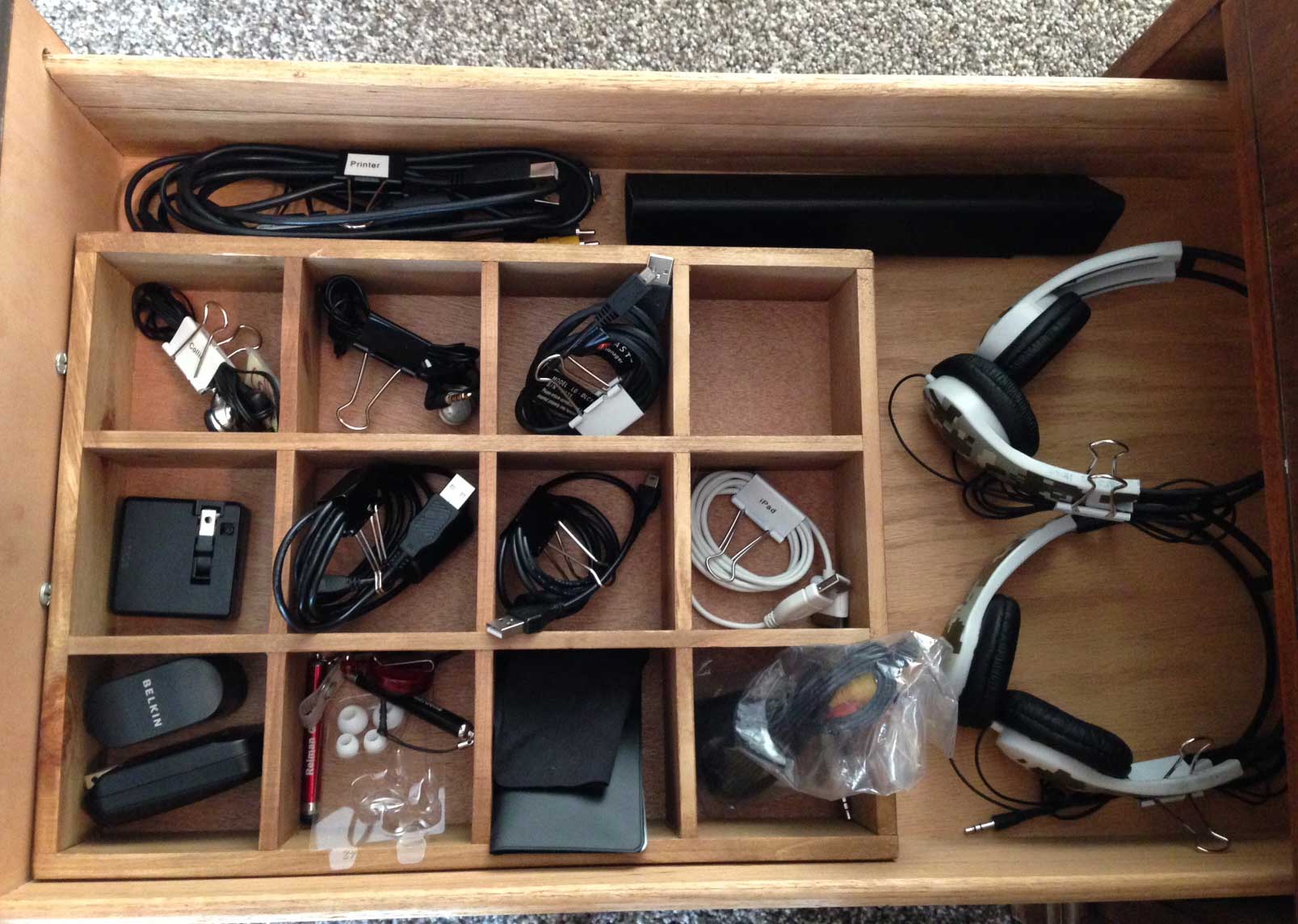 And of course we all want to see the before & after!!!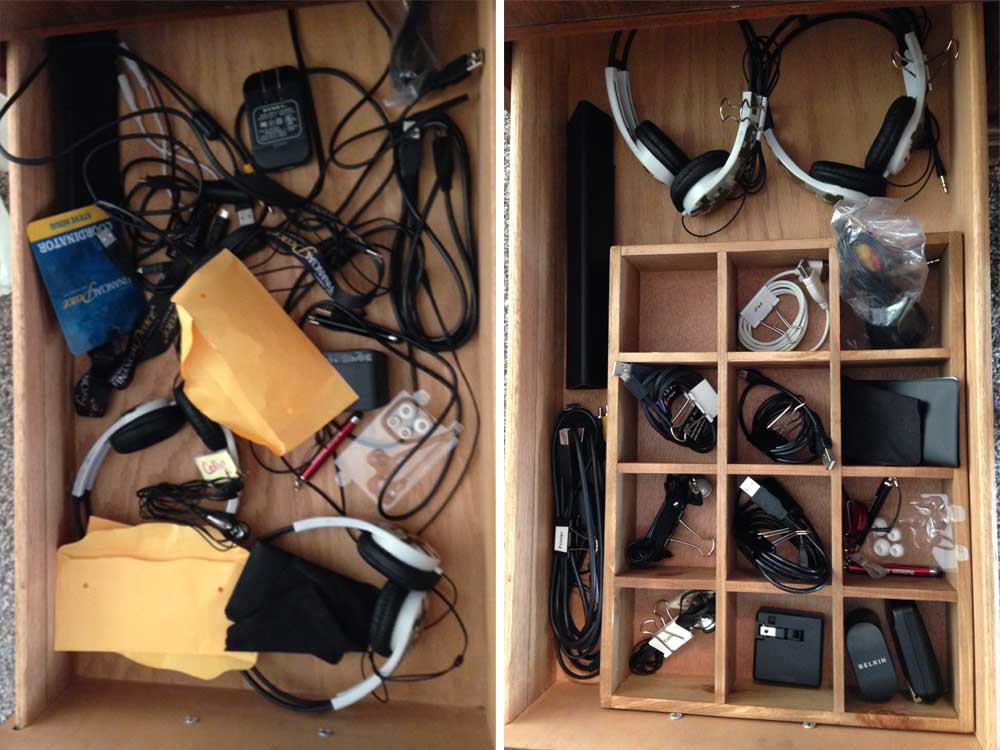 I think it was success!!!
For those of you that would like a little more inspiration, here are a few more of my favorite ideas I found to control cords, and label them as well.
I love this method of keeping chargers and cords together with their partner, especially if multiple people in your house have the same chargers and you find yourselves debating (ok arguing) over who gets to use the only one you can find.  Simply wrap the charger and USB connection with coordinating washi tape!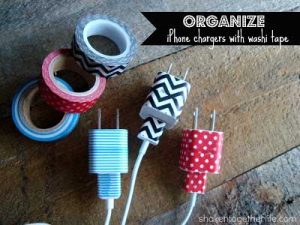 source
Here is another way to use binder clips to control the cords you want to leave out all the time.  How cool is that – they won't fall behind your desk and leave you crawling around on the floor trying to find what you need!
If you have a lot of larger cords to store, containing them in one box is the best way to go.  You can use my favorite, the t.p. roll…
And of course they are cuter if you cover them…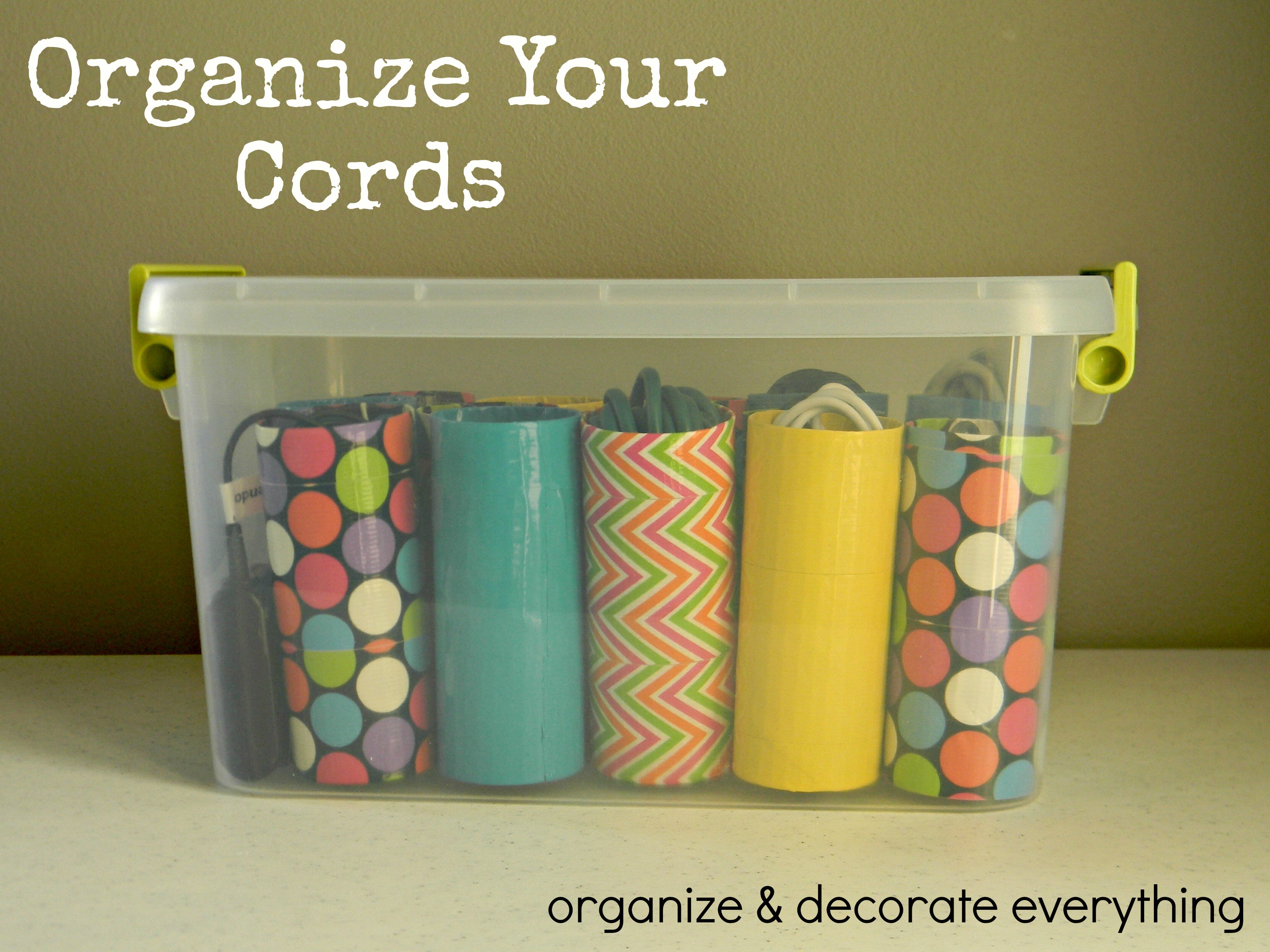 Or make your own dividers in a photo or card storage box…
I also love these holders for your phone while you charge it. I hate the long dandling cord from the outlet to a phone laying on the counter.  These are a great solution to keep it all tucked neatly together!
Here are a couple cute little fish that keep your outlet charger and USB cord neat and tidy too!
source
I hope you have been inspired to contain some clutter, and have found a few new tricks to get it done!