I think I've shown you about all our laundry/mudroom has to offer!  Bear with me for one more post, as I'd love to share all the dreaming in my head that would make it so much better!
I'm sure there are a few of you out there that are thinking, "I love how that room functions, I think it's so cute, and I just wish mine was like that". Well the reality, there is a long old list of things I'd still like to do in there! I look at other people's blog posts and get great ideas – mostly ones I'll never do. I start to regret my orange paint decision, and then I love the pop of color again. Isn't that how it works – we always want what we don't have!
Here is a little eye candy, and the root of my dreams!
I love this rooms calming colors, and pretty jars to hold the "necessities".  I also love the cheap and easy storage shelves for laundry baskets on the far right.
If I had room in my laundry room, I would totally build one of these!
And the curtains to hide the not-so-pretty are fabulous in this room.
And this one….
…is just basically beautiful.  I love the attention to detail with the pretty legs on the counter top and side shelf.  The baskets are a great way of collecting and making the cleaning supplies look much nicer too.
And this is a seriously hard working station – it has everything in a super small space!
And I just think this one is adorable!
I have several other rooms on my Pinterest "Laundry Room" board if you want some more "pinspiration".  You can also find links to where I found all of the above photos through my Pinterest board.
Despite my lust I do love my mudroom/laundry room and it has been well used this summer – which means it often doesn't look like those pictures you've seen! 🙂 The joy for me however is that it only takes 15-20 minutes to get it right back in order. Really that's what I care about. I want to enjoy our warm summer days, long evenings, and never-ending weekends at the ballpark without worrying about our home, or destroying it. I want to make a mess all weekend, and then re-order it in under an hour on Monday – that's a good summer in my book!
Now, back to the list of dreams I have in my head! Just a reminder, here is what our laundry room looks like now (well, on a good day).
Our laundry side with storage cabinets…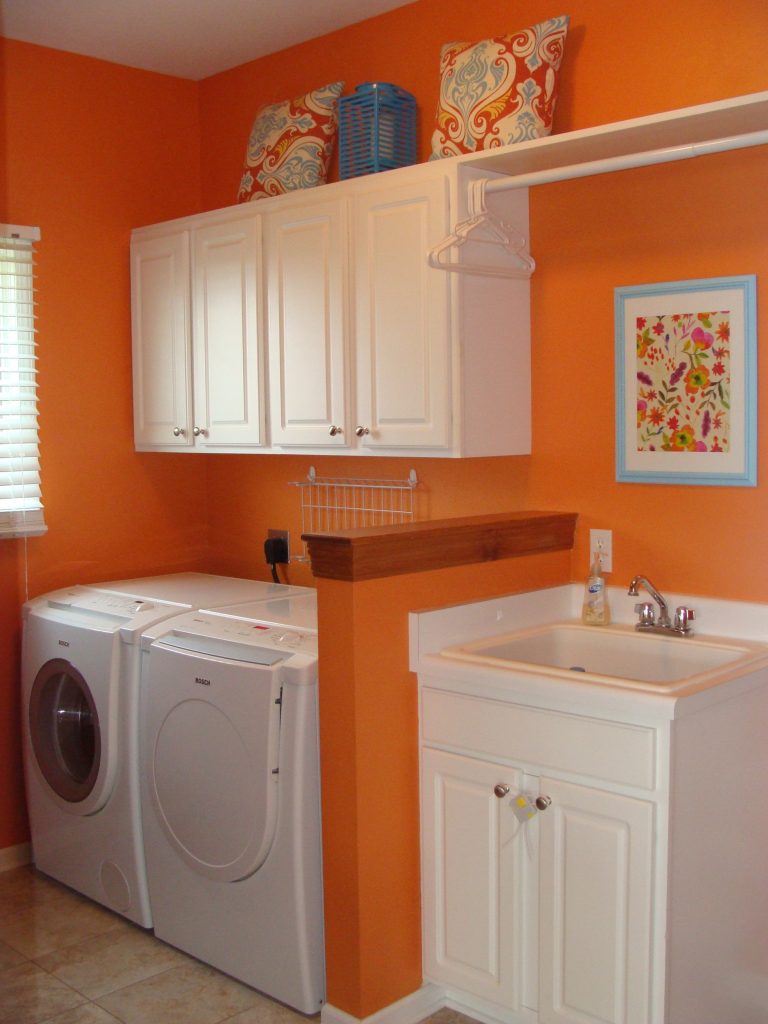 Our mudroom side with storage baskets and lockers…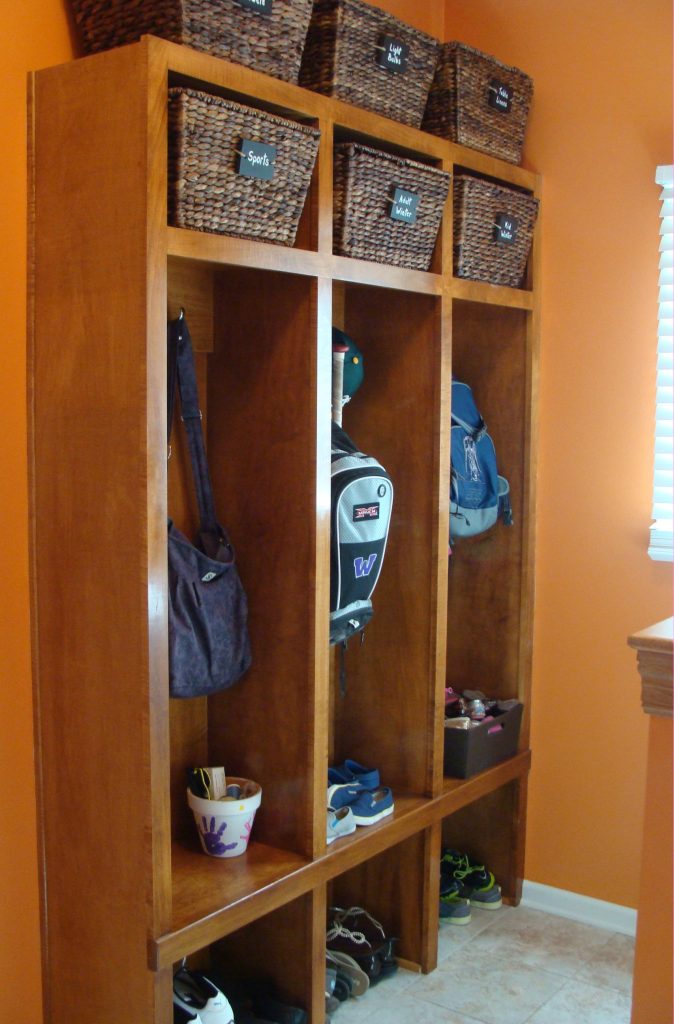 Last, our organization wall for incoming and outgoing papers and important information…
Yes this room is functional, but it also leaves me wanting a little more pretty sometimes.  I would love to add some decorative touches to make it a little more pulled together, and even a few things to improve how it functions.
Function first…
There is so much more space for shoes now that I removed our laundry basket from the 3rd cubby, but we have to stack shoes on top of one another to really utilize the full height of the space – which probably bothers my hubby more than me. I love this – it makes him just a little like me. 🙂   More my pet peeve – shoes fall out of the cubbies when you try to stack the pairs to really use the space. My solution: I want to add a second shelf in the middle of the shoe cubbies, so that we can have two rows on top of each other. Not a major project – right!  Why haven't I just done it? Two things: 1) I'm guessing the maple board to match the lockers won't be cheap (and it's so not a fun purchase)  2) I have to test and guess and re-test to match the stain color of the lockers in order to stain the board – ugh!
Also for function, I'd love to put a counter top above our washer and dryer.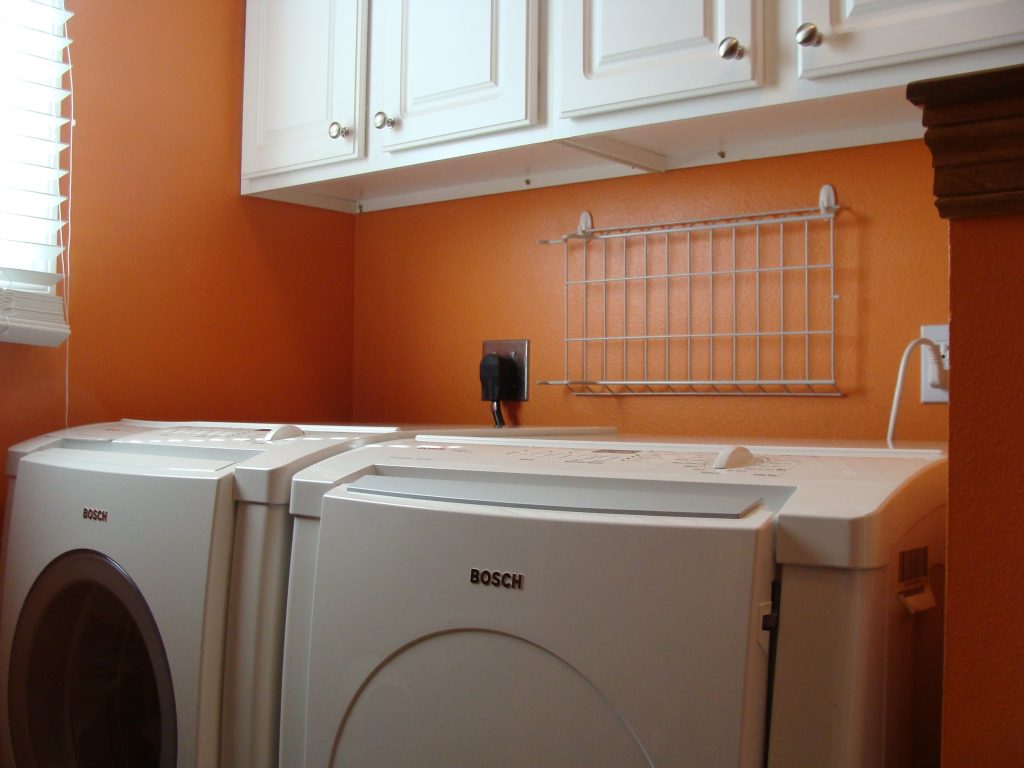 It drives me nuts when stuff falls behind the washer and it would be a nice surface for folding clothes. I hesitate a little because I like to lay delicate sweaters and things on top of the dryer to dry with the indirect heat. I also have to work around hook-ups on the back and side. I used to want to get creative and find a cool old door, re-paint it and make the top look really cool. I worry a little about moisture and all the icky stuff that gets thrown there though. I have also considered a laminate top like this from Home Depot:
It would be the perfect depth and the back-splash on the back would keep things from falling behind the washer and dryer.  I would install it about 4 inches from the back wall, leaving room for hook-ups and my hanging dryer rack. To keep it from looking funky! I would make a curtain to hang from the upper cabinets to hide everything – probably using some linen fabric I have from another project. Can you see my vision?  Wouldn't it look better!
And to make it pretty…
I would love to add crown molding to the cabinet tops and make the laminate shelf we added look more like it has always been there.  I think it would pull it all together and make it look so much nicer.
The window is a great opportunity to add a little visual interest too.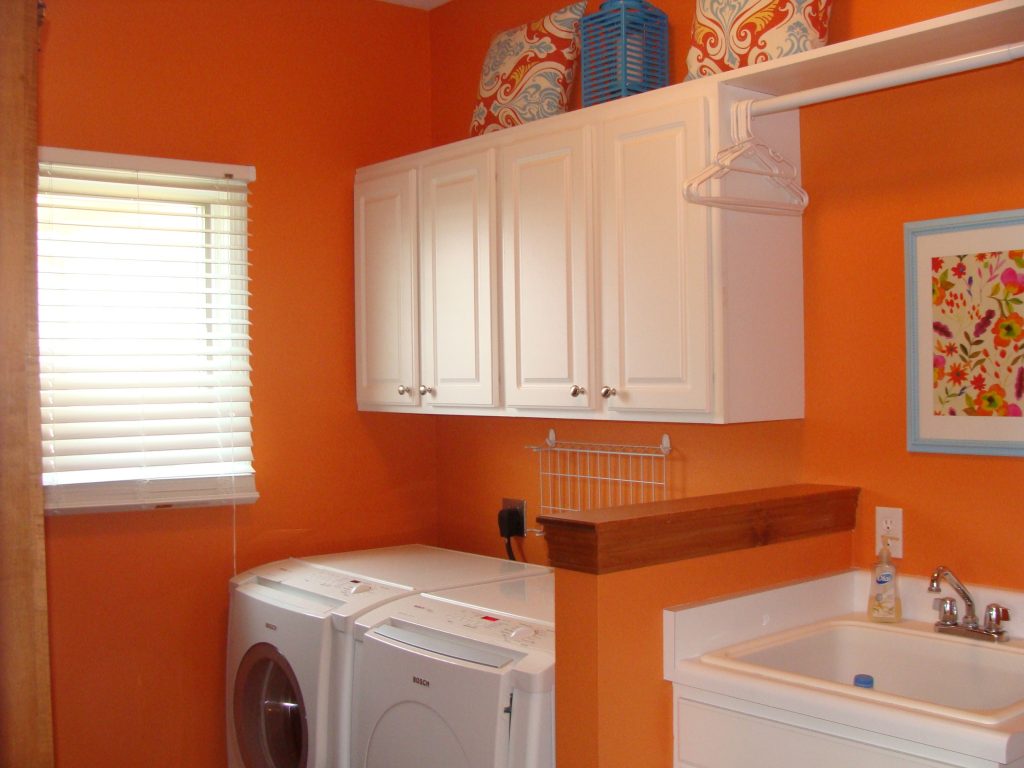 I'd like to add a window treatment – maybe a roman or a valance. I'd love a roman shade, but don't want to have one custom made and am a little nervous about the various methods I've researched to make my own. I also will have to actually commit to a fabric to do a window treatment. These are a couple I like, but will I like them in three years? Do I even have to? Commitment and time are holding me back!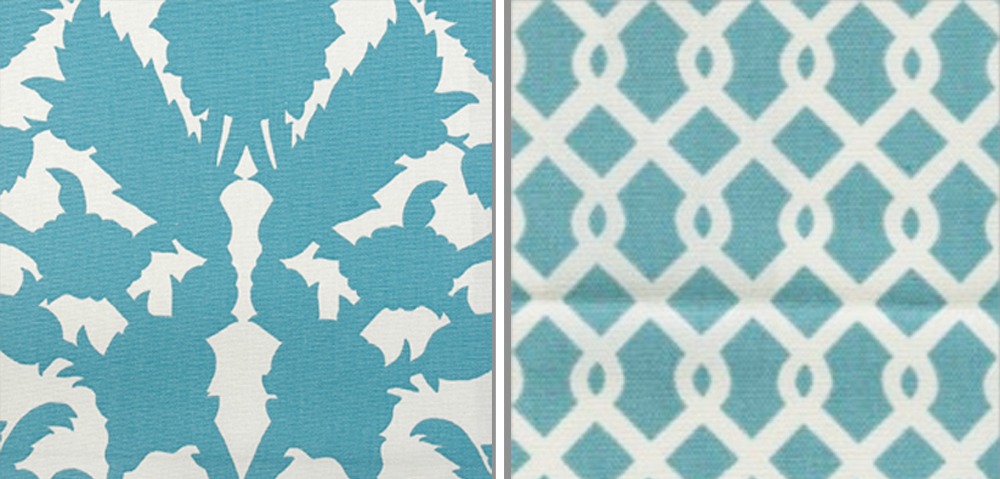 source                                             source
Also, I would really love a fun light fixture!  Right now we have a flush mount, standard light.  It works well, but could be so much prettier!
I like this one from World Market…
I also like this one from Ballard Design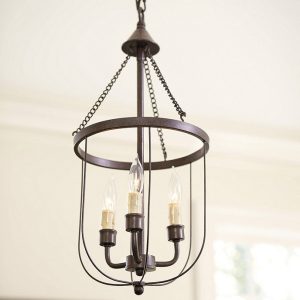 And this one from Overstock
There are a couple of other lights I've found and LOVE!!! but they are way too expensive for me to ever consider in my laundry room, so I decided to omit those pics!
I am always dreaming about what I'd like to change or pretty up in our home!  I could spend every waking hour and all of our money on my grand ideas!   I am also constantly reminded of how blessed my family is to have the home we do have.  I am sure many of you are like me and have an internal battle constantly brewing of what is a want vs what is a need, and what is reasonable.
One thing that helps me in making wise improvements to our home is to move slowly.  I could get very wrapped up in our home and all of my projects so easily – and trust me I do at times.  A good barometer for me is evaluating the time and energy it is taking from my first priorities – the people in my life.
I often find that if I am spending good, quality time with my hubby, kids and friends, house projects are slow and steady.  I want my priorities to be in the right place, but it also serves the purpose of keeping me grounded in the reality of how wonderful our home is right now.  It helps me limit how many of our precious resources (time, and money) I invest in making changes.
Sometimes it gets to me that I have so many outstanding projects, then I remember – they aren't done because they aren't my first priority.  I would rather take the kids to the pool, spend the day at soccer fields and ballparks, eat ice cream every night and sit on a patio with good friends and a glass of wine.   I slowly check things off my list, finding relaxation and refreshment in the creativity, but not at a frantic pace.  That is why you will find my house is in order, but it is far from "pulled together".  I love our home and all its deficiencies!  I hope you love your home too – even with all the half-finished projects and "I-wish-I-could's" you see when you look around!  Maybe those little things that drive you crazy are a good reminder of your decision to put first things first.