A while back I shared about Jase's refurbished dresser for his big boy room.  I got a little antsy to clear out all of the baby stuff after moving his new dresser into his room.  Jase soooo wants to be 8 years old like his big brother,  and a baby room just didn't fit him anymore.
I took the opportunity to sell the baby furniture at our garage sale earlier this summer, which was bittersweet.  I think the rocker was the hardest to get rid of, because Jase was still willing to cuddle before bed every night.  However, I am totally over infants in the house.  I guess to be fair I should I say I'm totally over stumbling through my day after waking up to feed an infant 3 times, cleaning up mashed peas that have been spewed all over my kitchen, and changing diapers 20 times a day.  I love to snuggle with a sweet baby, but at this point I am totally content to snuggle, return the baby to his mom, and go throw a baseball with my toddler!
While we are talking about moving to a big boy room, I thought I would share a little something that has made my life much easier.  I don't think I am alone in dreading the end of my toddler being trapped in his crib whenever I put him there.  With all of my kids, I would have loved to leave them in their crib until they were at least 5 years old, but I'm thinking that's not really acceptable – not that I would judge anyone that goes that route – you'd have my full support!
Really the problem for me is that we have rules in our house about what time a child can leave their room and what time they can come in our room in the morning.  I am one of those mean moms that won't share my bed with my kids.  But let me tell you, anyone that thinks I am mean now should see what I'm like without proper sleep!
During the school year kids are not allowed out of their rooms until 7:30am.  I like that we all have a peaceful house until 7:30am to rest or just have our own space – and let's be honest I am always asleep!  I also find that my kids tend to sleep later if they know they can't get up and go watch cartoons or play until 7:30am anyway.  If you have to be in bed you might as well sleep – right!?!
However the problem comes when my infants transfer from a crib to a bed they can get out of.  How do you tell a 2 year old (or 3 year old…) that it is the middle of the night not the morning (as it is  sometimes still dark in the morning).  Even harder, how do you get a child that can't tell time to stay in bed until 7:30am.  My rule following first child stayed in bed until I went in to get him, not so  much with the next two!  So my solution is this cheap little gadget….
Yes, it is a simple timer that you use on a lamp, generally to make people think you are home when you are not, or to make sure your pets aren't in the dark when you get home late.  I have used the timer, attached to a lamp with a low 7watt bulb in my kids' rooms.  The lamp comes on at 7:30am every morning, and goes off at  8:15am.  All they have to learn is that they can only get out of their bed if the lamp light is on.  I don't have to reset the timer every day – it just goes on and off every 24 hours.  I also don't have to explain night vs. morning or 6am vs. 7:30am. It really has worked!
Now, I will admit there was some discipline involved to help them understand this was not a suggested rise & shine time, but a house rule.  However both of my youngest (non-rule-following) children have learned and followed this house rule pretty quickly and easily.  And, this mama LOVES her sleep!
Now back to the more fun! topic of decor.  Once the crib, rocker and nursery decor was gone I was ready to tackle the paint, a new bed and some overall updated decor.  But as always, we wanted to keep the cost at a minimum and the DIY side of me kicked in.
Ever since Jase was born I knew he'd have a Chicago Bears themed room.  Our oldest has a Chicago Cubs room, and it only seemed fitting.  My husband is a huge fan of all Chicago sports teams, and has tons of great memorabilia from his youth.  Fortunately my mother in-law didn't have someone like me come organize her house, so she kept it all and now our boys get to enjoy it!
As I perused the internet for inspiration, as I always do when I want to DIY, I was left totally disappointed.  All of the sports themed rooms I could find photos of were totally cheesy, at a minimum!
This was the best I could find for the Bears, and it was far from what I wanted.
My plan after much searching was to create a room that would be youthful but sophisticated, timelessly traditional with some current trends, styled around the colors of blue & orange with tasteful touches of Bears memorabilia.    I decided to incorporate gray to tone down the strong colors, and use modern graphic prints with some vintage finds.  No problem, right?!?!
Here are some rooms I loved in my search for inspiration…
I love the sophisticated, yet youthful vibe of these rooms.  The sports theme is incorporated, but not over-the-top.  The traditional style seems timeless, but not "old".
I liked the idea of adding some pops of orange, and some graphic prints too.  These rooms gave me a few more ideas!
 Source:  Amanda Carol at Home
Source: The Zush
 Source:  Cherish Toronto
It was time to get started!  Since the room was empty for the most part, I thought I should start with painting the walls.  For the record, we did have a twin bed frame and mattress that he was sleeping on – bare bones, but functional.
I knew I wanted his walls to be gray, and I had picked out the color Essential Gray from Sherwin Williams a while back.  So, one weekend while my husband was "daddy-daycare"! I painted Jase's room gray, and immediately it seemed more appropriate for the "big boy" he is becoming.  But, it was also a little blah!
The plan was to add stripes, but I was pretty afraid of stripes.  My dad who is an awesome painter has never been very excited about it when I've thrown out the idea of him helping me with them – I've always loved them and contemplated them many times!  You know all the issues… getting them straight, spacing them even, not having the paint bleed under the tape… Never mind the time they take.  So, why even consider it?  because they look super cool of course!!!
I also had a little encouragement from my good friend that got me into Annie Sloan paint.  She painted the same type of stripes I planned to do in her son's room, and was super happy with them – and I think they look awesome too!   I think I've told you about her before, but she is particular like me – so I knew messy and crooked stripes would never do for her.  More on her suggestions and how I went about my project to come,but first a little more inspiration…
I love the stripes in these rooms, as well as the rooms above…
 Source:  House of Rose
 Source:  IHeart Organizing
I liked the idea of larger bold stripes, in two contrasting colors.  In order to keep the traditional and sophisticated look I wanted with the added Bears memorabilia, I decided I needed to keep the stripes simple like the ones pictured above.  I investigated a million striped walls on the internet and finally decided that I should do eight, 12 inch stripes.  Not something I figured out on my own, but with the help of the awesome Jen at IHeart Organizing I realized that 12 inch stripes work great because it gives you four even stripes of each color on an eight foot wall.  I know, sad I needed help figuring that out!
After much fearful debate in my head, (well, and to my poor husband that I'm sure wasn't all that worried about it!) I settled on a deep Bears navy blue alternating with the existing gray as a contrasting color.  My biggest fear was that the blue would darken the room too much, and my second fear was that the dark blue would be a nightmare to paint – especially as a stripe.  I finally settled on the color Naval – also by Sherwin Williams.  It is a super dark almost dusty blue. I decided that if I was going to take on stripes I was going to either love them or totally mess them up and hate them.  Luckily, I love them!
I know, all this talk and no real progress to show!  I'll show you my step-by-step process and before-and-after pics in my next post.  And, I promise it will not take me 3 weeks to get my next post up!  We were on a long vacation in the wonderful state of Colorado for two weeks.  Unfortunately I have no more vacations this summer, and the start of school is sneaking up on me – ugh!  We actually bought school supplies last night!  boo-hew!!
Feel free to sign off here, but I have to show a few photos of the fun we had in Colorado.  I know I've said I am a Colorado girl at heart, but every summer I am reminded of just how blessed I was to grow up in the greatest place on earth – the mountains of Colorado!  It is such a joy every summer for me to watch my kids enjoy all of the things I did as a child – good old fashioned dirty fun!  They got to…
Sleep in a tent for two nights in the mountains outside of my grandparents cabin.  Granted the amenities have improved a bit since my childhood – running water and a bathroom inside the cabin! How cool though that in their 80's my grandparents still get to enjoy their cabin with their great-grandchildren!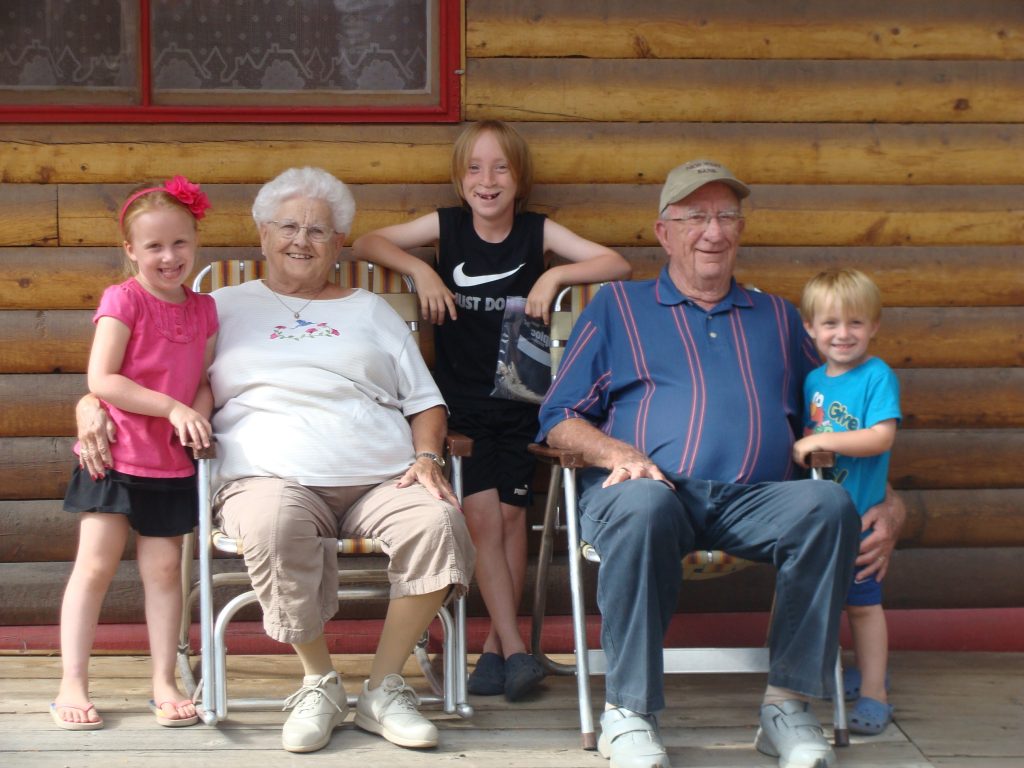 We got to climb through the woods and fish in a creek – which is my favorite kind of fishing to this day!
               The kids got to play in a beautiful Colorado lake and Addi and Jase even caught their first fish ever! (Carters' catches weren't his first!)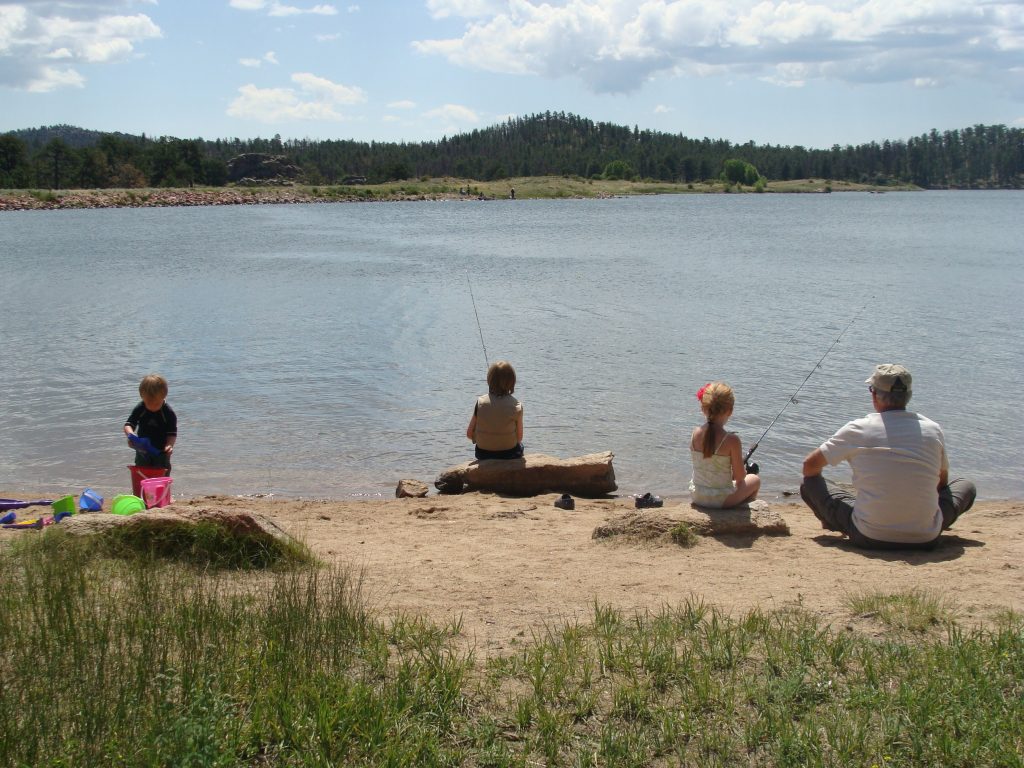 We climbed a REAL rock pile!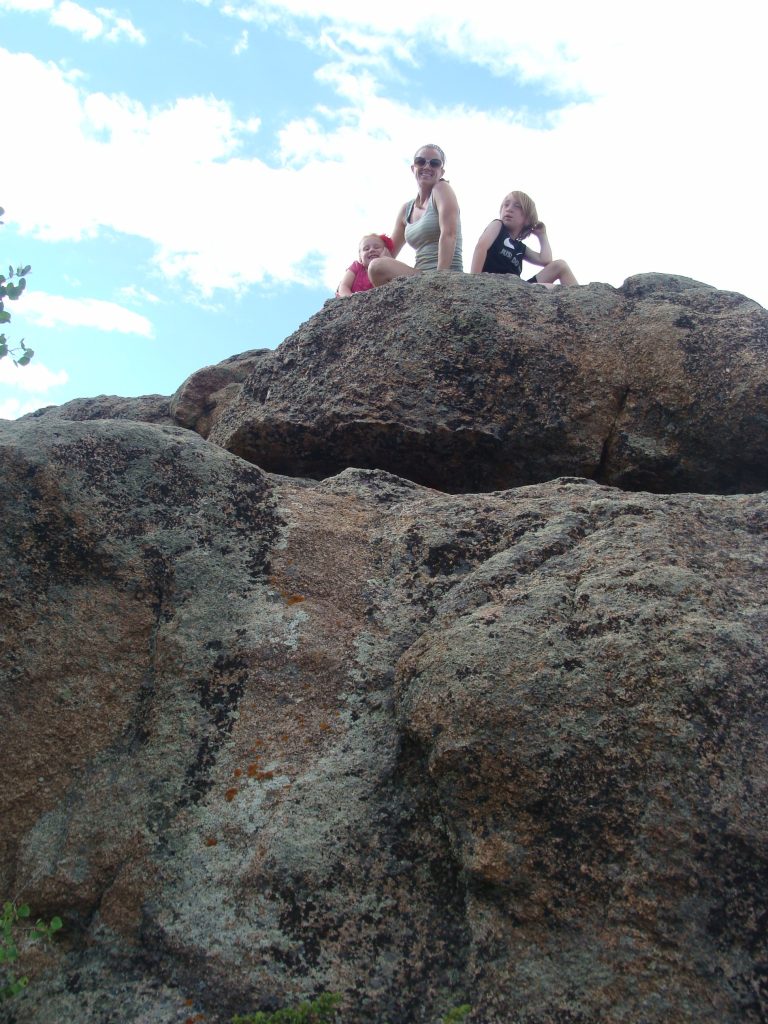 And spent great time with my husband's family in Keystone!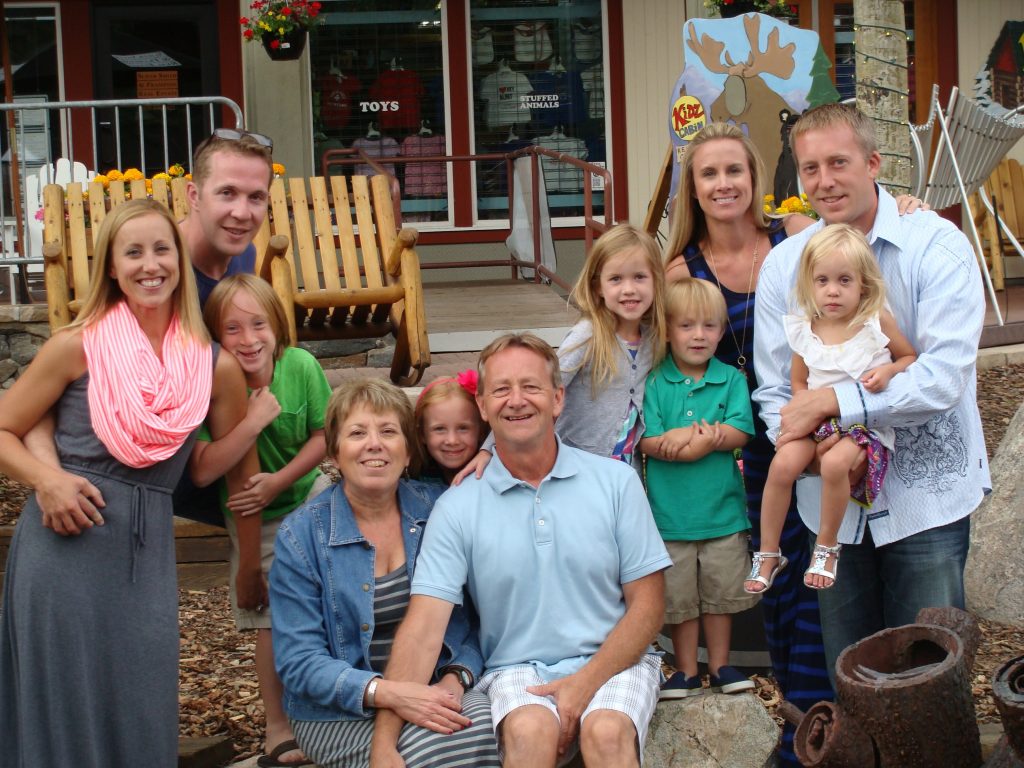 Roasted s'mores…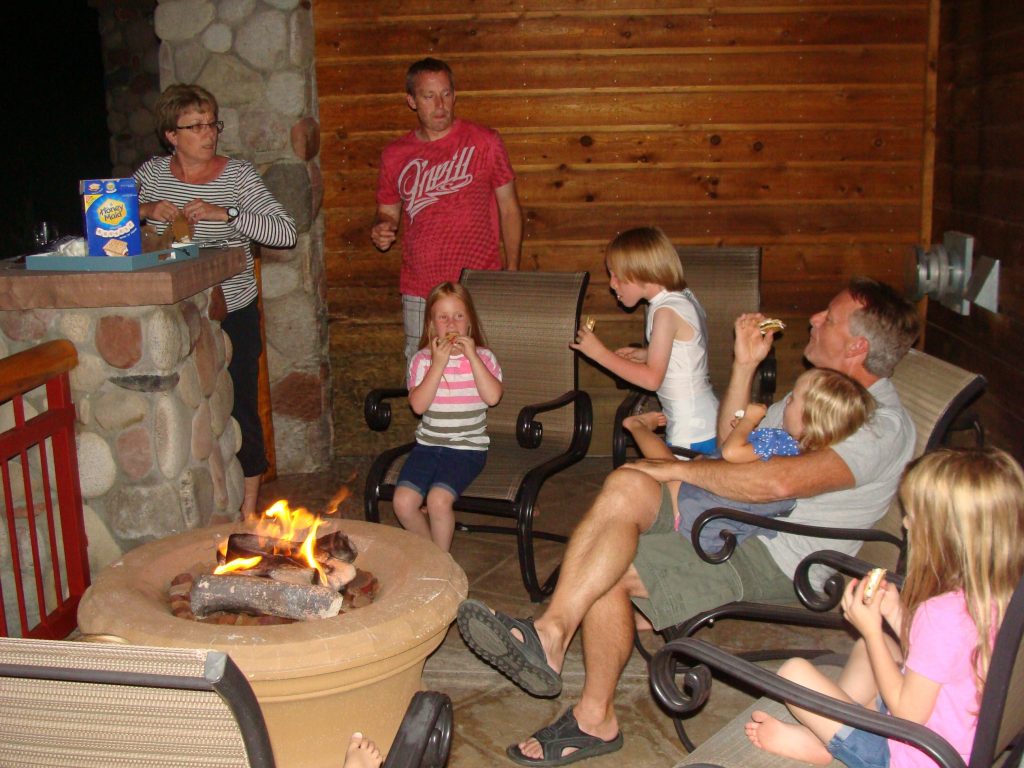 And just played hard!!!!
Our wonderful trip concluded with my husband and I enjoying a wonderful evening to ourselves on our 10th wedding anniversary.  These are the weeks that I am clearly reminded, no matter what my house looks or how chaotic life may seem on any given day – none of that matters and I am incredibly blessed!!!