Happy New Year!  If you are like me, the end of Christmas and beginning of the new year always brings with it the desire to regain some order and a schedule.  You all would laugh if you saw the piles in various rooms of my house that are waiting to be ordered.  I hope you can laugh a little too if you have similar piles. And hopefully over the coming weeks and months and I can share a few projects that assist, inspire or encourage you!
I have spoke with many of you and you already know… but, I kinda have a new DIY obsession! Which I'm not sure is so wise with all of my new adventures these days!  But, I needed a better storage solution for my youngest son's clothes, and desperately wanted to get his changing table out of his room – since he's been potty trained for about 6 months!!  However I wasn't really up for going out and buying a brand new expensive dresser.  We have yet to buy new furniture for any of our kids and I've been very happy with our DIY solutions.  So!  it was time to fall back on a little gem I found through a friend: Annie Sloan chalk paint!
The Back-story:
A good friend from Kenosha, WI  visited me this fall for a short "girl's weekend".  I put that in quotes because she came to stay with my family of five – which is really not the relaxing mommy break images of a "girl's weekend" might conjure.   However, it is SO wonderful every time she visits, and I'm not just saying that because I know she will read this!
My friend is much like me in the crazy projects she will undertake and the means we will go to in completing these projects.  So, when we talked a few days before her arrival and she said she was bringing two chairs, and two stools to refinish while she was here (for less than 48 hours) I was a little confused, but up for the challenge.  However, in my mind I'm thinking refinishing furniture is a long and labor intensive, multi-step process.  Mind  you, we already had a lengthy list of projects to address, including many details of this upcoming blog I wanted to launch.
Little did I know about Annie Sloan chalk paint – the stuff is magic!  You don't have to strip, sand, prep, or prime the furniture you want to paint.  Each coat of paint only needs to dry about an hour and then you seal it all with a wax that gives it an almost instantaneous durable finish!  For those of you that have ever re-finished furniture: NO! I am not kidding!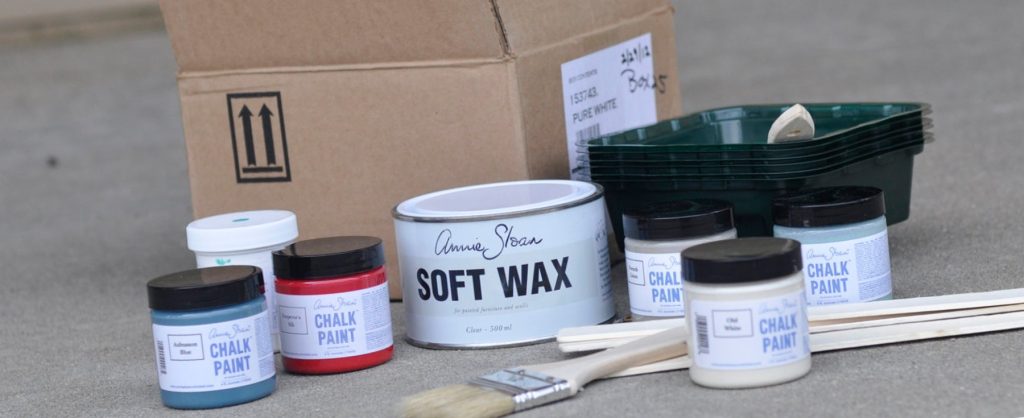 So this was my first adventure with Annie Sloan paint!  I have to admit that my friend did most of the research before she came, but we spent some time looking at colors and planning our project.   Here are the projects she brought – along with a super cute bench we found at TLC Vintage Collection when we went to buy the paint.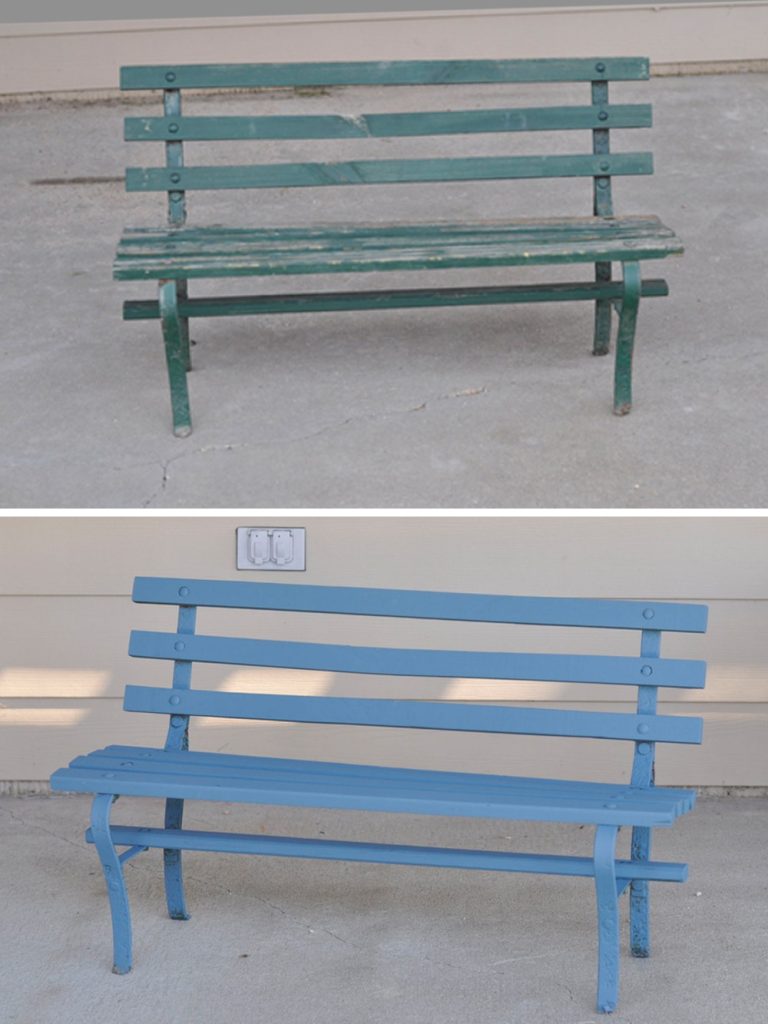 This bench is painted in Annie Sloan Aubusson Blue.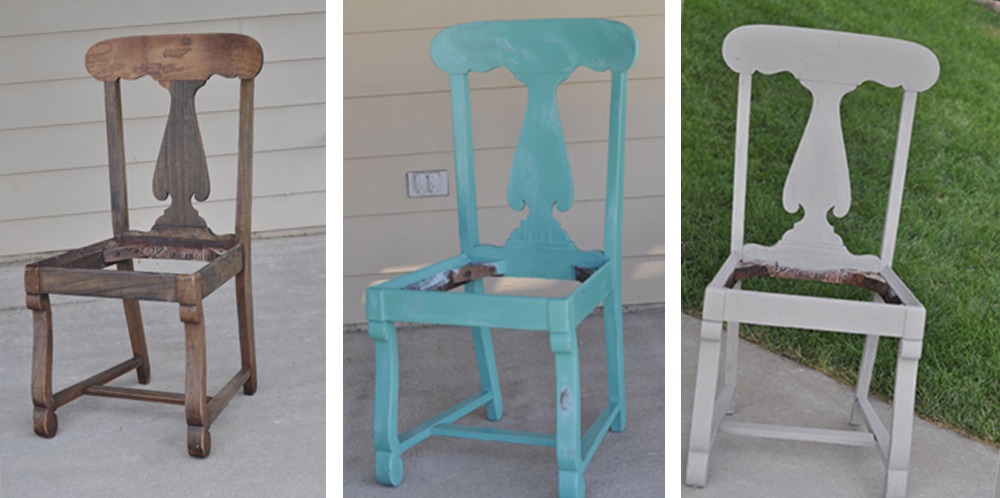 These chairs belonged to a neighbor and she scored them for free!  She has also re-covered the seats since these photos were taken.  The turquoise chair is Annie Sloan Provence paint, layered with Aubusson Blue and the gray chair is Annie Sloan French Linen.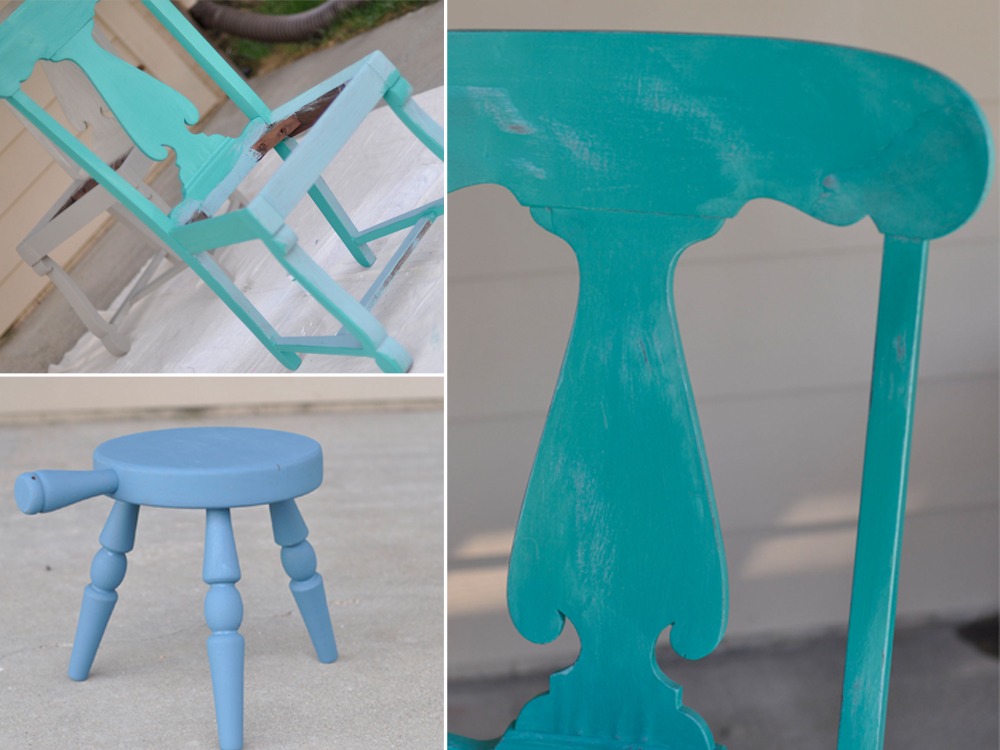 Here you can see how we layered the two colors of paint and then sanded away some of the Provence color to reveal the blue beneath.  This is one of the cute little stools, and we did another in pink.
Yes we did a lot of painting, but it was seriously so easy and fast!  We started painting Saturday night (at around 9pm!)and had waxed the pieces and loaded them into her car to return home by 1pm on Sunday.  How amazing is that!
For those of you wondering, all these "seats" are adorable props for her photography business.  I wish I could say she lived nearby, because her photos are awesome! but check out her photos on her Diane Mason Photography Facebook page.  You'll see how cute these props turned out in the album of The B Family!
Ever since that weekend, I've known I'd find a perfect use for Annie Sloan chalk paint in no time!  My next post, will be my little man's dresser project.  I'll include more details in that post about where to find this magical pain and how to use it.  I hope you're intrigued enough to join me!